Down is warm and light, so makes a perfect insulator for autumn and winter jackets. The big downside, though, is that it comes from ducks and geese. 
Fortunately, there are now puffa and padded jackets without feathers that have all the benefits as well as being better than down in wet weather.
Latest update: September 2020 
Why not feathers and down?
The cheaper your jacket, the more likely it is that cruelty was involved in its making.
Even companies that claim their down is responsibly sourced can't ever be certain feathers haven't been painfully plucked. In the worst cases, feathers are ripped out, leaving birds bleeding and in agony.
Some of the very best companies say they use only down that has been naturally shed. It's gathered and the birds are left with a synthetic replacement to line their nests. You can imagine how expensive that makes a jacket.
Very few of us absolutely need the light weight of real down, and there are now plenty of alternatives that offer similar insulation, pack down small and have the advantage of being easier to clean and dry. Down is a bit rubbish when wet and can even lose its qualities in damp or sweaty conditions.
Synthetic 'down' – easier to care for too
The most widely used materials are Thinsulate, FullRange, PolarTec Alpha and PrimaLoft. Of these, PrimaLoft is a great, water-resistant insulator developed for the US army. It comes in three levels of performance – black, silver and gold. You'll find it in jackets made by companies such as Montane, Vaude, Patagonia, Helly Hansen, The North Face and many more.
Our top choices for down jacket alternatives
Most manufacturers make the same jacket in a men's and a women's fit. We didn't try anything costing more than £120, and tried to get a good cross-section of price and brand. We didn't find a completely waterproof version but most models are water-resistant and they dry much faster than down. Here's what we found.
Great value and a decent choice of weights to give you a balance of warmth against bulkiness. Affordable too. Prices start at £20 and nothing over £30!
There are Trek 100 padded jackets for men and women, hooded and not and a choice of temperature ratings. Filling is 70% recycled.
For one of the more affordable ranges, Craghoppers is a goodie. There's a wide range of different styles, including gilets, jackets with hoods and more coat-like options, for both men and women.
They're not the bee's knees on the style front, but great for affordable, packable warmth.
Compresslite (Comlite) jackets – for men and women
They're windproof and water resistant and pretty lightweight for non-down. 
Prices are excellent – from £40 and often reduced. Craghoppers seems to bring out a new version each year. We're now on III, but you'll find older (and virtually identical) choices more cheaply.
Expolite insulated jackets – for men and women
Great colours for men, less so for women, but a sleek jackets with a hood and good insulation. From around £65. Have a look on OutdoorGear too for a few bargains on these.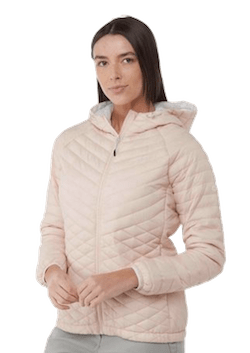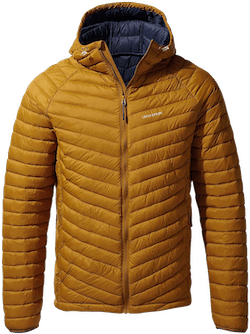 An amazingly wide range of insulated jackets in lots of choices of weight and colour. Surprisingly, given how stylish some of these are, the prices are some of the lowest we've found.
Not a technical jacket. More for short walks and festivals, but the Metallia is rather cool. Again, lots of colours and under £40 (at the time of writing).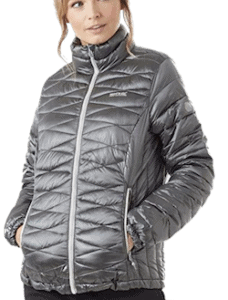 Colombia insulated jackets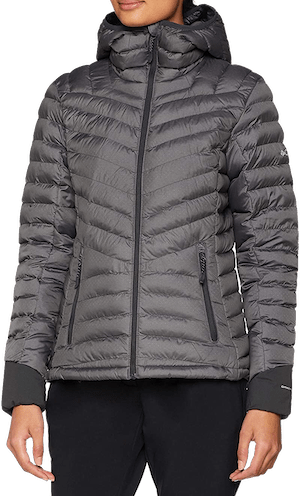 A real beauty in a good range of colours and super-warm thanks to the reflective lining. Love this one to bits! From around £75.
Horizon Explorer – men only
Another one with the thermal lining to keep heat in. This jacket has a drawstring hem, an inside pocket and is water resistant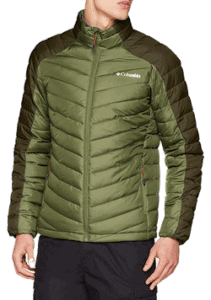 Price from around £60.
Powder Lite – men and women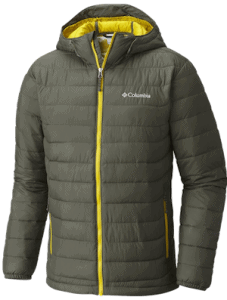 The Powder Lite jackets for men and women are quite brilliant – very warm, a lovely fit and light to wear. Plus you can choose from hooded and hoodless versions and a longer length jackets.
Lots of good colourways too. Only niggle – the zip is on the wrong side! Or am I going mad?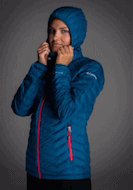 Inside is a reflective lining that keeps body heat in without making you sweaty (I use mine to insulate my homemade yoghurt too!). Warm-lined pockets and a drawstring in the hem. Hooded and non-hooded options. Price from around £50.
Super-stylish range, but it's not always clear which are down and which are synthetic. Mid-priced and some of the smartest we've found.
Lovely, aren't they? Plus this range of vests and jackets is Bluesign certified for its environmental credentials. Flex areas for active walks and very packable.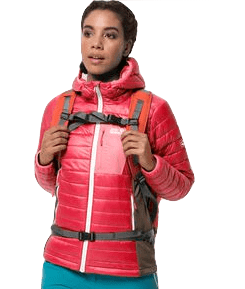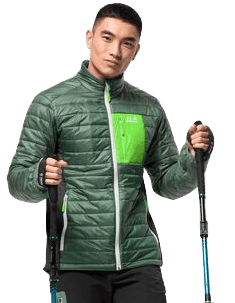 From around £85.
Hooded and hoodless jackets for men, women and children. All are warm, water resistant and PFC-free. From around £100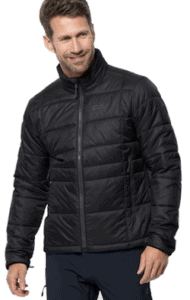 Rab jackets tend to come up a bit small in the men's sizes, so you might need a size up if you want to layer T-shirts and jumpers underneath. Women's can be a bit loose.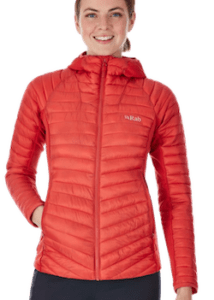 The Cirrus Flex Jacket is lightly filled with Cirrus 3M™ Featherless insulation, which balances and regulates temperature so you don't overheat while you're moving or get cold when you stop.
Designed for movement, the Thermic™ stretch fleece panelling offers excellent flexibility and improved breathability.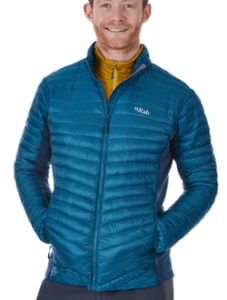 Rip-stop outer and lining fabric, which sheds water and is fast drying. The left pocket doubles as integrated stuff sack so it packs away neatly when you're on the move.
Available with and without a hood. From around £100.
Montane insulated jackets
The Prism jackets don't have the typical baffles of a puffa-style jacket, but do have a layer of silver Primaloft inside to keep you warm.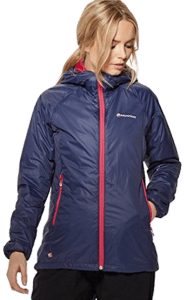 We liked the sleekness and the articulated arms for ease of movement, plus the long back. Water repellent too. From around £70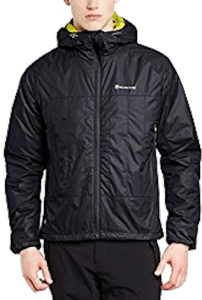 The Icarus and Phoenix are slightly heavier and have stitched baffles. Really stylish and the only let-down is the non-adjustable hood. Very toasty. From around £95.
Vaude insulated jackets
You've got to love Vaude for their eco credentials and their commitment to fair labour, which is why we've chosen a couple of theirs despite the higher price. They're our top pick for environmentally-friendly fleeces, by the way.
The Sesvenna jacket is a stretchy ski jacket that looks rather cool (and fairly warm). It has elasticated inserts, but is still water resistant. A thin and light option for those who want to wave their arms around. Great colours.
From around £8o, but a lot more for the latest options.
Just one style from Sprayway – the 
Agan for men
.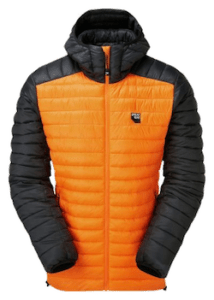 Very warm thanks to a blown insulated filling that gives a down-like lightness. and with a good (though not adjustable) hood. Around £100.
If you have a favourite synthetic insulated jacket that works well for you, do tell us a bit about it. 
If you really do need to have a down-filled jacket, then have a look at the welfare credentials of the company. If they stick to standards, they'll trumpet it on their labels, but it's worth just double-checking what the promises actually mean. Meanwhile, here's more info on down production.