After a few years of tantalising whispers and sweet nothings, Brompton now has its own electric folding bike.
If that's too steep for you, what about the alternatives and how about converting a bike to electric?
The new Brompton Electric – 16.6kg. This one with bag and six gears is a little more money but well worth it.
Latest update: April 2021
What's the best folding bike?
The consensus seems to be that the best folding bike is the Brompton. It's not the cheapest (and certainly not the most expensive either). It folds neatly, it's relatively light and it rides like an agile real bike. Could it get even better if it were electric?
The Brompton Electric has a 250W front hub motor but still folds to the same size as a non-electric. The battery can be carried separately in a shoulder bag and has a USB charging port for mobile devices. A smooth ride is promised thanks to an integrated torque and cadence sensor. A six-speed with battery will weigh just over 17kg, so very light for an electric.
We loved it, but the added weight of the electric system may come as a shock to people used to carrying their Bromptons up and down steps.
The best ebikes?
We all have our own needs and preferences. So, it pays to make yourself a shopping list.
How will you use your bike? Is lightness important (if you're taking it on public transport or up and down steps, for example)? Do you need to be able to get it in the car or campervan (a folding bike)? Would you prefer a hybrid or a bike made specifically for road or off-road? These are our favourites (after the Brompton), but we're always on the lookout for innovations too.
There are, of course, lots of cheaper options from the likes of Giant and Raleigh. There's a good range at LeisureLakesBikes, plus we rate their service.
Do test one out in a local bike store, if you can, and buy it there too – it's good to support these shops and you'll get help with setting up and maintaining your ebike.
As well as the B'Twin mentioned here, Decathlon has a surprising range of other electric bikes, including comfortable town bikes, like the Elops below, and sporty mountain bikes. They tend to be more affordable too.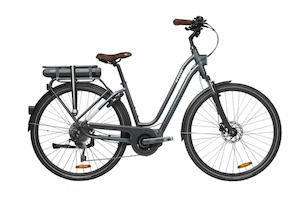 The retrofit alternatives to an official electric Brompton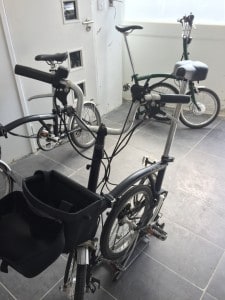 Folding bikes are great for camping, and especially for campervanners without a lot of room who want to be able to leave the van or motorhome on a site and still have transport. The hills, though, can be a problem! Wouldn't it be great to have a little help from time to time.
Nano Electric Bikes in Leamingtom Spa (and Marlborough) is a small company that specialises in electrifying Bromptons. They sell kits for home-fitting, will install for you on your existing Brompton or they'll order a new Brompton for you and electrify it.
We spent a few hours testing their three options a while ago – a pedelec system that means the electric drive won't start until you start pedalling, a twist throttle and a thumb throttle. It was fun, very tempting and not without a few caveats…but more on those later!
Our test bikes
The Nano kit involves fitting a lightweight motor into the front hub (which entails expanding the forks slightly and so won't work with titanium forks).
A small controller is fitted to the front stem and a control is added to the handlebars. The battery – a choice of 5ah, 10ah or 4ah power tool battery goes into a Brompton bag and the normal bag connection is fitted with contacts. Take the bag off and the battery stays in it, leaving you with an almost 'normal' bike again.
There are three handlebar control options – a push button control on the handlebar for low, medium or high assistance, a twist throttle or a trigger throttle. The law changed in 2016 to make it illegal to have a bike that would move without any pedalling. So, with all these options, a sensor next to the pedal tells the bike when to zoom. It doesn't start until you put in a teeny bit of effort first.
Twist-and-go
Twist and gos – bikes that can be powered by a throttle alone – require type approval. It's something an individual bike owner could do, but it's more likely that larger manufacturers will type-approve particular models before selling. If the power of throttle-only bikes cuts out at 15.5mph, they won't be considered as motor vehicles so won't need registration, tax, insurance and rider licensing.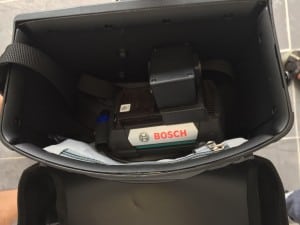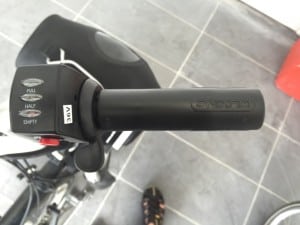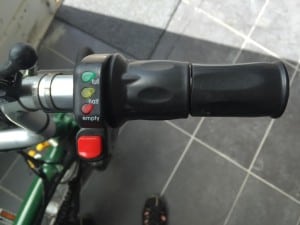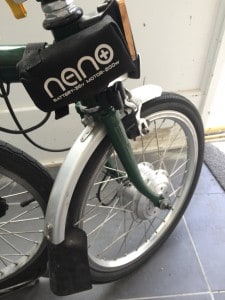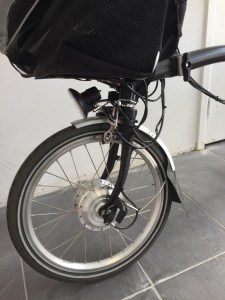 So what are they like to ride?
We tested all three Nanos, and all three were superb fun to ride. The pedelec was our least favourite because there was a sight delay in the power kicking in, which made it feel a bit jumpy.
We also had an issue with the power refusing to come on at all rather randomly when going up one hill. Nano tell us that their redesigned models for 2016 have reduced that delay to make pick-up quicker. We'll report back when we've tested them.
The twist throttle was far more intuitive as a speed control than the push button. Pull it back further and you go faster. However, even if you're not using power and are just pedalling, you're now holding a twisting handlebar end, which didn't feel all that stable or comfortable.
Our choice – the thumb control
The best option was the thumb trigger. You still get a solid handlebar to hold and a push down with the right-hand thumb gives you smooth power when you need it.
The kits didn't add much to the weight, though we would choose the 4ah power tool battery over the far heavier 10ah. You can't go as far on a charge (10 miles or so against 40), but you could carry two batteries and they're cheaper and more available (they just connect inside the bag with an easy push connection). You can fly with them too.
Making it your own
A downside is that one of the first adaptations a Brompton owner makes is to change the basic foam grips for something more comfortable.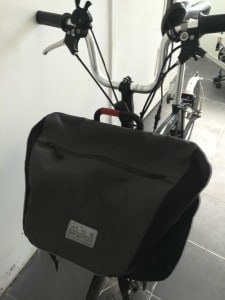 With a bit of cutting down and careful positioning, Ergon's GP2 (S) are just the job for a far more comfortable ride and better steering. You can't do this and have Nano's controls. The other downside is that the modification will void your Brompton warranty.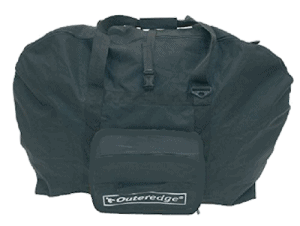 If you do go for an electric folding bike, we'd really recommend having a bag to store and carry it in. It keeps it clean and concealed when left in the car, campervan or the porch at home.
Alternative electric options for folding bikes
The other ebike conversion kits out there are:
Lots more folding and ebike ideas in our article on sports gear, toys and games to add some more fun to your camping trips.