How do you keep your food cool when camping? A coolbox might be fine for a couple of days, but what are the other options for camping fridges?
First, a quick summary of the types of camping cooler and portable fridge – passive, compressor, thermoelectric and absorption.

Then, a list of the questions you need to ask yourself so you can draw up your own shortlist.

Finally, our recommendations for couples, families and solo campers.
Latest update: October 2020
IMPORTANT!
With every type of cooler, the insulation is the key to how well it performs. If the box can't hold the temperature, then it has to work twice as hard – and that means more ice-blocks or more power.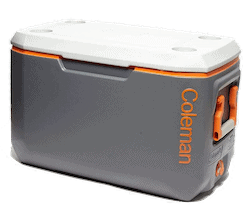 Passive coolboxes or coolers are insulated boxes or bags that you keep cool with ice-blocks or frozen drinks bottles. Their advantages are that you don't need power and they're usually cheaper and lighter.
The disadvantage?  You'll need to constantly refreeze your blocks if you're camping for more than a couple of days.
They come in a full range of sizes from as little as an over-the-shoulder 10-litre bag to whopping chest-sized, wheelable models.
They're most suitable for cooler UK and northern Europe camping, or for day trips and picnics.
You'll need good iceblocks for inside – the best we've found are the Thermos Freezeboards.
Passive coolboxes cost from just £15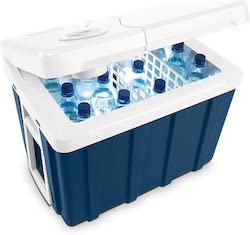 These are insulated boxes with the addition of an electric fan. They can be powered in your car or, usually with an adaptor, on the mains hook-up at a campsite.
How cold they stay inside depends on how hot it is outside. They won't keep food as cool as a home fridge (which is around 5°C) if your outside temperature is in the 20°Cs or 30°Cs.
Having said that, there are some high performance thermoelectrics that can keep the contents to 30°C below ambient.
They can drain a car battery quite quickly if the engine's not running, but they're cheaper, more lightweight and come in a wider range of sizes than our next two types.
The very cheap ones tend to be noisy, badly insulated and only really suitable for cooler camping and day trips.
Cost: From £30.

Compressor fridges are the top of the range because you can set a temperature for your food, or even freeze it, and that's what you'll get – unaffected by the searing sun outside. They'll have to do more work in hotter temperatures, of course, which means they'll run more often but they're very efficient.
They run on the car battery and also on mains (some will only freeze when on mains power). Many have power-savings features and some can operate with solar.
Average power consumption over a day tends to be low compared to other types, as the compressor only operates when needed.
They're heavier, but there's a good range of sizes.
They're suitable for camping in real heat, but are probably overkill for the UK and cooler weather.
Cost: From around £250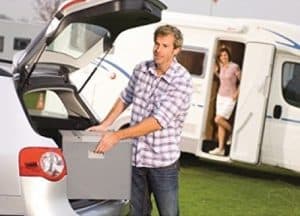 Absorption fridges start at around 30-litres in size and are the big boys of the coolbox world. They're sometimes called three-way fridges.
They run on 12/230v electricity and also gas. They make no noise and can cool up to 33°C below ambient.
The size means they're really for families or for long trips. The fact that they're silent, though, means you don't have to worry about disturbed nights on the campsite for you or your neighbours.
If you're using the cooler on gas, it must be in a ventilated area.
Some operate with a large gas bottle and hose; others take a canister.
This type of coolbox won't work if tilted!
Cost: From £250
Best three-way fridge we've tested is the Dometic ACX 40G – the G tells you it takes gas canisters. More here too.
So, now that you know what the types of coolbox can do,  it's time to work out what you actually need.
1. How much room do you need inside?
If you've already got a coolbox or bag, then you've got a starting point. Find out how many litres it holds and think back to previous trips to work out whether you had space to spare or you found it was a squeeze.
If you don't have a box as a gauge, then do a pretend pack with the things you're likely to want to take camping. Pack them into a box and measure the dimensions to get a rough idea of the space you need.
A family of four is probably going to need 40l or more; a couple could probably get away with 18l upwards. It depends, though, on what you like to eat, how long you'll be away and how often you'll be shopping for food.
Will you want to stand a wine or water bottle upright in the box is another question to ask yourself.
Don't buy something too big, as that's inefficient, plus you want to be able to fit it into the car and be able to lift it out when it's full. Try to set an upper limit too, so that you can narrow down your choice.
2. How cool would you like to be?
If you're travelling in very warm climates – the south of France or Greece, for example – your coolbox has to cope with a lot. Given that the grass set on fire in front of our tent in 47°C of heat in Corsica last year, it's a big question for us. So, where do you do most of your camping? Will you be in Europe for the whole of the summer? Or the Yorkshire Dales for a couple of weeks at Easter? Or will it be a mixture?
You'll see that unpowered and thermoelectric coolboxes are given an 'X°C below ambient' rating. How cool it stays inside depends on the temperature outside. The same is true of absorption coolers to a certain extent, but they'll usually have a much better X°C figure.
Compressor coolboxes, on the other hand, keep a constant temperature. The trade-off is cost, so it pays to consider what you really need in terms of coolbox coolness.
3. What about power?
Now you need to think about where you'll be camping. You'll be able to power a coolbox or fridge while you're driving, but will you have (or want) access to a mains supply at the site?
If you're wild camping or don't want to pay extra for a pitch with electric hook-up, then a powered box will be gradually warming up whenever it's not being powered in the car.
Good insulation makes a difference here, and so does how often you open the box. Leaving a coolbox on the car's 12v supply will drain the battery – how long that takes depends on the model of box. Some have power-saving features and cut-outs.
Absorption or three-way coolboxes can run on gas, but they're probably too big to be carting around when wild camping, and replacing the gas canisters could get as wearing as constantly refreezing ice-blocks. Remember too that they really need to be cooled down completely on mains – when on 12v they'll maintain the temperature but not get much cooler.
Some coolers or fridges will work on solar power, but unless you already have a solar set-up for your campervan or tent, then this is usually a complicated and expensive option.

 

Have a look at our guide to camping power – hook-up, portable and solar.
4. Worried about noise?
The final question may seem trivial, but do you really want a constant machine noise at night when you should be listening to owls or cicadas? And you don't want to antagonise your neighbours on a busy campsite with the sound of your coolbox.
Absorption coolers are silent (though you shouldn't sleep near them if they're being powered by gas), compressor coolboxes hum and turn on and off as they maintain the temperature (top-end models are quite quiet), and thermoelectric boxes have constant fan noise.
It's very difficult to gauge what the noise level will be. Often stores don't have their display models plugged in. Even if they do have working ones on show, the background noise in a shop makes it hard to get a real idea. We've tested a few models to check for noise.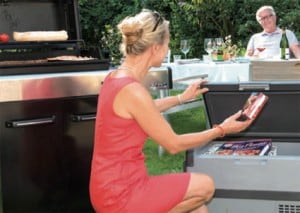 Here's what we'd suggest for some typical scenarios:
Check out the models we've tested to find your best option.
A footnote:
Maybe at this point it's time to just step back a moment and consider whether you need a coolbox at all. Radical, eh?
Could you make a few changes so that you don't need cold milk or butter in the mornings? If you're going to be near shops or places to eat, would it be better just to buy what you need when you need it, and spend your coolbox money on other people's cooking?
That doesn't work for us because we like to cook, plus it saves money in the long run.
However, let's say you camp in the UK at Easter and spend two weeks on a site in France in the summer – you probably won't need a powerful cooler at Easter, and it's worth checking if your summer campsite has rentable fridges or freezer facilities.  
And a tip: If you're away for several days, freeze anything you can beforehand and wrap it in newspaper before putting it into the coolbox. The food will thaw more slowly and less of the cold will escape when you open the coolbox. You can use the paper to light your campfire!