If you've already read our buyers' guide to camping fridges and coolboxes, you should have a good idea of what kind of coolbox is best for particular scenarios. 
Now it's time to look at some actual models to see how well they perform.
All our reviews at Campfire Magazine are independent and honest, and we have no ties to any manufacturers.
But, we do have a preference for Dometic (was Waeco). They've have grabbed the market for higher-end options and it's their ranges you're most likely to come across. They're reliably good.
You can also find slightly cheaper camping fridges branded IceCube, Berg and Bluefin, among others.
Now read on for our reviews.
Buying tips
Where we've given sizes for camping fridges, do check measurements before buying. Manufacturers aren't consistent in what they call 'depth' – sometimes it means length!
There are a lot of older models around, which might be fine for you. But, if you want the latest, do check the model numbers.
All Dometic's new models will say Dometic rather than Waeco on them.
If you haven't read our fridge guide, you might want to do that first – it'll help you narrow down your choice so you buy (and spend) only what you really need.
We tested the CDF36. Despite its name, this is actually a 31-litre fridge/freezer that's high enough to take upright wine bottles and two-litre bottles.
There's a cold section and a smaller area equivalent to the salad drawer in your home fridge, and even an interior LED light. A pull-out basket makes it easy to transfer things from the fridge to the cooler when you're packing. Its temperature range is +10 to -15, and, being a compressor, it'll achieve those temperatures whatever the heat outside.
It works on the 12V car or leisure battery and can be used on mains too. The CDF range goes from 10.5 litres to 39 litres. For bigger, you need to look at the CFX range.
What we liked
Very quiet indeed, and the compressor switches off when it's at temperature, so you also get complete silence (unlike the continual fan noise of a thermoelectric).
The slim shape makes it easy to fit behind the front seats or in the boot (remember that you need to allow a bit of space for ventilation around it). And the flat top is useful.
It uses very little power ([email protected]/25°C – 0.59 kWh/24h).
A battery-saving cut-off makes sure you always have enough car battery left to start the vehicle.
It was very cold within 15 minutes.
What could be better
Some of Dometic's fridges have carrying handles, but the CDFs have integrated grab-handles, which some people may struggle with.
Prices range from around £250 to £500.
You might also come across the odd CF26 model. Personally, given that these are no cheaper, we can't see there value. Opt for CDF or CFX instead.
and most features...at a price!
Could this be the ultimate camping fridge? The CFX3 is Dometic's latest compressor fridge and, although you won't be able to buy one under £700, they certainly offer a lot of features.
There are seven models – from 32-litres to 88-litres – and you can choose a model that will either chill or freeze, models with an ice maker compartment or true dual-zone fridge/freezers.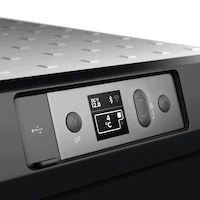 A gimmick? We're not sure yet, but some will love the idea of being able to control temperature and battery level using a smartphone app.
They look great and are made to be durable but lightweight. The frame has protection round the edges and there are tough aluminium alloy handles.
The VMS03 compressor is the best yet, with powerful and efficient cooling and freezing down to -22C. A good compressor is one thing, but you also need excellent insulation and sealing to make a fridge really efficient, and the CX3 has all of these.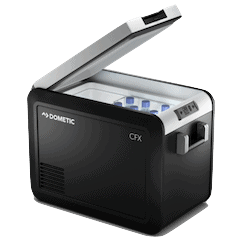 Many models go regularly out of stock. It definitely pays to check on Ebay as well. There's usually a good range that come direct from Europe with free or reasonable delivery. Plenty of guarantees against bad sellers too!
CFX3 35 – Portable compressor cool box and freezer, 32 l
CFX3 45 – Portable compressor cool box and freezer, 40 l
CFX3 55 – Portable compressor cool box and freezer, 48 l
CFX3 55IM – Portable compressor cool box and freezer with ice maker function, 48l.
CFX3 75DZ – Mobile dual-zone compressor cool box and freezer, 65 l
CFX3 95DZ – Mobile dual-zone compressor cool box and freezer, 82 l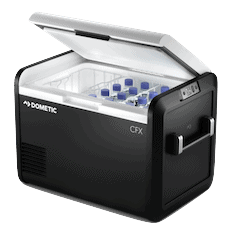 Cooling power
All the new CFX3 fridges can run on AC, DC and solar. The low power consumption using DC makes them perfect for pairing with solar panels.
Have a look at our power for campers article for some ideas here, especially how Gary Charman has set up his CFX3 75DZ to run on solar power. 
What we liked
The most efficient compressor fridge you can buy (can freeze too).
Separate ice or freezing compartments on the larger models.
Reinforced corners and solid carrying handles.
Works on mains or 12v.
Digital temperature display – and even an app to control temperatures!
There's also a USB charging socket on the rear.
Cons
Basket can be a bit 'tricky to remove when full unless you're standing right over it.
It's quite deep, so there will be some organising to do to avoid having to take everything out to find the butter!
Not cheap, but a solid investment.
An unusual one, this. The B40 (also called the CoolFun CK 40D!) is a 38-litre box-shaped portable fridge that operates on 12V as thermoelectric and on mains power using a compressor.
The idea is that you have a chill function on the 12V, but can use it as a freezer down to -15C on the compressor setting. You can't do both at the same time, so you do need to work out how you'll actually use it in practice. It is a cheap way of having a compressor fridge, however, at around £300. 
Prices, we've found, vary wildly on this one. Check Ebay again for models direct from Germany. At the time of writing, they were far cheaper than Amazon, even with delivery costs included.
The shape is a good one for easy stowing, but it does weigh 22kg. It's a good 'un for the money.
Dometic absorption coolers
Lots of people like the versatility of an absorption cooler. They'll run on gas or on either 12v or 230v electricity.
They do tend to be quite large and boxy, but the Dometic ones have a nice aluminium housing. These are the models we tested and rated highly. Prices from around £250 to £450.
41-litre ACX40G – The extra G means it works with a standard gas cartridge rather than a big gas bottle.
What we liked
Cools to 30C below ambient
Box-shape with a flat lid makes it useful for putting things on.
Silent running (love that film!).
12 volts in the vehicle, 230 volts at home or campsite and switch to gas for outdoor use.
Fairly light at 14kg
Cons
Takes up a lot of room.
A bit unwieldy to carry.
Steer clear of the absorption coolers made by Royal and Tristar. We found them unreliable and not very robust, but still around the same price as the Dometic.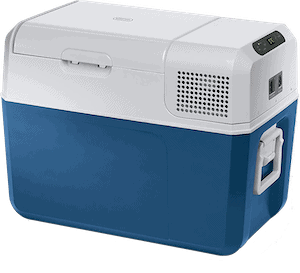 The Mobicool MCF range is brilliant. Set the temperature anywhere between -10 and +10C and the good insulation will keep power draw low. There's a battery monitor on the control screen just in case.
Runs on 12V and 240V and very highly thought of amongst readers. Three sizes – 31, 38 and 58 litres – from £330 to £400.
A new brand to us, but price (£330) is amazing and the 35l is about right for a couple or small family.
12V or 240V with cables supplied.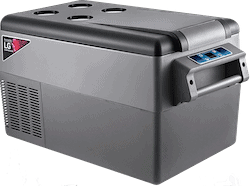 There are also 30-litre, 40-litre and 50-litre versions – all under £400 each.
We wondered how they managed to keep the price so low and I think I know the answer – it's the insulation. The test is to see how long they stay cold when turned off and unopened. For these, they warmed way faster than the Dometics. 
That's not a problem if you're keeping it turned on, but if you're running on a leisure battery or solar, the extra power needed to keep it at temperature may be an issue for you.
There are some less well-known makes of compressor fridge, such as US-based IceCube.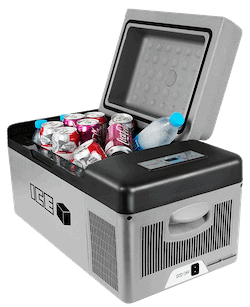 The IceCube compressor fridges are certainly a bit clunky-looking compared to the Dometic, but they're also a bit cheaper. They both cool and can freeze.
A couple of readers recommended these, but we've also heard from two people who had issues with reliability. It should be easy to return a faulty item if you buy from Amazon (which is the only place we found them for sale).
There's a 15-litre, 20-litre and 30-litre option with wheels – from around £250 to £350 in price.
They come with a 12V plug and an AC mains plug.
Alpicool compressor fridges
Possibly the ugliest camping fridges we've seen and definitely not the best insulated, but you may be won over by a starting price of just £160 for the 15l version and a 40l model for under £370.
There's a dizzying array of sizes, including 18l, 20l and 25l. We haven't tested these, but we have heard mixed thoughts from readers. If you want to try one, make sure you can return it easily.
Keeping medicines cool
For keeping insulin or medicines cool, you need a constant temperature, so it has to be a compressor fridge, but…
…although it makes sense to have a fridge you can also use for other things, you might not want to stretch to the cost of a compressor or prefer to have a separate portable medicine fridge.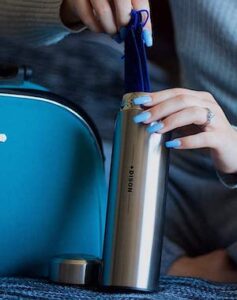 There are some decent passive coolers designed for insulin, but the best option we've found is the LifeInABox portable medicine fridge. 
It can hold eight insulin pens or bottles of injectables, has an app for control and runs from a normal power outlet or the 12V in your car or van. Constant temperature and a beautiful object too. Around £150.
Indel B were the only competitors to Dometic. We say 'were', because they used to be cheaper than Dometic for around the same spec. They're now barely more affordable and readers don't rate them as highly.
One reason to choose them would be if you needed a very small fridge for between seats, for example.
We tried the TB18 model. This is DC-only (so uses the car socket). The TB18 is very compact and boasts a new BD micro compressor with integrated control electronics, which regulates the speed according to the temperature set, so consumption is reduced to a minimum.
We found it to be properly portable – very light and with an included carrying strap. Slightly noisier at first (that wears off) than the Dometic. Given that it's over £400 and small, it's hard to wholeheartedly recommend it. But if you have the exact tiny space for it, maybe.
Reliable electric coolboxes
There are a lot of electric coolboxes, and some of them very cheap indeed. You need to check the insulation and, if you can, check the fan noise. These are the best we've found…
The Tropicool TCX range differs from the usual electric coolboxes in that the fan is at the bottom rather than in the lid.
They also have some clever power-saving electronics to improve performance and offer 12/24V and mains operation. There's a display panel to set the desired temperature level. And they refrigerate down to -7°C below ambient temperature and heat up to +65°C.
We tested the TCX 21 model. Around £300.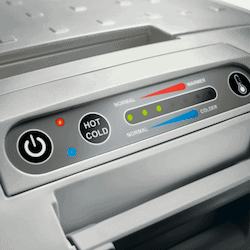 What we liked
Lightweight.
There's just enough room and a removable partition for flexibility.
The control panel was easy to use.
It got cold quickly, though we weren't operating it in Mediterranean conditions.
 Cons
We didn't like the constant fan noise and wouldn't want it next to us in a tent (or in a neighbour's tent!). Unfortunately, that's what you get with any thermoelectric box.
The Campingaz Powerbox Plus comes as a 24-litre, 28-litre or 36-litre option and has four modes for balancing cooling power with fan noise, including a night-time setting so you're not disturbed. From around £90.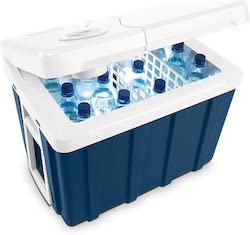 You get a lot of space for the money with the Mobicool 40l MQ40W. You can even stand 2l bottles upright inside.
It has two fans for faster chilling, and wheels and good handles make it easier to transport when it's full of goodies. Plus, dual voltage and a split lid to help keep the cold in.
The 40l costs around £100. There's also a 20l and a good range of other sizes at decent prices.
Our advice for any coolbox (especially passive) is to check the insulation, because that's what counts.
Pro grade passive coolboxes
There are hundreds of non-electric coolboxes out there that simply work by filling with ice or ice-packs. The level of insulation is what matters here.
There's something very appealing about the simplicity of a passive coolbox. No need for electricity or adaptors, but you do need to top up the ice or refreeze the blocks, and it'll never keep things as reliably cold as a compressor.
Don't forget good iceblocks – the best we've found for maximising space and coldness are the Thermos Freezeboards. Around £7.
These sturdy workhorses are the best when it comes to top-end, higher-priced passive coolers. Five days of ice at 30C? Not bad at all.
The Marine range (in white) is reliable. Sizes from 26l to enormous, stain and taint resistant interiors, superior insulation and prices from around £50.
Lots of Campfire Mag readers have told us they love their Coleman passive coolboxes. Prices start at around £55.
They have great insulation both in the walls and in the lid and can keep things cool for days (providing you fill the box and don't open it too much).
The standard coolboxes come in five sizes – from 33 litres to 91. We tested the 47l wheeled version by completely filling it with ice packs and bottles of frozen water. We found we still had ice inside after four days. Not bad at all.
Unlike compressor fridges, however, performance will vary if it's super-hot outside. Keep your coolbox out of the sun, if you can.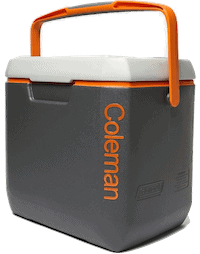 There's also a nice 26-litre model with a single carrying handle.
We liked:
The flat top and sturdy construction mean you can use them to sit on. There are cup-holders on the lid too.
Fairly lightweight – until you fill them, of course.
Excellent cooling.
BPA-free plastic.
We weren't so keen on the handles as they were a bit sharp to hold and carrying the bigger sizes feels a bit awkward.
We've been asked quite a few times whether a tabletop mini fridge would work for camping. The short answer is "yes, but…"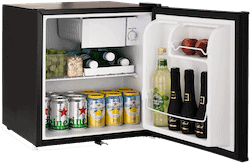 These will generally work only on a standard wall socket (240V). The main problem, though, is noise. They do tend to make a bit of a racket. That's partly because the motor needs to run for longer and more often than a well-insulated, made-for-camping compressor fridge.
Some people are happy to put up with this because they like the idea of having an extra little fridge at home.
The SubCold comes in 50l or 70l capacities and is a decent option for less than £150. 
We were interested to see how Dometic's Cool-Ice passive coolboxes would measure up to our old Yeti (no longer available in the UK).
We tested a 22l model (other sizes available) and found it reassuringly sturdy.
Dometic's tests have shown that if you filled one with ice, only opened it for a minute a day and removed the melted water, you'd still have enough ice left to make it effective after 10 days. This was on a constant 30-degree temperature. That looks impressive, but it's not how people actually used their coolboxes, of course.
We froze a two-litre bottle of water, left it in the box in a sunny porch and checked on it three times a day. We got three days of useable coolness.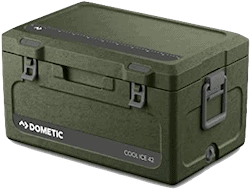 We liked the Cool-Ice for being lighter and for its more useful shape – a flat-topped box that you can use as a side-table or stool.
It has good hinges and latches, low heat absorption and is supremely sturdy. 'Labyrinth' seals ensure no cold can escape. There are spares available too.
Prices from around £70.
This cheap coolbag from Decathlon is brilliant for picnics and weekends away.
With ice packs, you should get two or three days of cool temperature inside. Without ice, it'll last all day (providing the food and drinks you put inside are cool already).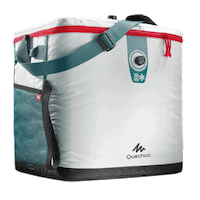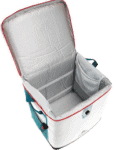 This one is the family-size 36-litre (£40), but there's a 26-litre version and two smaller backpack coolbags too.