Prepare to be surprised and delighted by a camping trip to Strasbourg.
Not your first thought for a French holiday? With one of the best campsites we've found and lots to see, do, eat and drink…it's definitely a camping holiday to consider and remember.

Ferries to France – what about Hull?
If you live in Scotland or the north of England, then getting to France is easy. We used to drive all the way to Portsmouth, but then spent a while working out the comparative costs and time of a ferry from the south versus a ferry from Hull.
Surprisingly, we found that, even if you're heading to the south-west of France, it's cheaper and less distance to go from Hull to Zeebrugge.
It's overnight – leaving Hull at 18.30 and arriving in Belgium at breakfast time. Not only does it get you in the holiday mood faster, you get to do the interesting driving at the continental side rather stop-starting all the way down the M1 or M6. And, you could do worse than spend a day or two in Hull – City of Culture in 2017.
Sadly, food on the ferries isn't what it used to be. I can remember looking forward to the semi-luxury of a buffet or restaurant meal. These days, it's expensive and mediocre and every part of the ship shouts sales messages at you – from drink-more leaflets on every table to buy wifi, cuddly toys, perfume, gin and more.
Take your own food?
We used to take our own food ready to warm up in the microwaves provided for baby food. No more. Microwaves have gone for some unfathomable safety reason. 
Now, you'll either have to (literally) stomach the cost of poor on-board food, or go prepared. We take a selection of salads and dips or (if we're being very organised), make up insulated food flasks filled with stew, soup or curry.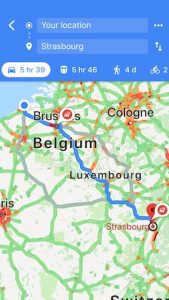 The drive to Strasbourg
From Zeebrugge, it's around a six-hour drive to Strasbourg, but it's easy motorway driving with enough interest en route to make it a pleasure rather than a chore – chateaux, rural villages, forests and more.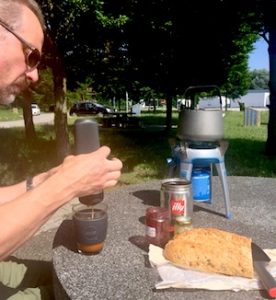 We chose a route through the Ardennes and into Luxembourg, stopping for breaks and lunch at the aires, where we brewed perfect Americanos with our fantastic new Wacaco Nanopress and the trusty Bivouac stove in less time than it would have taken to order one (and better too!). Stock up on bread, salad, pâté foe the trip. Delicious!

A quick note here about French emissions stickers. You now need a certificate for your vehicle if you plan to drive into six (and rising) French cities, including Strasbourg. They state the category of emissions for your car, campervan or motorhome and come into force during times of high pollution. You could get away without one if you avoid the cities, but they only cost a couple of euros. Make sure you apply at least a fortnight before you travel.
Camping in Strasbourg
It'd be hard to imagine a better near-city campsite than the Huttopia Camping de Strasbourg.

It's just 2km from the centre of Strasbourg, but is surrounded by trees, a park and waterways. The facilities are clean and almost luxurious. There's a small swimming pool, café, bikes for hire, cute chalets if you want a break from the tent or van and, in fact, everything you need. It's always busy, but never feels too crowded because pitches are nicely separated by greenery.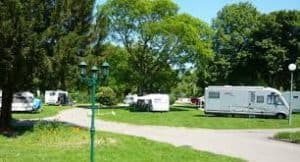 When we arrived, the site was full, but campers can overnight in the car park, which is as good as many campsites (though the railway makes it noisy if you're in a rising roof campervan or tent). You can then reserve a pitch for the next day, because people come and go here quite quickly.
Hire a bike, catch a bus or take the tram into Strasbourg. Visit the Musée d'Art Moderne et Contemporain, the German quarter, Petite France, the canals and waterways, the half-timbered buildings and the great shops. Despite being an important European city, it has the feel of a big, cam and welcoming town where you can stroll around and find amazing places to eat (including good choices for vegans and vegetarians).
The mix of German and French culture, language and food is fascinating. For even more Alsatian culture, we drove to quirky Colmar (a 50-minute train ride from Strasbourg if you prefer). 
This small town is all crooked houses and flower-bedecked canals. It's also home to the Issenheim altarpiece, whose bizarre painted panels are awe-inspiring even if you're not into religious art. 
We strolled around Petite Venise and headed into the hills out of town to explore ruined castles and taste the delicious Pinot Gris wines.
The return journey – two nights in Bruges
To get us closer to Zeebrugge for the return journey, we drove to Bruges and a fantastic campsite within easy cycling distance of this tourist-y but still beautiful city.
We'd stayed at Camping Memling before, and you can read all about that in our article on camping in Germany (via Belgium). Don't miss Ghent and its brilliant art museum too.
Have a look at our other French camping trips too – just type France into the search box! And if you have any recommendations for around Strasbourg, Alsace and Lorraine or further afield, do share them with us and Campfire readers.