In teenage terms, it's a bit like Justin Bieber drag-racing a Lamborghini when the world pictures him tucked-up at 9pm in his Spiderman PJs. So says Lee Davey about caravanning's identity crisis. Spurred on by writing our guide to whether to buy a campervan or a caravan, we've been chatting to Lee about those tin-tents.
Do caravans have an image problem?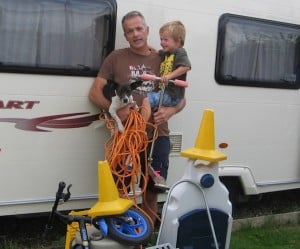 Lee has spent plenty of time in and around caravans over the last decade or so – initially drawn to the chance to spend time with the family in an affordable way. Since those early days, though, he's been busy talking about caravanning on TV and radio, contributing to various magazines and judging Caravan Club awards.
"Given the vast numbers of folks who hitch up and head off week after week, the increasingly popular tin-tent still seems to do daily battle with its image," says Lee.
Beige box aside, caravanning offers limitless potential for budget-friendly breaks, something I've enjoyed with my family time after time. For example, what started as a hop to France resulted in a five-country, eight-day tour – such is the flexibility it offers.
Cheaper than a motorhome
We've dressed in neoprene and gone gorge walking, saddled-up for mountain-biking on terrain that resembled the surface of Mars, Poppy (11) entered a European round of Cani-X with our Jack Russell (and came 3rd!), we've turned back the clock 70 years for '40s weekends and I've demonstrated such a poor grasp of foreign languages that my daughter is keen to study hard to avoid me reaching for Google Translate…again.
It's cheaper than a motorhome and doesn't involve a rapid re-pack when you run out of tea bags, and it has taken us far further than we could have imagined.
As an example, Poppy sent her caravan diary to Practical Caravan and was offered a season-long column whilst at primary school.
Caravanning is a huge hobby that's embraced my many, many happy people, which makes me wonder. Has this image been carefully cultivated to keep folks' favourite sites from filling up? Sounds like a caravan conspiracy theory…"
New dog, old tricks – Lee discovers the beauty of vintage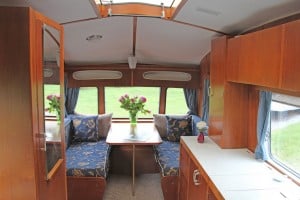 Compared to primordial soup and dinosaurs roaming the Earth, the passing of 45 years can be measured by the blink of an eye, but turning back the pages of time to 1969 reveals a year that's like no other.
Armstrong and Aldrin set foot on the moon, Woodstock attracted 350,000 people, a quarter of a million protesters marched on Washington to protest against the Vietnam War, the death penalty was abolished in the UK and the average house price was a lofty £4,600. And then there's the eye-watering fashion…
But, tucked away in a quiet corner of England, oak boards were being cut, ash frames were being made and, ahead of its time, a chassis was being formed from recycled materials. Ladies and gents, welcome to the forward-thinking Cheltenham Caravan Company.
However forward-thinking you are some forty-odd years ago, how does late 1960s innovation compare with modern-day caravan construction that's littered with acronyms such as iDC and SoLiD that boast of a hi-tec stability system or a new method of construction?
Solid by name…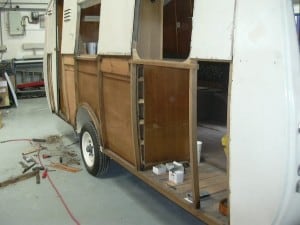 The kind folks at Blackmore Vale Leisure lent me a couple of caravans to find out – a pristine Cheltenham Nyala, which was described by the Cheltenham Owners' Club Chairman as being one of the best in the country, and a 2013 Elddis Affinity 540. Both are undoubtedly well-appointed and well-built; it's just that they're separated by four decades.
If you've recently visited an Elddis dealer, the Elddis website or the Elddis show-stand, it's almost impossible to miss their new construction system – SoLiD – which, thanks to a bonded construction (quoted from the brochure), makes for a strong, light and dry caravan. I've lived in places that haven't been as light and airy, didn't provide such a feeling of space and certainly didn't have such a well specified kitchen. The Elddis as a tough act to follow – more so when you're 44 years its senior.
The Cheltenham, however, comes from a different era and somehow feels to have a different purpose, one in which its manufacture provided an escape from home, a vehicle that presented the opportunity to visit not only parts of the UK but also the continent.
It has a distinctly stiff upper lip feel to it with a chassis that's forged from melted-down gun carriages and an ash frame that sits atop an oak tongue and groove floor. Form and function seem to have struck a happy partnership with a curvy Vanmaster-esque one-piece roof that leads the rainwater into the most stylish piece of guttering you'll ever find on a caravan, past or present.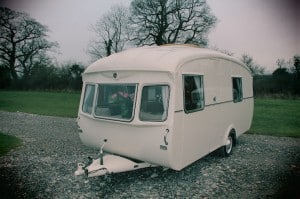 The is-it-childproof test
Caravan stability in the 1960s wasn't a product of Silicon Valley. It's not instantly noticeable but, looking along the Nyala, the sides are bowed, as is the roof, and set further back from the centre-line are the wheels which, I'm told, provide rock-solid towing at the upper-reaches of modern speed limits.
Sturdy craftsmanship reigns supreme and, as with all caravans I set foot in, I conduct my imaginary Charlie-test. He may only be seven, but he possesses the uncanny ability to find the weak spot of any caravan within a matter of minutes, pin-pointing any flimsy fixtures. I think he'd struggle with the proper carpentry and '60s-style steel hinges. Even peeking behind the scenes reveals yet more solid stuff without a hint of thinly veneered ply.
Quite simply, it's a travelling tea-drinker's paradise, one in which surroundings can be changed on a whim without ever compromising on luxury.
As with a few Hollywood starlets, the Nyala underwent a nip and tuck and was stripped bare before being lovingly and painstakingly put back together. This caravan of yesteryear may be a year older than I am but has fared far, far better.