Just because you want to camp and enjoy the countryside doesn't mean you can't get some city culture too. We put ourselves in the hands of a cool, kind and clever Bristol student to discover this great city.
Latest update: January 2019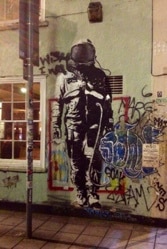 Bristol has something for everyone…
…from edgy graffiti to perfectly posh, from cheap canteen-style snacks to well-turned-out sophisticated cuisine, independent cinema, docklands, the Arnolfini gallery, the craft beer scene, the longest street of independent shops in the UK (Europe?).
They fought off Tesco in Stokes Croft and won. The city was built on the slave trade, of course, but they don't do that sort of thing now.
We won't do a full description here because, to be honest, someone else has done a much better job than we (as weekend tourists) could ever do. For a beautifully written description of Bristol, have a look at this blog.
Base yourself at one of these campsites:
The Caravan Club's Baltic Wharf site is open all year to non-members too and is right in the middle of the Bristol Docklands. No tents, sadly, and the 48 pitches get booked up. There's also a question about its future beyond 2015.
Just a mile from the city centre and just for tents is Enneywevers. Room for eight tents, plus three glamping units. It's a quirky place and cyclists especially welcome.
Brook Lodge Farm at Wrington is a green tourism award-winner and has affordable pitches for tents and caravans. It's a fair way out of Bristol in lovely countryside.

Manor Farm is an organic farm shop, campsite and café at Upton Cheyney, and has the advantage of farmhouse breakfasts and a Curry on Camping night once a month. Open at weekends from Easter, but seems to be closed during the week.

Wood Camping is set in 20 acres of woodland on a farm. It's got basic facilities so far, though there is a hot shower. It's just north of Bristol and there's a bus to the city. Workshops, farm food, campfires allowed.
Walnut Tree Farm is at Wingford and has tent pitches plus a bunkhouse

Kingdown Breeding Farm is adults only. Well, it had to be with a name like that! For caravans and motorhomes and in countryside beyond Bristol. No website, but you can call them on 07798 787543.

Check out our article on campsite and wild camping apps to see more.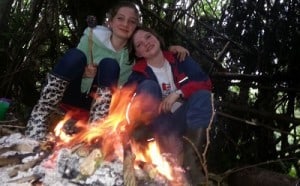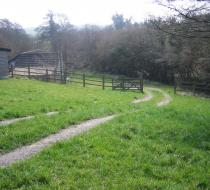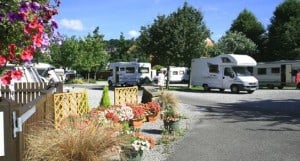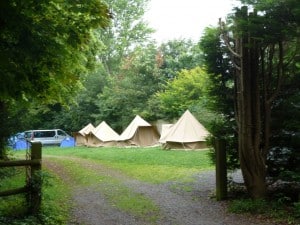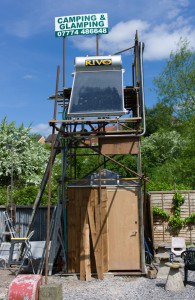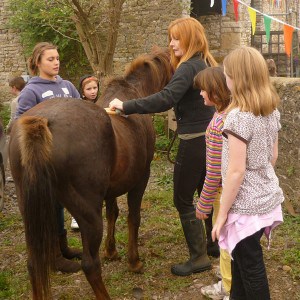 Eating in Bristol
And here's our totally uncomprehensive whistle-stop tour of the bars and eating places we discovered (thanks to Alice).
Beets and Roots
Vegan and delicious with a lively atmosphere and healthy choices.
Hart's Bakery
Best croissants this side of La Manche and lots of other delicious pastries, plus coffee. Near Temple Meads.
Flow
Exciting plant-based food with a creative range of flavours and decent prices. VERY tiny place.
Dev's Kerala
South Indian cooking is always so delicious and one of the best options for vegetarian and vegan dishes/ It's a bring-your-own restaurant in Bishopston. That makes it cheaper too.
Poco
An award-winning British tapas (plant-based) restaurant – another with great creativity plus unusual and tasty combinations.
Marmo
A bar and restaurant with organic choices and an Italian slant.
Bill's
A sort of sub-Jamie's-Italian decorated diner/bistro (part of a chain) with a relaxed atmosphere, candles, chatty staff and a mixed menu big on taste.
We liked our food, though thought our crispy squid starter was way too expensive at more than £1 a squid ring. Hmm. However, the homemade tartare sauce that came with it was delicious (having run out of squid to dip into it, we just ate it with a fork!). We also loved the apology that it would have to be fresh lime rather than cordial in our vodka and sodas. Fresh lime juice and the right lighting make us happy.
Paco Tapas
A good choice of (now Michelin-starred) meat and vegetarian tapas. Find it in Lower Guinea Street, but don't expect a budget dinner!
Red Light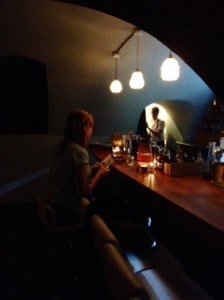 What is this place? '30s brothel? Prohibition speakeasy? There's no sign outside; just a doorway with an intercom. If the red light's on, then they're open. You press the button and someone comes up to let you in. Down a stairway with red leather padded walls into a vaulted basement, long and skinny with retro bits and pieces and an atmosphere just the right side of faux-sleaze and real-pretension.
The cocktail menu has none of the garish stuff; just grown-up mixes with hefty prices (£8 is the cheapest). We drank a drier-than-dry martini with a twist of orange peel and a subtle Mai Tai with mint and cherry.
The best thing? The bar seemed to have been taken over by two schoolboys fresh from the chemistry lab. There was a lot of quiet, serious dabbling with expensive ingredients, demi-johns and tealights, and a lot of sober-in-our-braces whispering that we guess might have been covering up a bit too much early evening experimentation with the drinks.
HK Diner
We spotted this the evening before and saw how popular it was with Chinese and Malaysian customers. A very basic canteen with seven separate (and long) menus of food from China, Indonesia, Malaysia, Singapore and more. Plenty of scary-sounding dishes to reassure you it's not just catering for western tastes and a fantastic value set lunch, dinner and student option (£6-£9). We forgot breakfast and went there at 11.30, before it even opened. They let us in, and it was a good job we'd gone early. By noon, every table was full.
Nothing sophisticated here, but great value, big portions and lots of interesting tastes.
Thali Cafe, Clifton
Popular and a promising looking place with its retro Bollywood posters, candles and warm wooden-ness – and the menu was exciting too. There are starters and then a range of thalis that come with a pumpkin curry, rice, crunchy salad, tarka daal, raita plus a choice of lamb kofta, chicken, paneer, prawn or vegetable curries.
Good organic wine, not too expensive, and then the anticipation of the thali tray arriving. From here, it went a little downhill. While the food tasted good, it was tepid – putting small quantities in unheated metal bowls meant everything cooled down far too fast.
Nice idea overall, but you can get better value thali at a dozen places around Bristol. Admittedly not all of them will be donating your £1 water charge to pay for filtration systems in India! The refillable tiffin tins were a great takeaway idea too, though the expense and the so-so-ness of the food itself would probably not send us rushing back with our tin.
Small Bar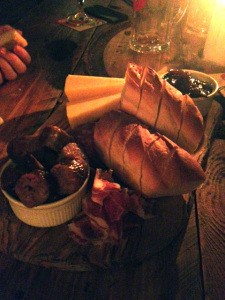 Yes, yes, yes. Small(ish) bar, big welcome, big-on-taste beers. What a great place – all wood and stone, candles, bare retro lightbulbs and music only just audible in the background. The range of beers is exemplary – "25 taps pouring great beer produced in the South West and beyond" – and the knowledgeable staff make choosing fun and educational. They're happy to let you have a taste before you make up your mind whether to go for a terrifying 12% alcohol brew or Bones of a Sailor at a mere 8.6%.
There were big and delicious meat and cheese platters when we called in. Upstairs, a steam punk gathering; downstairs hipsters and beards and a few ordinary souls too.
Mud Dock
In a great harbourside setting, Mud Dock is a bike store with a bike-themed cafe-bar above. The staff are friendly and, though it's a small menu, the food seemed fresh and reasonably priced. We did have to send the over-roasted, bitter coffee back, but they were more than happy to knock it off the bill – and didn't add on the mandatory 10% service charge as an apology.
Nothing terribly special in terms of food, but a bustling place with views and an outside deck for sunnier days. Plus, if you like bikes, you can gorge on the tasty catalogues strewn around the place!
Grillstock
Meat, music and mayhem is how they sell themselves. People queue to get a place at the single, giant table and the barbecue menu is tongue-tingling and light on anything healthy or green (you can't really count jalapeños or gherkins, can you?). We ate pulled pork and brisket platters with skinny chips, coleslaw, pickles and help-yourself barbecue and hot sauces. And there's no denying it was delicious.
This is not a place to linger over your meal, though (thanks to the 'mayhem'), and once you're full and on your way home, the idea of so much meat and so many people crammed into a small space can seem faintly repellent. Our version of Grillstock would be one that made a stand for organic, local meats – and then we could feast with a bit more of a clear conscience.
Boston Tea Party
It's a chain, but a lovely atmosphere on a Sunday with families eating pancakes and bacon or eggs benedict at old-looking wooden tables and lone breakfasters reading the papers. Tin plates, distressed walls and canteen furniture. Hip and happy.
Mint Room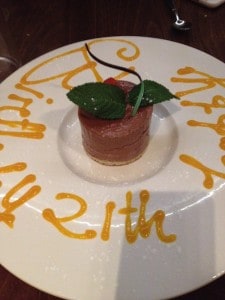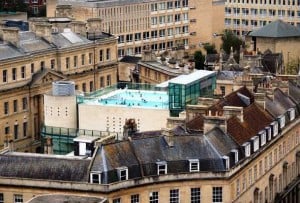 A
nd just a little side tour to Bath for a decadent time in the Thermae Spa and possibly the best curry in three years of reviewing. The good news is that they've now opened in Bristol too, though we can't vouch for its being as perfect. We kicked off with a fabulous Kachumba Kicker cocktail (mint, gin, coriander, chilli and ginger) and then struggled to choose from a menu that featured favourites but also rabbit and red mullet. It's all slightly 1990s sparkly glamour, with excellent service…and just look at the birthday gift they brought out for Alice on her 21th birthday. We didn't have the heart to tell them!
Given Bristol's dynamism, this guide will be out of date before I've finished this sentence. There are thousand of places to eat and drink in Bristol. Plus, you'll find countless great pubs in the surrounding areas. If you do visit, let us know your favourites. And, if you know another area well, do send us a list of your recommendations. Leave a comment below