There are so many places to see, so many campsites to try and so many fantastic places to eat and buy local food in North Yorkshire and the Yorkshire Dales. There are moors, woodlands, industrial heritage, ruined abbeys, waterfalls, gardens and even a coast!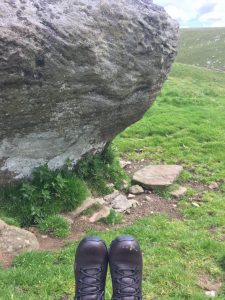 In this first instalment, we're randomly roving through Wharfedale and the Skipton and Settle areas. We've also added recommended campsites and places to visit around Masham/Ripon and Thirsk.
It's a work in progress and we'll be gradually adding as we discover more.
Wharfedale and beyond
Our ideal weekend camping trip involves finding a good site with enough of interest nearby so that we don't have to drive anywhere. That means somewhere with delicious food, plenty of walks and, often, a bus service to get us into town.
Our favourite campsite in the area. A superb location and views, a conservation award and nicely terraced pitches. This is our choice for couples and quieter camping.
There's a small shop, a main shower block near the entrance and convenient toilet sheds lower down too. Wifi next to the shop, a B&B option, big pitches with space, well-tended grass and nice owners. Not to mention friendly robins, chickens and cat!
From the site, there are great walks over to Parcevall Hall Gardens, Simon's Seat and the stunning Troller's Gill, which could eventually take you to Stump Cross Caverns or on a circular loop to Appletreewick.
It's still walkable along the river to the Craven Arms, though it's a three-mile round-trip.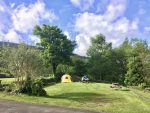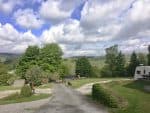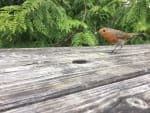 This very popular site at Appletreewick SEEMED to fit the bill perfectly, but it's often crowded with everyone packed in too tightly and no privacy. However, we can understand why families like it.
The office and well-stocked shop are in an Airstream, you can order newspapers, bread and croissants, there's a bakery van on some days with 'fatboy' sausage rolls and cakes and….wait for it…the (women's) showers have straighteners. Both blocks have piped in birdsong and clip-clopping horse noises!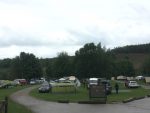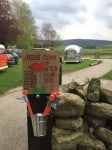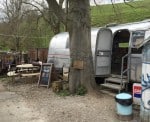 It's a slick business with staff in 'crew' T-shirts, Airstreams and VW vans for hire and glamping in yurts that have their own outdoor kitchens, stoves and fairylights. There's free wifi and even flags to stick next to any dog dirt you find so that staff know to come and clear it up.
The only downside, unless you're a family, is that it's a VERY child-friendly site. That means noisy mornings. It's an open field without any hedges or trees between the pitches so it has a festival feel to it.
There are big firepits for hire, so there also tend to be gatherings going on around you. Pitches tend to get booked up, so just turning up isn't always a good idea.
It's a flat field in farmland right on the riverside. You can walk along the river on the Dales Way or head off into the hills.
The fabulous Craven Arms pub and cruck barn is a gentle stroll up the road (see below for why this is our favourite pub in the Dales) – superb food, roaring fires when you need them, friendly staff, decent prices, good beer and lots of quirk. Not surprisingly, it's often very busy.
Other campsites in the area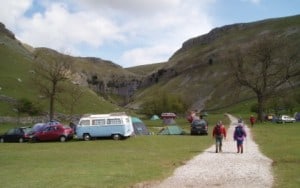 Catgill Campsite, Bolton Abbey – good position, tents and small campervans only.
Bolton Abbey Estate – a Caravan Club site, rather more sheltered and private than either Catgill or Masons.
Gordale Scar, Malham – basic, rugged and gorgeous if you love nature undiluted.
Our recipe for a few perfect days in Wharfedale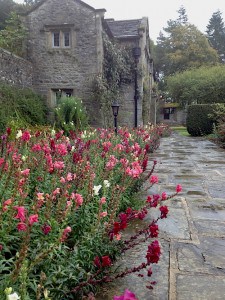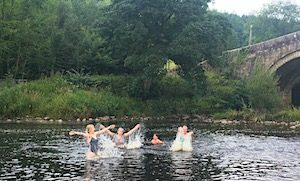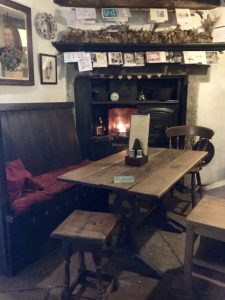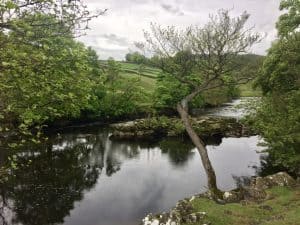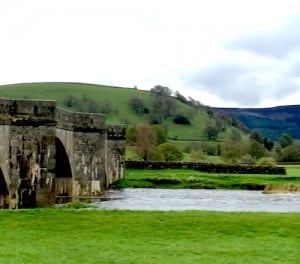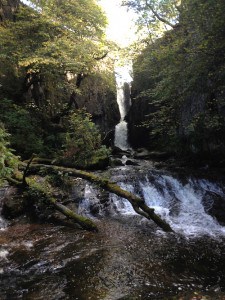 From Appletreewick, walk along the river to Burnsall Bridge (a mile). There are pubs and a tearoom. You can carry on to Grassington or catch a bus from the bridge.

Pick up a picnic in Grassington. Weatherhead's pies are delicious, the Spar is good for basics and there's a rather too expensive but nice deli called Relish. The cafés are not all that exciting, but you'll get decent coffee at CoffeeEco.

Walk back to Howgill Lodge campsite along the Dales Way, which follows the river. We spotted goldfinch, curlew and lapwings and heard the first cuckoo.

Eat at the Craven Arms in Appletreewick – fantastic food, gorgeous place, lovely people.
Or…do the five-mile circular from the top of Grassington. It's lovely for its varied landscape and for the views.
Walk or drive to Parcevall Hall Gardens, which is lovely even on a drizzly day. There are woodlands, a stunning rock garden, formal terraces, utter calm…and a tearoom in season.
Explore further afield at Pateley Bridge, buy provisions at Booths, the UK's best supermarket (branches at Ilkley and Settle), swim in Malham Tarn (sadly, not any more….we've been told that the National Trust has put up signs warning swimmers off due to weeds and algae). Instead, walk the waterfall trail that takes in Stainforth and Catrigg Force, or walk up Troller's Gill and veer off for the climb to Stump Cross Caverns.
Camping on the Ure
Further west, you'll find the lovely cathedral city of Ripon and, not far away, pretty towns and villages like Masham, West Tanfield, Osmotherley and Thirsk.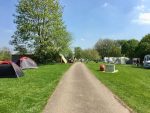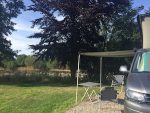 Down a private track near West Tanfield, this is a great campsite right on the banks of the Ure. You can swim, canoe, paddle and, when the water's low, explore a lunar landscape of flat rocks and pools.
There are quite a few permavanners on the route into the site, but out of main season these won't necessarily be occupied and the site will be quieter than it first seems. Riverside pitches are more expensive (around £30 a night with electricity), but there are also a couple of other attractive camping fields too.
Facilities are super. Clean toilets and showers, a kitchen and freezer room, laundry, local information and a small shop. The people (especially Katherine) who run the site are friendly and helpful.
Booking is essential and you can do that online. There are two pubs with good food within walking distance. The Bruce is fairly smart and VERY expensive, though the food is interesting. The Bull has the advantage of a riverside setting and has a more classic pub menu with some affordable options.
What to see within reach of Sleningford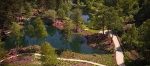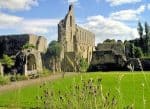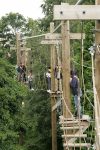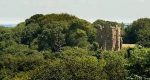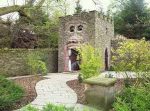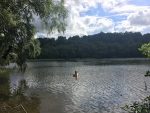 Forbidden Corner – a fantastic place of follies, trickery and surprises for kids and adults.

Gormire Lake at the bottom of Sutton Bank – a quiet swimming spot.

Hackfall Woods – acres of forest with paths to streams and follies.

Masham – for the brewery, of course.

Newby Hall – magnificent gardens and a nice café.

Kiplin Hall – an enviable walled garden and a lake.

Himalayan Garden – a sculpture park and stunning gardens.

Thorp Perrow – an arboretum that's great for exploring in any season.

Aerial Extreme – high ropes adventures near Bedale.

Fountains and Jervaulx – beautiful abbeys, especially the quieter Jervaulx.