When Carl Wild was stuck for a present for his dad's 65th birthday, he came up with an idea that was a gift for them both – a chance to get together and enjoy their shared passions for camping, hiking and the outdoors.

The best presents make memories
"I couldn't face the prospect of buying the usual aftershave, latest gadget or some other material item," says Carl.
"I'd recently read the book Stuffocation by James Wallman, which links the accumulation of material possessions to emotional ill-health."
The answer was a navigation and mapping reading course – and camping within walking distance of a birthday beer and meal.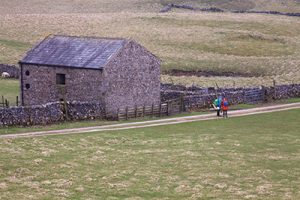 Carl chose Brigholme Farm, a small Caravan and Motorhome Club certified site on a working farm 10 minutes from Settle in the Yorkshire Dales (see more on camping and exploring in the Dales).
For the navigation course, Carl chose a half-day with Settle Wolftracks, run by Jo Wulf, who's a member of the local mountain rescue team and a qualified summer mountain leader.
Map-reading skills and equipment
"Jo arrived at the site as arranged and we spent the first 20 minutes in the motorhome running through the theory and basic concepts of navigation," says Carl.
"We covered how to read the Ordnance Survey Explorer maps of the area, how to set six-figure grid references (along the corridor and up the stairs), understanding the map scales, measuring and calculating distances and walking distances, basic operation of the compass, taking bearings and the procedure for calling for help.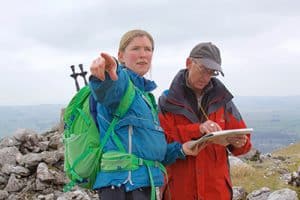 "Jo can provide local maps and compasses as part of the course, but it's probably worthwhile bringing along your own equipment to ensure that you get specific tuition. I brought a Silva 4 Adventure quest compass that can be used for both basic and advanced navigation."
With the basic theory under their belts, Carl and Peter headed to the hills for five hours of relating the map to the 3D features of the surrounding landscape.

Taking bearings with a compass
"We quickly learned a number of key navigation skills," says Carl.
"We learnt how to calculate and measure walking distances accurately, taking bearings from the compass in the field, boxing, offsetting and pacing."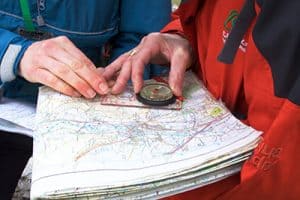 "As a novice, I was amazed by the level of minute detail and features on the Ordnance Survey maps. I'll never look at these in the same way again."
It was clearly a successful introduction to map-reading because the pair managed to navigate their way to the local pub at the end of the day.
"The experience, skills and memories gained from the day and the time I spent with my Dad certainly surpassed any material gift I could have given," says Carl.
If you'd like to share an adventure, your love of a particular place or a skill with us, do get in touch. We're always delighted to hear your stories.