We found Les Terrasses du Perigord after making a swift exit from the Limousin, where all the campsites we tried were closed.
Although the season officially starts in May, the chillier and wetter climate of the Limousin means you take pot-luck about whether campsite owners feel it's time to open.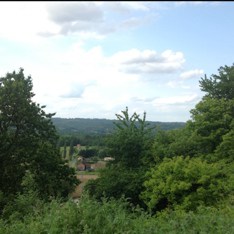 The view from our tent
Camping near Sarlat-le-Caneda
Les Terrasses campsite is 2.5km from Sarlat-le-Canéda on the top of a hill. It overlooks fields and woods and each pitch is shaded with trees and feels nicely private.
Arriving on May 24, we had the site more or less to ourselves. We chose pitch number 66, right on the edge of the site with an uninterrupted view of the valley.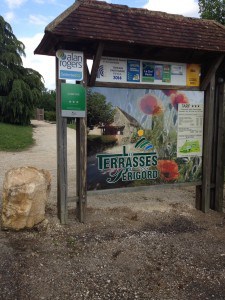 The toilet and showers are clean; there are washing-up and washing facilities; a large games room; a large outdoor pool, plus a giant covered jacuzzi (there's a fee to use the spa pool). Then there's mini-golf, an outdoor fitness course, children's play areas and a bar and small bistrot (closed out of season).
We usually look for more basic sites because better facilities attract more campers. At this time of year, though, that's not a problem. We did wonder how the site would cope at full capacity (around 400 people), though.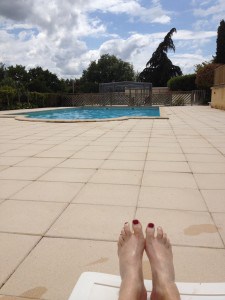 The wifi was free and available at a fair distance from the office. Why do any campsites charge for wifi these days?
An area for exploring
There's lots to visit in the area – prehistoric cave paintings galore, bastides, river swimming and canoeing, museums, animal parks and lots of lovely gardens. It does get busy in main season, though.
We'd recommend the Gouffre de Proumeyssac for its amazing history and vastness (not to mention the poor worker turning calcifying pots) and the lovely Jardins des Marqueyssac, which go on forever and mix manic topiary with woods and wildness.
We'll be adding to this article, but do send your recommendations too.