Camping sets you free to go (almost anywhere). Here, we travel with Campfire Mag reader Abi as she discovers campsites and places to explore on a mini roadtrip through Shropshire and Somerset.
This trip was taken pre-Covid, so please double-check with restaurants, shops and campsites before setting off.
A mini camping roadtrip
"It looked as if everyone had been camping," writes Campfire reader Abi Ross, who lives near Manchester.
"As we drove down the M6 over the last weekend of the holidays, the other side of the motorway was a jam of campervans, caravans and cars with roofracks loaded with kayaks and surfboards. They were all going home. Not us…we were heading for a mini camping road trip."
Camping near Shrewsbury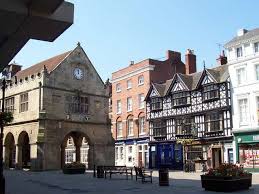 Our first stop was Shrewsbury in Shropshire. A quick walk around the town showed us it certainly lived up to its 'Town of Flowers' name.
The Severn was sparkling in the sun and the streets were busy. We used to live here and very little has changed. It's still the same mix of delicatessens and independent shops and some slightly down-at-heel areas, such as the almost empty Pride Hill centre.
Since our time, though, it's got livelier and brighter (or perhaps that was just the sunny day). As well as the independent cinema, there's a fabulous theatre on the river and lots of new shops and restaurants.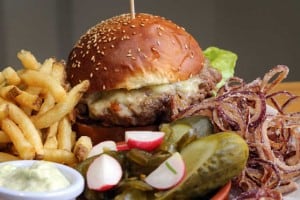 Best of all, though, it's surrounded by gorgeous countryside that's somehow managed to stay less-visited. There are big skies, Welsh mountains in the distance, woods and wonderful walking.
We ate at the amazing Number Four kitchen restaurant on Butcher's Row – a delicious find with perfect food and a friendly feel.
We camped at the Severn House campsite at Montford Bridge, which has a lovely riverside setting and a shop selling local bacon and sausages for breakfast fry-ups.

Other sites to try are:
Camping near Ludlow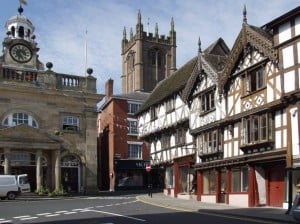 The next day, we drove down the A49 through the beautiful south Shropshire landscape to Ludlow. We picked up provisions at the Ludlow Food Centre – an impressive supermarket- sized delicatessen and gift outlet with everything from local pies and honey to craft bread and chocolate.
It's not all local, however – brandy snaps from Brighouse? – and there was some worry when it opened that it would harm food businesses in the town. However, when we visited Ludlow the next day to find the place packed with people visiting the outstanding market there, it seemed there was plenty of business to go round.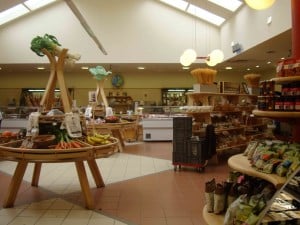 The street market has cheesemongers, plant sales, willow weavers, fish and meat, preserves, vintage kitchenware…and even someone cutting perfectly round bowls from chunks of wood using only a hand axe.
The town itself is as picturesque as they come – the Teme racing through weirs at the bottom, hills all around, history around every corner and the feeling of a village where everyone knows each other. We went to hear a jazz trio at the Assembly Rooms in the evening. It's a small venue with a varied programme of film, theatre, music and streamed performances from the National Theatre and others.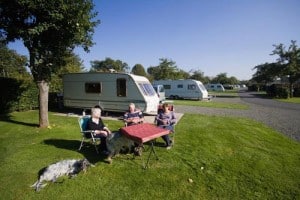 We camped at Westbrook Park at Little Hereford near Ludlow. It's an orchard on the banks of the Teme. Other campsites in the area are:
Camping in Herefordshire and east Wales
Driving around this Shropshire area is so lovely, you can find yourself straying down country lanes and, suddenly, ending up in Herefordshire or the edge of Wales. Here are some of the fascinating places we discovered:
The Workhouse in Presteigne
A rugs and textiles workshop with a smart café and interesting bits and pieces. They also have a presence at The Old Electric Shop in Hay-on-Wye, which is a very hip centre for great and unusual crafts and vintage stuff with a café and events. We got chatting there to people from The Tiny Home Company, and now we want one! See our article on tiny houses, by the way.
Knighton, Bishop's Castle and the old Aardvark bookshop at Brampton Bryan.
Keep an eye out for Broad Sheep
The area's arts and events magazine, which will help you discover an amazing array of things to do and see.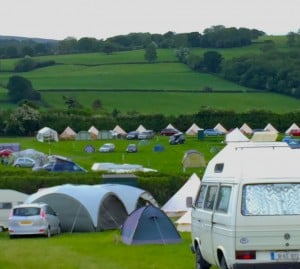 Hay-on-Wye is lovely
Fantastic for canoeing, superb shops and TWO festivals in May. Most people know about the Hay Festival (which used to be just literature and is now quite Radio 4-ish and sponsored by the Telegraph). Fewer people know about How the Light Gets In – a festival dedicated to philosophy, music, performance…and food, with a Cirque du Soleil-style circus and a vintage fairground right on the river. Unmissable (and you can camp within walking distance of everything).
h.Art is Herefordshire Art Week
It's a chance to meander around open studios and exhibitions. Well worth a visit.
Camping in Somerset
Next was a longer drive down the M5 with a lunch stop at Slimbridge Wetlands close to the Gloucester and Sharpness Canal in Gloucestershire. It was a fascinating place to explore and we enjoyed our wander along the canal too, passing boats with names like Stargazer and…Burt Lancaster!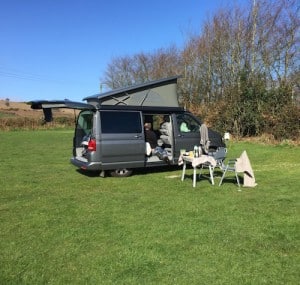 In Somerset, we'd camped at the lovely Poolbridge in the Horner valley and Westermill Farm sites before, so decided to try out somewhere new. We chose Halse Farm high on Exmoor. It's a working farm and the owners were busy with lambing when we arrived. There was no- one else there, though the tell-tale patches in the grass showed it had been busy over Easter.
The site is a little exposed, but has superb showers, clean toilets, a laundry, information room, recycling point, outside dishwashing area, a small playground and views over the valley. There aren't many pitches and not all are level, but we loved the open feeling, the birds and the quiet. And the free and easy wifi, of course.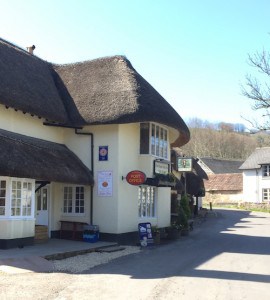 We walked through the beech woods, along the stream into the closest village – Winsford and had lunch and a dinner in the Royal Oak there. It's always a bonus to have a decent pub within reach and an extra bonus when the owners are friendly and the other customers keen to chat.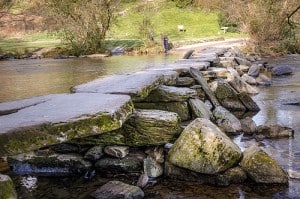 Our second walk was to the amazing Tarr Steps – an ancient clapper bridge made of giant stone slabs in an idyllic glen. It's a five-mile or so round trip from the campsite and well worth it, walking past coconut- smelling gorse, fields full of new- born lambs and herds of Exmoor ponies grazing free on the moor. There's a lovely-looking pub and tea rooms at the Tarr Steps, but nothing special in terms of food.
Burrowhayes campsite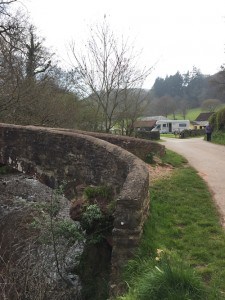 For our next few nights, we moved on to the fantastic Burrowhayes site near Minehead. It's a farm with a small, friendly and busy riding stables where you can hire ponies for trekking (led by the lovely Amy). There are some of those green statics here, but they're less obtrusive than on many sites and the beautiful valley setting, with woods, rolling hills and a stream, more than compensates.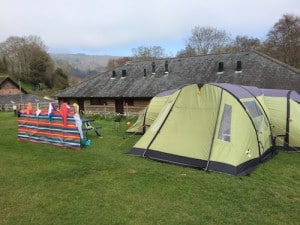 The owners are friendly and laid-back, there's an excellent shop, information, fridges, free wifi, superb showers and other facilities and, in fact, it's pretty perfect. There's no need to move the car or campervan for days because you can do country walks, hike to the beach, visit tea rooms and an owl and hawk centre, buy fresh veg at the farm shop…all from the doorstep. We could easily have spent a week here.
Porlock and the coast
We discovered Porlock (a longish walk from the campsite), which is pretty and has an interesting range of shops, and also drove to Porlock Weir – a fishing village with a couple of pubs, a few gift shops, a good cafe and a fascinating pebble beach, estuary and sliding-into-the-sea pillbox. It's a great place to spend the day with the sea and headlands in one direction and green hills in the other.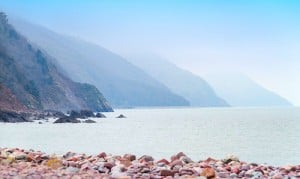 We loved Somerset. A drive back via Coleridge's Cottage and one picturesque (but properly lived-in) village after another made us want to come back soon."