Sleeping off the ground and under a net means you're safe from mosquitoes and mud, but the 'banana' slump of a traditional hammock doesn't suit many backs.
Flat-bed bivvy hammocks use a variety of systems so that the fabric is taut enough to keep you flat. Here are our favourites…

Latest update: October 2020
What to look for in a bivvy hammock or tree tent
We've sung the praises of flat-bed bivvy hammocks for a while, but we're always on the look-out for the VERY best.
We've found that many of our previous top picks are almost impossible to find in the UK. We do update our articles every couple of months or sooner, but apologies if something we recommend here proves elusive.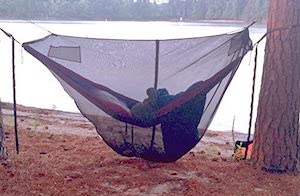 Most hammocks designed for camping rather than lounging have a zipped-in mosquito net.
If you decide to use (or already have) a hammock without a net, get one of these easy-hang mosquito nets to keep yourself bite-free.
We've found that slippy material can send you sliding into an uncomfortable position, so we prefer cotton or something with a bit of 'drag'. For preference, we'd choose a duvet-style bag (or even a duvet) because it's easier to wraparound once you're in the hammock and you can pad the area around you to prevent sliding.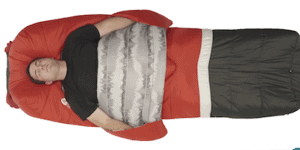 Obviously, a bulky bag won't be suitable if you're backpacking or have a lot of other kit to carry. Remember too that it gets colder in a bivvy hammock, so you'll need a warmer bag than you would in a tent. 
Tip 3: Use a camping mattress inside your hammock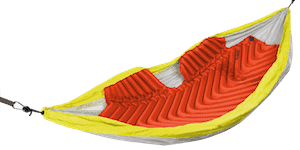 A self-inflating or blow-up camping mat can give  you more horizontal and comfortable sleep.
It doesn't need to be a shaped one like this clever Klymit, but check whether the sizes match up. And remember that cold air LOVES the underside of hammocks (and your bum and back). Read on for ways to stay warm using special hammock quilts.

Lots of hammocks come with a rainfly or tarp either included or as an add-on extra. Unless you're absolutely sure of good weather, you'll need one! 
We like the Unigear tarp, made especially for over hammocks and available in three sizes. It's a versatile bit of camping gear, so you can use it as a day shelter too, especially if you get yourself some lightweight poles to hold it up.
We were excited to find the Eno Skyloft. It's not cheap, but it does have some nice features and the brand is reliable.
Use this hammock (almost flat-bed) or use in recline mode for relaxing. It comes with aluminium carabiner fixings, but you do need tree straps. Around 1.3kg and a pack size of 47 x 11cm. The stuff sack doubles as a pillow. 
Pros
Easy to set up
Strong and durable
Use for sleeping or relaxing, thanks to the recline feature
Cons
This tree/ground Etrol hammock is a bargain and very versatile.
Use this hammock (almost flat-bed) in the trees, or peg it down on the ground. Use the mosquito net at night, or remove it to use as a standard hammock.
It comes with all the fixings you need, and some really good tree straps. Around 1.3kg and a small pack size.
The key to sleeping flat in this (and any hammock, actually) is to sleep on the diagonal. For that, the hammock needs to have width, and the Etrol is a good 140cm wide.
Just £55 makes it worth a go.

Pros
Can be used on the ground or as a hammock
Very cheap
Hoops at both ends make it comfortable
Cons
For another cheap option, the Hammockbliss Sky Bed with bug net is good but not absolutely flat. 
Pros
Affordable
Comes with a very fine mesh
Cons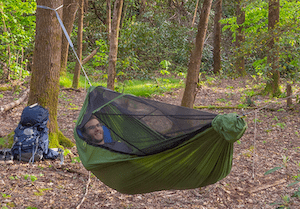 Lightweight, airy and with integrated ridgeline and net, the ENO Junglenest won us over with its internal spreader bar for decent headroom.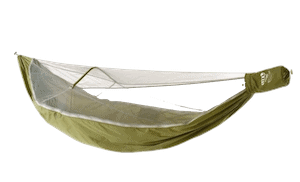 Because it's so large (3m x1.4m), you have room to lie diagonally, which means lying flat rather than slumped. Weighs less than 600g and costs around £100.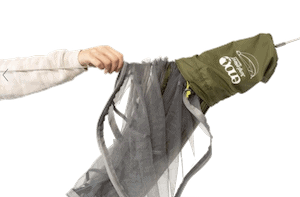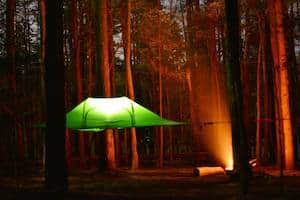 Tentsiles are unique. They hang from three trees so that the floor is kept absolutely flat and taut.
There are sophisticated tents for one to six people, which can also be used on the ground. Plus there are hammocks and lots of add-on accessories.
With rainfly and insect mesh, they're the all-in-one option for sleeping in the trees. Prices start at around £150 and rise to nearly £1,900 for the soon-to-be-launched (literally) Three Elements, which works on the ground, as a hanging tent AND as a floating shelter on a lake. Wow!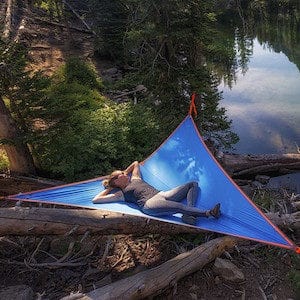 Pros
Super-sophisticated and like no other
Completely flat floor
Comfier to sleep in than an ordinary hammock
Full range of sizes of tent and hammock, plus all the accessories you could ever want
Tentsile plant 20 trees for every tent sold, and they're a member of the 1% for the Planet scheme.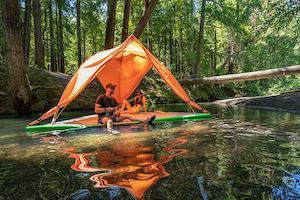 Cons
The price
Three trees aren't always that easy to find. Fortunately, the tents work on the floor too. And there are also stands and two-tree adaptors.
These aren't cheap hammocks, but they're really well thought-of because of their strength and durability.
Plus, if you're serious about hammock camping, you do get a lot for the money.
The Expedition Classic Hennessy Hammock includes a mosquito net and rainfly and has a clever opening to make access easier. From around £130.
We love Klymit's specially designed hammock pad. It can turn an ordinary hammock into a comfortable camping bed. There's a standard and an insulated version too. 
Pros
Easy to set up
Very light at just a tad over 1.3kg
Small pack size: 30.5 x 22.9 x 10.2 cm
Cons
Not absolutely flat
They're expensive (from around £140.) The insulated version is a fortune, so use a hammock quilt with the standard version instead.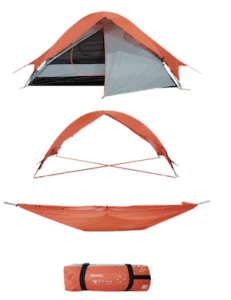 The Qaou (yep!) is a multifunction tent and hammock for around £80.
It transforms into a hammock, tarp, beach shelter and tent with porch, and is lightweight thanks to its single aluminium poles. The tent size is 220 X 125 x 110H cm bedroom.
Pros
Sun protection to 30+ and waterproof
Mosquito net
Just 2.8kg and packs to 48 x 14 x 14cm
Cons
Not a flat-bed hammock
More for leisure than serious wild camping
Two-person tent but only one hammock!
Hammock quilts for cold weather camping
You can brave it out with the cold numbing your back, or you can invest £30-40 and be comfortable. Hammock quilts make all the difference to whether you'll sleep well or not.

This Snugpak hammock insulation goes underneath the hammock to keep cold air our and warm air in.
You can use your sleeping bag as normal, but Snugpak also sell a matching hammock quilt with flaps to keep it tucked in. Quilts are a good idea, we've found, because they give you more freedom of movement and make it easier to get in and out of the hammock.
The underblanket insulator costs around £45 and the quilt around £35.

A simple but effective underblanket that hooks onto your straps with bungee cords and fits most standard hammocks.
The 1T underquilt costs around £55.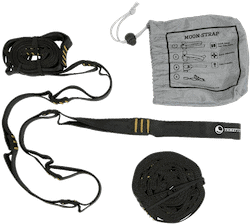 We use the Ticket to the Moon hammock straps. Three types to choose from but all quick and easy, don't damage the trees and make setting up your hammock really easy. 
Holds up to 800kg. Around £20.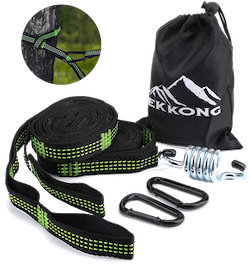 Each Ekkong strap can hold 500kg and the carabiners hold 350kg. They also make goo straps for roofracks, hammock chairs, swings and so on.
Like the TTTM ones, the loop system means it's quick to balance or alter the height of your hammock. Around £20.
Can I walk there? Can I camp there?
The vast majority of England is out-of-bounds. By law of trespass, we are excluded from 92 per cent of its land and 97 per cent of its waterways, blocked by walls whose legitimacy is rarely questioned.
In The Book of Trespass, we follow lifelong trespasser and campaigner for access, Nick Hayes, over the barbed wire fences of the aristocrats, politicians, media magnates, and corporations that own England to reveal the real story behind its KEEP OUT signs.
From the historical enclosure of the commons that began in 1066, to modern-day acts of resistance such as the Greenham Common Peace camp and the Kinder Trespass, Nick questions the English orthodoxy that the ownership of land should come with the right to exclude everyone else, and argues that the root of social inequality – across class, gender and race – is the uneven distribution of land.
Part polemic, part passionate defence of our access to the natural world, this is nature writing for 2020.