Here's a confession…we went off barbecues a few years ago. All that hassle, smoke and charred-outside/raw-inside food. 
Then we found some barbecue designs that make things easier and tastier. So, here's our guide to the best portable barbecues.
Latest update: August 2020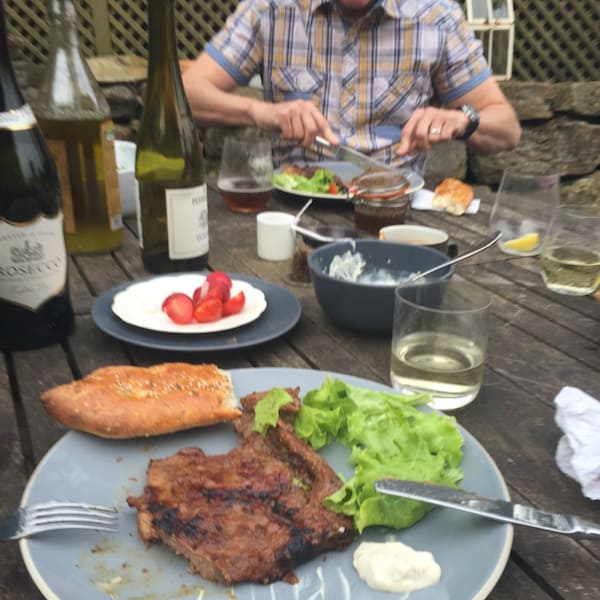 The best barbecue is…the one you actually use
We've tried them all – from £5 buckets to marvels of engineering.
For most people, the cheaper the better. If you're only going to barbecue a couple of times a year, don't make a production out of it. You want to make the most of your time outside with friends or family and, to be honest, the food is sort of secondary. But, please don't buy a disposable unless they're environmentally friendly. Read on for our suggestions.
A bucket barbecue is neat and simple. Painted ones lose their paint fairly quickly, so we like this £20 galvanised barbecue. It has a bit bigger surface area than some and no paint to peel off. The holes allow for good air circulation.
Which folding barbecue?
There are lots of portable, folding barbecues to choose from. We've tested some VERY bad ones with hinges and handles that break. Ideally, you want a barbecue that folds in such a way that the dirty bits are contained!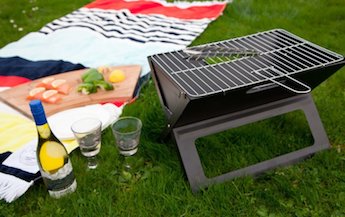 Our favourites include this
'notebook' barbecue
, which folds super-flat and seems reasonably well-made for the money. As with all painted barbecues, the paint WILL come off, but does that really matter? Around £25.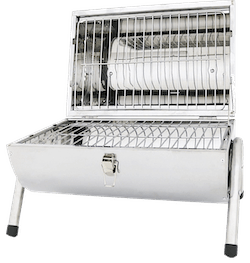 The
barrel barbecue
 is bulkier for carrying, but they're good because the cooking area is inside so you don't get dirty when carrying them. Stainless steel ones won't peel (like painted barbecues) but they will discolour after use.
Around £45
.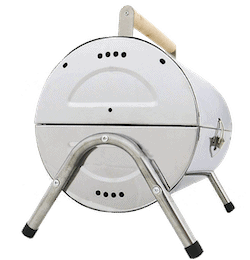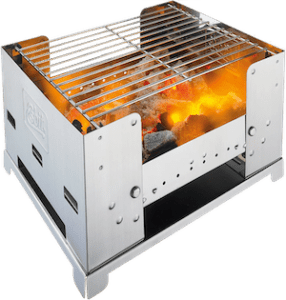 Another barbecue at around £50. This one is very stable and has a very useful ash collector underneath.
It packs beautifully into its own bag. Made by Esbit, it's stainless steel and has an adjustable grill height. Nice.
This is a great barbecue from a very well-trusted brand.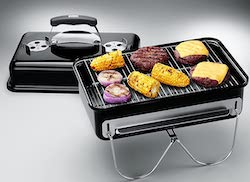 The Go Anywhere BBQ has triple-plated cooking grates, a decent foldaway stand, a lid with temperature control vents and comes with a ten-year guarantee. The cooking area is 44cm x 42cm, so a good size for a family, and it weighs 6.5kg.
You can store your charcoal, kindling and accessories inside.
For a family, we like the idea of a barbecue on legs. It's not a small pack, but it does fold down for carrying around. Again, it's stainless steel, quite sturdy and has a grill area big enough for a party.
The charcoal goes into a removable steel 'tank' section so that the embers aren't choked by the ashes. The fact it's raised up makes for more comfortable cooking. Costs around £50.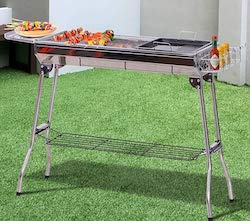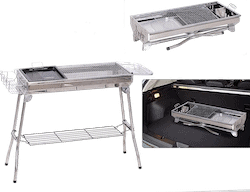 We like the non-stick grill pan (though we haven't so far been able to find out if this is PFOA-free). The storage areas are useful, and the whole thing weighs around 5kg.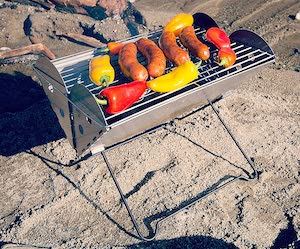 Under £50 and very simple and lightweight, this Uco Flatpack barbecue is made from easy-clean stainless steel.
When closed, it fits easily into a backpack, and the cooking area is just right for four burgers.
Disposable barbecues?
Please, please don't use those disposable foil barbecue trays. If you do want disposable, then try these two barbecues instead.
The problem with the foil ones is that they make unnecessary waste. Most disposables are lso rubbish at cooking because the coals are too shallow to maintain heat for long enough. The EcoGrill is definitely an answer to both problems.
Cleverly made from a log, the EcoGrill doesn't need any firelighters or lighting fluid. It even comes in an ecoplastic wrap.
You should get at least two hours of cooking from it, but you do need to heat it up for around 15 minutes first.
You can use the EcoGrill for barbecues, of course, but you can also stand a pan or kettle on it. You'll need something to place the log on to avoid setting fire to the ground. Available in a couple of sizes and costs around £8.
Made of natural, biodegradable materials, the CasusGrill even has a bamboo grill rack. Weird, eh! It works pretty well, though we only got 40 minutes' cooking time from it rather than the stated one hour. Costs around £8.
We're really trying to make our camping and cooking a lot more environmentally friendly – from avoiding plastics where we can to finding ways to cut waste.
Serious barbecues for camp chefs
If you're a big barbecue fan and you're going to get a lot of use out of your kit, then it pays to buy better.
Actually, spending a bit on a well-designed barbecue can encourage you to eat outdoors because it'll light faster and make cooking easier.
The one we recommend the most (and so do many of our readers) is the controllable LotusGrill barbecue, with its built-in fan and temperature control. It also has lots of accessory options for baking, frying, griddling and so on. 
Their advantage is that it's virtually smokeless, can be used on a table and do more than just barbecue.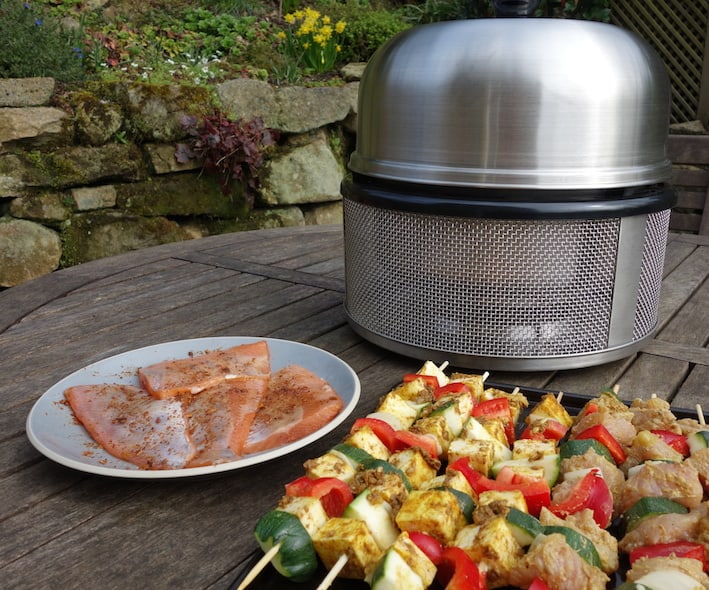 The Cobb is an interesting charcoal cooker, but the LotusGrill is a much better barbecue.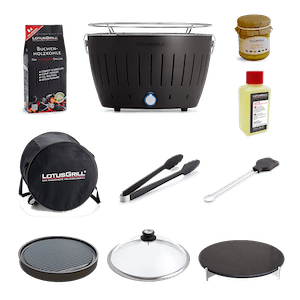 The best barbecue we've found. The LotusGrill. Have a look at our review.
Outdoor cooking beyond the barbecue
There are some wonderful stoves that use wood for cooking – so you can pick up sticks, pine cones and fallen branches and make outdoor eating even more of an experience. Plus, you don't need to buy charcoal
Woodburning stoves and rocket stoves

They look beautiful. A clean shape and a simple style
Less smoky than any other firepit or chiminea we've tried
A lifetime guarantee
The Ranger is the perfect size for home and for taking camping
Not cheap! They're an investment, but – if you can afford one – it's always better to buy something that lasts.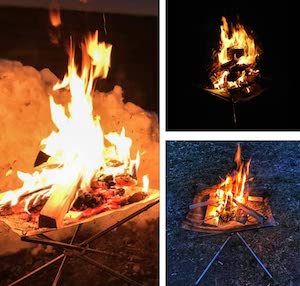 Here's an idea for avoiding ground scorch under your campfire. This portable mesh campfire keeps the burning logs off the floor and makes it easier to clear up the ash afterwards.
Folds to next-to-nothing and stores away in a neat bag. Around £20. Lots of brands make the same thing, by the way. We chose the cheapest and fastest delivery option (at the time of writing!)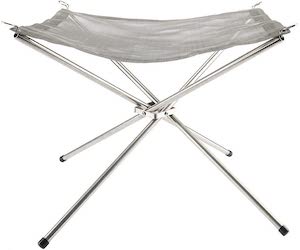 Innovations in outdoor cooking
A smokeless wood-burning FirePit that the makers claim can go from spark-to-fire in less than 30 seconds, cook your meals, and give you a full view of the dancing flames.
Burn charcoal or wood, and control the intensity with four-speed fan, powered by the FirePit's rechargeable powerpack that can also charge your phones and tablets. There's even a control app! Around £220
Read more about woodburning stoves like the ones below in our feature. We had great fun testing them all.
A little helping hand for perfect barbecuing
We've found a couple of things to help get your barbecue burning nicely. 
This chimney device takes your charcoal and encourages flames to rise to the top. It speeds up the process of getting the coals to a glowing state. Invaluable on a breezy day!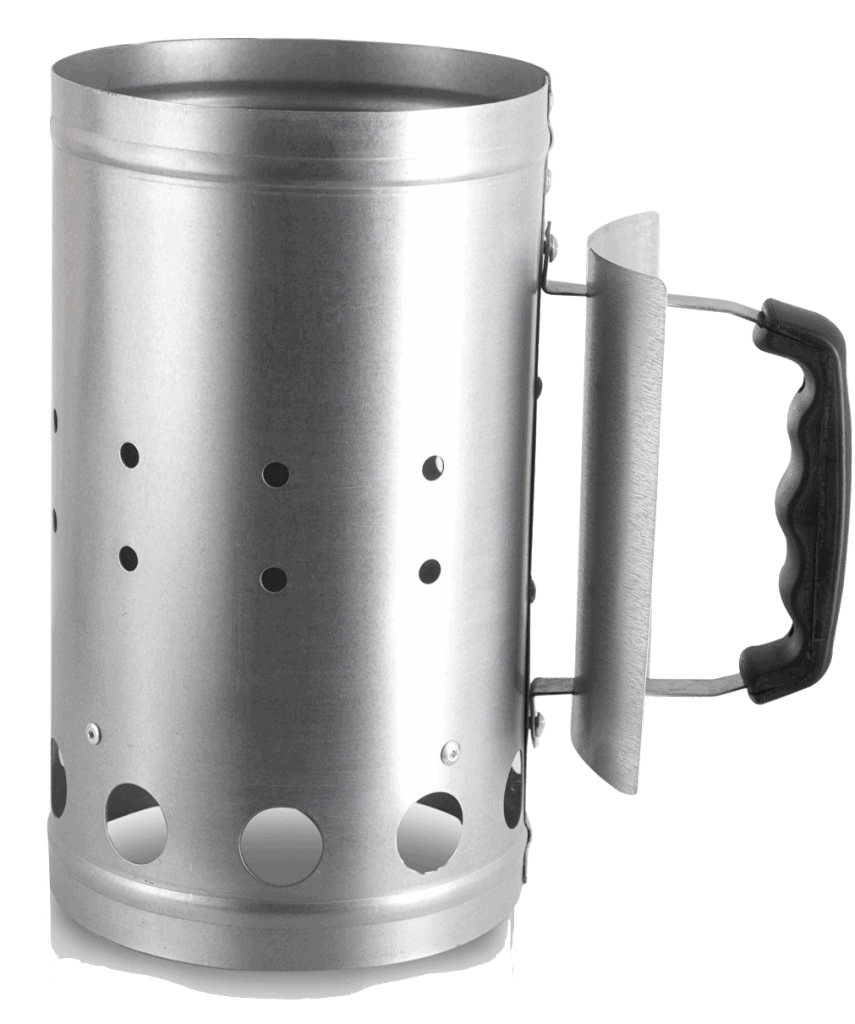 If you've got a favourite barbecue or a tip for making barbecuing easier and more enjoyable , let us know in the comments section below. 
Check out our barbecue recipes too.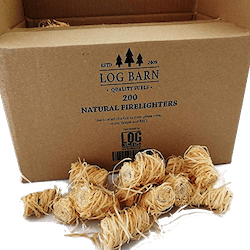 Eco firelighters are much nicer than smelly cubes or bottles of fluid. Around £15 for a big box.
An indispensable item of barbecuing kit is the grill mat. These sit on top of the grill grid and protect your food from the flames. It's a way of avoiding too much charring and it makes it much easier to cook smaller pieces of food or ingredients that tend to break up (no more mushrooms dropping through the bars or fish flaking away). 
They're reusable and non-stick (no Teflon), make barbecuing healthier and you get the grill marks without the burning! Around £8 for a pack of five.