I wanted a pair of walking sandals that could cope with trails and look good in towns.
So, I buckled up, strapped on and came up with a shortlist of the stylish-but-sturdy summer hiking sandals to choose.

Latest update: May 2020
First rule of good walking sandals… forget the flipflops and slides
Without straps, you'll slide out of your sandals and injure yourself, your knees and back will hurt from lack of support and your toes will become like claws. 
Most walking sandal manufacturers claim some technological feature with power to make us pain-free, and we take those with a pinch of salt.
The proof is in the wearing – three hours on a rough country track and 10 miles around a city. It'll be the boys' turn next, we promise! 
This is my sandals wishlist
Good soles with grip
Decent fastenings that hold the shoe properly and don't let your toes slide forward (and into a rock)
No uncomfortable internal seams
No sweat
Great looks with both shorts and skirts
Clarks
Good old Clarks. Every year, they try out something a bit daring, but their range does tend towards sensible-shoe. We've found that some of the borderline styles look more up-to-date if your outfit isn't also tending towards the sensible!
My pair of sandals from the Unstructured range have been going strong for a while now.
They update the Un Adorn shoe with new straps each year, it seems. VERY comfortable, pretty cool-looking and excellent non-slip soles. 
Other options in a range of colours are the neat Un Haywood and the simple Un Adorn Vibe. Both super-comfortable.
The Clearwater sandal is a real favourite because the sole isn't as chunky as many of its type, so it's a bit more ladylike (when you're jumping from rock to rock in your flowery shorts in a ladylike way). Not a city shoe, of course, although there's a great range of colours now.
Comfortable, soft footbeds lined with leather, suede or cork, durable rubber soles, smooth straps…a good choice if a bit more sport than city.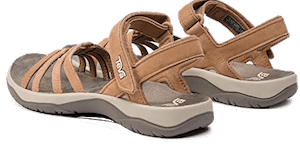 The Teva Elzada are rather glamorous compared to many walking shoes. I don't wear leather, so not my top choice, but they do look lovely. A choice of brown or a rather dull-looking black.
The Tirra strappy sandals are sturdier for trail-walking and have a fantastic sole.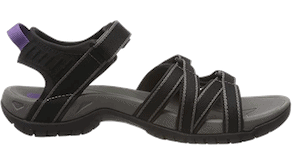 Sorel
Not much to choose from in this brand, but they do offer perhaps the lightest walking shoes we found.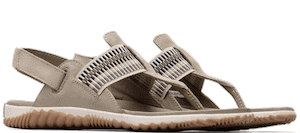 These are the Sorel Out 'n' About sandals.
Stylish. EVA footbeds, odour-eating insoles and good soles, Merrell are a safe bet for comfort and looks.
Our choices are the District Mendi sandals in a choice of unusual colours and the more sporty-looking Terran, again in a choice of colours. The Terran comes in either a cross strap as above or a lattice. I found the narrow lattice straps were a bit painful and preferred the simpler cross strap.
Vionic
Some of the Vionic range are a bit old-fashioned looking, but we really, really liked the Amber model we tried.
The shoes have something called FMT technology, which claims to align the feet to their natural neutral position to reduce aches and pains in the heel, knee and back. They definitely support the arch very well and were immediately comfortable, although some people might find the positioning of the straps doesn't work for them. The Amber comes in a range of colours and the sole is good and grippy.
Karrimor
These are very affordable at around £20, but aren't quite smart enough for town, we thought. Depends on your town, of course! The soles on the Salina are the business, though!
Some not-so-nice options from this bargain brand, but we do love the Santa Cruz…and they cost less than £25.
Just beware stubbing your toes as the front is very exposed.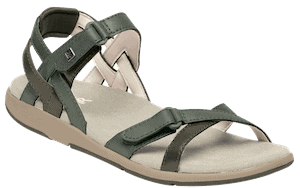 Ecco
The Danish brand Ecco has a huge range. Like Clarks, some of the styles are a bit off-the-mark, but many can be given an edge with the right clothes.
Sadly, the soles on the prettier sandal styles aren't really hefty enough for off-road grip. The Flash is a decent compromise, but wouldn't be our first choice for sturdiness.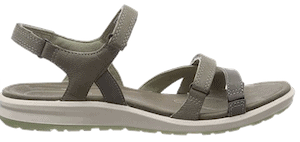 Another option is the Cruise, which is more of a straightforward walking sandal.