Ru Hartwell was hot and stuffy in his tent at Glastonbury. For once, it wasn't raining and, as soon as the sun came up, things started to get uncomfortable. That's when he had an idea for a completely new kind of tent…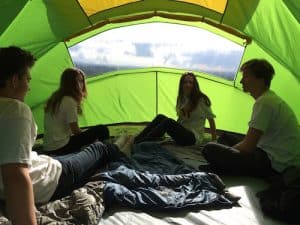 Part pram, part mollusc
"With a yurt, a dome or a tipi, or even most frame tents, it's actually a bit of a bother to open up the sides and get some decent air movement through the structure, so I was thinking about how I could get it to open up," says Ru, from Aberystwyth.
His brainwave was a design a bit like the hood of a pram and he's now set up Mollusc Tents (yes, they're a bit like a snail too!) and is Kickstarting his way to full production. The tents can be opened up to let as much sun and air in as you need, with the canopy clipping back in one of six positions.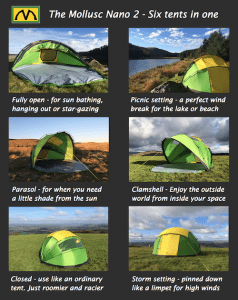 After some finessing, the original Mollusc is now officially the Nano 2. Priced (when available as it;'s still in production) at around £280.
"Everyone who's seen it or used it loves the functionality. When it's nice weather, you can enjoy that and, when it's horrible, you simply close it up –no other tent gives you that," says Ru.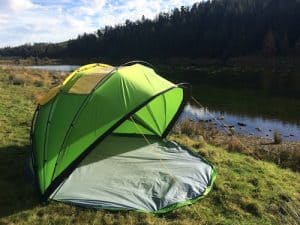 He's also trying to make Mollusc as earth-friendly as possible: "There's no way we can pretend that making and shipping these tents all over the world is in any way positive for the environment, but we will plant 100 trees in Kenya for each tent we make."
Will it work?
We haven't tried the snail tent yet, and we have to admit that it doesn't look all that quick to set up or light to carry, but we'll report back when we've tested it ourselves. Meanwhile, see Mollusc at testing stage and check out our quick-pitch tent feature too.