Where do middle-class people with a vague sense of guilt about the environment go at the weekend? They go glamping.
A few weeks ago, we spent £300 on two nights in a wooden hut with a dodgy shower. It also had stunning views and a roof that opened hydraulically to reveal a perfectly dark, star-strewn sky.
It left us with a conundrum.
Is glamping a cynical rip-off, a chance to connect with nature or a bit of both?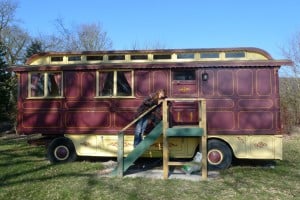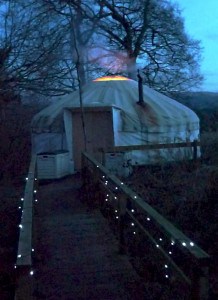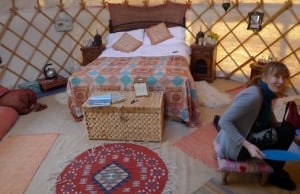 That weekend of mixed feelings led us to wonder about glamping – why people do it, what they get out of it and whether there is any way of judging the accommodation and the experience, given that there's so much hype, such differing expectations and, sadly, a bit of bare-faced cheek from greedy glamp-providers.
Anything that's not a hotel or cottage calls itself glamping these days. There's a lot of jumping on bandwagons (and into Romany wagons for that matter, complete with complimentary bottle of Prosecco).
Yurts, pods, treehouses, shepherds' huts and more have even been credited with saving the Welsh tourist industry. Glamping is so trendy, it's probably already on the wane.
On safari with the luxury hunters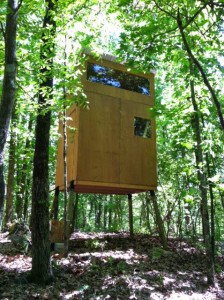 When wealthy hunters went off to Africa to kill animals in the early 1900s, they weren't prepared to give up the pampering they were used to in Europe and the US.
They expected luxury in the jungle and bush, so they got themselves palatial tents with plush carpets and armies of servants.
Perhaps glamping these days owes some of its attraction to the kind of romanticism engendered by Wordsworth and Ruskin – the same hankering after wildness and nature that turned the Lake District into a tourism destination. Or maybe it's linked to the craze for sheds and tiny houses, a seeming reaction against complicated, technology-fuelled lives in an overcrowded country.
There are lots of reasons, of course, why people are drawn to glamping. And there are lots of types and levels of glamping. Some are true luxury with spa facilities but an outdoorsy vibe; others are very basic and involve sleeping in some interesting structure.
Hampers and hot-tubs
Here are some of the reasons for glamping, but feel free to add your own in the comments below. We expect to be argued with!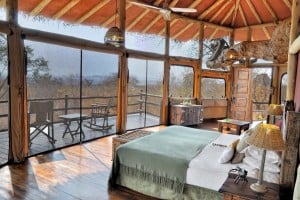 You don't want the discomforts of camping but there are no hotels in the location you're after.

You love camping but don't want to buy all the kit for just two weeks a year.

You've always wanted to see what it's like to live in a yurt, barge, hobbit hole or shipping container.

You especially want to be in a particular location and glamping is what's available.

It's fashionable and makes you sound adventurous.
Jay Lickus, writing in the Huffington Post, says: "Now you can experience all of the character building and heady cleverness you once found while 'roughing it' without the 'uncomfortable' drawbacks of basic camping." But, of course, that's not true…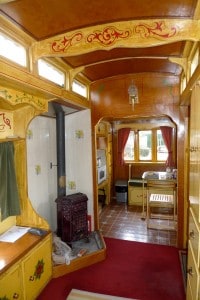 What about character-building?
There's nothing character-building about opening your Booth's hamper and then popping into the hot-tub for an hour.
You might get to throw a few (supplied) twigs into a wood-burning stove. You might have to make do with two hob rings instead of four. You might even have to put wellies on to walk to a shared bathroom. But you won't be learning patience while you struggle with tent-poles or feeling pleased with yourself for finding the pitch that's got shade but no ants. So, we want something else out of glamping – and that's the ineffable part.
When we've chosen to glamp, it hasn't been for reasons of luxury, but for the chance to stay somewhere we couldn't otherwise have stayed, or to do something we couldn't otherwise have done.
We've slept in a Romany caravan so that we could walk in the Shropshire hills, a yurt so that we could take a kayak out on to Wastwater, and a safari tent so that we could swim in the River Dart. All were very different experiences, but the one thing they had in common for us what that, having had the experience, there was no need to do it again. Yurt ticked off, treehouse ticked off…and so on.
Feeling cared-for? Feeling ripped off?
Most glamping has a huge dose of quirkiness. As more and more glamping options have appeared, it's become harder to find the unique and unusual. Once you've stayed in a yurt with Moroccan lamps and Afghan rugs, why would you do it again?
And what about the people who provide the glamping accommodation ­– why are there now so many of them? Depending on your level of cynicism, they may be responding to demand, or diversifying so that they can keep the family farm going. Or they may have found a way to make £100 a night by putting curtains up in a horsebox. We realised that for any people it doesnt matter where they are as long as they are together, so we wrote a guide for Camping Date Ideas to make it easier.
The glamping aesthetic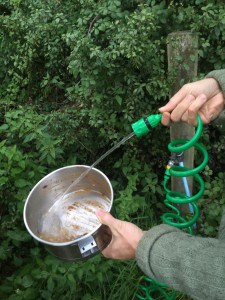 Here's an example of the latter. We picked up a nicely designed postcard in a tourist office in Devon. It advertised a glamping site with lovely photos of a campfire, a starlit sky, a tent with a double bed covered in a fur throw. The typeface alone was a cipher for the glamping aesthetic.
In reality? A field with two safari tents – placed very close together but a long walk from the one toilet and shower – a hosepipe and cold water for washing up and a £75 a night bill.
Now, this is where it gets tricky. Let's say our first reaction was to find it overpriced, overhyped and a little exploitative. But what were we paying for? And what should we compare it with? Being able to light a campfire in a field looking down over beautiful countryside is priceless.
We might have found a cheaper and more comfortable hotel, but would we have had as much fun as we did when struggling back from the toilet through long soggy grass in the pitch dark? On the other hand, would we have been woken at 2am by the arrival of a transit van and some unpleasant characters with high-powered lights and guns looking for animals to kill?
The couple who ran the 'camp' were in the process of doing up their house and it was clear that they'd looked for ways to bring in some money to fund the renovations. There's money to be made in glamping, and you can get away with murder because anyone who complains automatically shows they "don't get what it's all about". So, you can't gauge what you get against a hotel and you can't put a price on location and 'experience'.
A dark sky and the Space Station? Priceless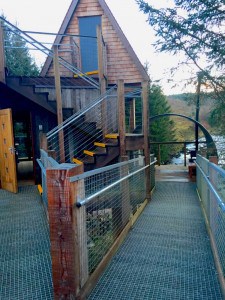 As we mentioned in the intro, we recently stayed in the Sky Den at Kielder in Northumberland (have a look at our camping and touring guide for Northumberland).
You may remember it from George Clarke's Amazing Spaces. We hadn't seen the programme, but George's face is a big selling point it seems. The attraction for us, though, was the dark sky and a bedroom ceiling that opened up fully so you could sleep under the stars.
All the furniture in the cabin below the bedroom is built into the walls and pops out to create stools, a table and benches. There's a folding glass wall out onto a small balcony right above the stream and a separate sitting-out area under a corrugated metal roof. It's unique and, in season, you have access to facilities in the leisure centre nearby.
It costs at least £150 a night. When we went in early January that would probably have bought us a pretty swanky weekend hotel package and possibly even a spa break. So was it worth it? A few things didn't work, including the chimney of the teeny woodburning stove outside and the funky–looking knife set in which every knife veered off dangerously to the left as you cut. The gate to the footbridge was weirdly ugly and not in keeping with the clever style of the cabin.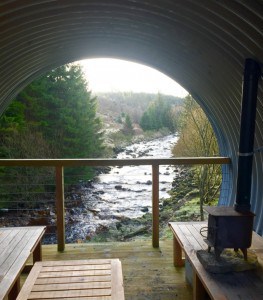 Because of the cost and the raised expectations of superlative design, we found ourselves picking at details (metal crockery in faux camping style plus microwave seems mad, for example). But it was brilliant fun to open the roof and snuggle up under two duvets as the International Space Station moved across the sky. Plus our money went to help the Calvert Trust charity.
So how many stars?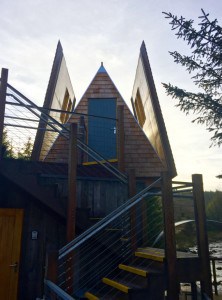 Let's say we had to come up with a score for the Sky Den – would we give it five for the opening roof, or two for the basic shower and musty blankets?
I chatted with AirBnB's UK manager, James McClure. He told me that the success of the company is that they focus on experiences rather than features. So, it's about making friends, and living like a local. While you might want a comfortable bed and wifi as well, you'll leave the five-star review rather than the four-star review because your host left you a pot of home-made fig jam, introduced you to the restaurant owner round the corner and took you on a bike tour of her favourite places.
So, applying James' rules to the Romany caravan we stayed in – we'd mark it high for the overall fascination of the wagon itself, and that would trump the discomfort of a bed only 4′ long; but we'd mark it low for the lack of any personal attention from the 'host'.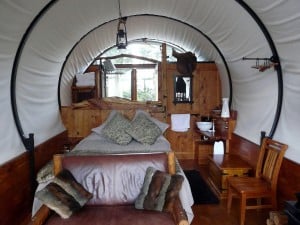 And while that doesn't give us a neat way of assessing whether a glamping trip was worth the money or whether we'd recommend it to someone else, it is true that it's the people part of the experience that makes the difference.
It could be a host who's welcoming and thoughtful, or simply doesn't make you feel ripped off. It might be that the host has provided things that work rather than (or as well as) the Elle Decoration version of them. It might be that there's a shared campfire and a great atmosphere.
Had a good or bad glamping experience? Tell us all about it. Just pop a comment below. And for a completely non-glamping way of camping, have a read of our wild hammock camping feature.