Come with us into a crazy, colourful world of optimism – a world where you're free to go anywhere and do anything; where you're sexy, sporty and stylish, and your children are always bright-eyed and curious.
Come with us through the looking-glass into vintage caravanland.
The golden age of caravanning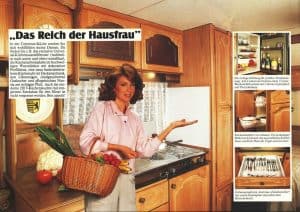 Eat fondue? Play the violin? Carouse with chums? Cook a banquet? It seems there was nothing you couldn't do in the golden age of caravanning.
We've just spent a few happy hours in the German online caravan museum and we wanted to share these treasures with you.
And to decide whether a caravan is for you…take our campervan or caravan test!