Cath's devised some delicious recipes for camping, but we love this 'make the day before' pie. Take it along to give yourself a relaxing first night.
Just cook some potatoes and veg to go with it and you'll have a pretty impressive (and fast) debut dinner.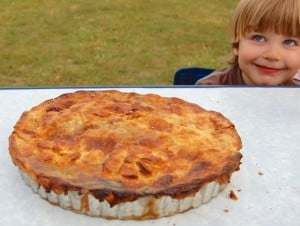 Beef (or meatless) pie with slow-cooked onions and greens
Hot water crust pastry
80g butter, cubed (or non-dairy)

100ml water

1 egg, beaten (you can leave this out if you're vegan)

225g plain flour

A pinch of salt
Pie filling
500g minced beef (or Quorn mince, soy mince or cooked lentils)

2 eggs, beaten (leave out for a vegan version)

3 onions, finely sliced

1/2 pointed cabbage, finely sliced

1 handful of breadcrumbs

1 handful coriander leaves chopped

Knob of butter/marg/non-dairy

Vegetable oil
Marinade
1 star anise

2 cloves garlic, crushed

2 lumps of stem ginger in syrup, finely chopped

Salt and freshly ground black pepper

1 tsp brown rice vinegar

2 tsp soy sauce
Method
To make the pastry

Melt the fat in the water in a small pan.

Put the flour and salt in a large bowl, make a well in the middle and drop in the egg (or not).

Once the fat is melted, add to the flour and egg (or not) and briskly mix with a wooden spoon.

Once it has come together, spread it out on a dinner plate and leave to cool. Then roll it into a ball, cover with cling film and refrigerate for half an hour or so while you make the pie filling.
To make the pie filling

Heat the oven to 200C.

Mix together the minced beef/non-meat alternative in the marinade ingredients.

Cook the onions in a few tablespoons of oil on a medium heat until they are soft and browning, this should take longer than you expect.

Drain them in a sieve and sprinkle with salt.

Sauté the greens in butter for a couple of minutes.

Split your pastry in two and roll out a piece to line your pie dish, I use a loose bottomed tart tin, as this is quite a shallow pie.

Add 3/4 of the beaten egg (or not), breadcrumbs and coriander to the beef mixture.

Layer the pie filling, first with the cabbage, then the beef and top with onions.

Top your pie with the other half of the rolled out pastry, pinch it all the way around, cut in two air holes and glaze with the rest of the beaten egg.

Decorate the pie with a pastry shapes before you glaze it.

Cook in the hot oven for about 20 minutes.

A metal skewer should come out very hot from the middle of the pie when it's done.
Read about Cath and Matthew de Abaitua's family camping and get an extract from Matthew's great book, The Art of Camping.
Lots more recipes here.
And read our article full of techniques for baking bread, biscuits, pancakes and cakes when camping.