Every seasoned hiker knows that nutrition is a key part of maintaining a long-range, challenging hiking workout. However, as hiking involves traveling by foot in natural areas, bringing food yourself is an absolute necessity. So what are the best snacks to keep you satiated on a hike, you ask?
In this article, we're going to explore the 7 best types of snacks for your hiking trip. Keep reading for the best information out there on how these 7 snacks can help you stay full and energized for your hike
1. Roasted Sweet Potatoes
Our number one snack to take hiking with you is none other than the sweet potato! There are a number of reasons this neat treat starts off our list. Let's dive into why roasted sweet potatoes are so great as a hiking snack.
Eating whole foods like sweet potatoes is a smart choice you should make if you're wanting your body to run in top condition. Whole foods are the easiest type of food for your body to process, so you'll experience less fatigue or sluggishness while digesting.
Not only that but sweet potatoes, in particular, are nutrient-dense and high in calories, which means this vegetable will fuel your body with the nutrients it needs while keeping you full for longer periods of time. They're easy to prepare, too- simply roast a few in the oven the night before a hike and leave as is or cut into pieces for convenient snacking. Check out our guide to Electric Camping Stoves if you want to do it in your campervan.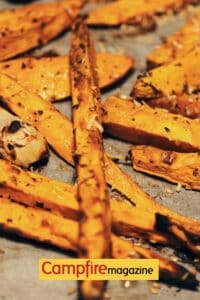 2. CLIF Energy Bars
CLIF energy bars are so popular, it's probably no secret why this energy snack makes our list of the best hiking snacks out there. Let's take a look at why CLIF bars are so popular for fitness freaks.
CLIF bars are organic energy bars made with natural ingredients. They're extremely nutrient-dense and feature whole-grains, great for getting some energy for a hike. They come in compact sizes too, making them perfect for on-the-go snacking while hiking.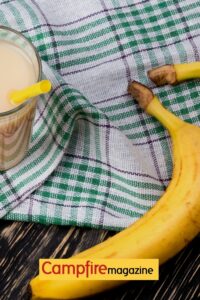 3. Bananas
Another fantastic whole food on this list, bananas are one of our top hiking snacks for a variety of reasons.
Like sweet potatoes, bananas are calorie and nutrient-dense for their size. They're also full of potassium- if you're low on potassium, your energy and endurance can be reduced, making bananas the perfect solution. They're also compact and come in their own natural peel packaging, so they're sustainable and great for on-the-go, too.
Not only that, but bananas are some of the cheapest fruits you can find, making this a budget-friendly option as well! If you're wanting the ease of someone else doing the hard work, then check out these great freeze dried tasty little fun bites. BaseCampFood's website have an amazing array of food for camping
4. Trail Mix
Whole-grain trail mix is a fantastic snack choice for any hiking endeavor.
Trail mix usually features a myriad of snacks in one mix, such as raisins, pretzels, nuts, m&ms, and more. This offers nutrient diversity, which means you'll be nourishing multiple areas of your body that you need to stay energized throughout your hike.
Trail mix is also easy to either purchase in-store or make at home, so depending on your situation, you can make a trail mix full of your favorite foods before any hike for a tasty snack you're sure to love.
5. Nut Butters
With something as calorie and nutrient-dense as nut butters, sometimes a single spoonful is all you need to get you back up and hiking again.
Nut butters are the perfect snack to take on a hike. You can choose whichever suits your tastes best- peanut, almond, cashew- you name it. They're full of healthy fats and calories to satiate you and energize your body, too.
Nut butters come in single-serving packets nowadays, and those can be the perfect choice for taking these on a hike with you. Pair with celery or carrot sticks to experiment!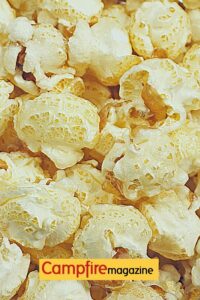 6. Popcorn
Some lovers of fitness run better on less food rather than more- that's where popcorn comes in.
Popcorn, a carb, is a low-calorie way to satiate you for your hike. If you're also somebody who exercises best on an empty or mostly empty stomach, popcorn can be a quick fix for fatigue without filling you up to the point of sluggishness.
Try packing a cup of popcorn in any kind of Tupperware or bag to take on your hike with you. Alternatively make your own on a campfire by getting a Bon Fire PopTop
7. Protein Shake
Sometimes, it's fun to drink your snacks, too!
Protein shakes are the ultimate hiking snack- but they're great for any type of physical activity, too. They're engineered to provide all the nutrients you need for physical exercise- protein, carbs, you name it. They come in a myriad of fun flavors, too, so you can experiment with the type of protein shake that suits your tastes best!
Try searching for plant-based protein shakes for vegan energy, too. We recommend looking for awesome food choices here – BaseCampFood
Conclusion
There are a number of great snacks you can take on a hike with you to keep you full and energized for your hiking course. Sweet potatoes and bananas are great whole-food snack options, while CLIF bars and trail mix offer savory nutrition. Whichever snack you choose, you're sure to get an energy boost to get you through your hike. Happy trails.