If you're a camper or campervanner who usually opts for a pitch with electricity, you can make the most of your hook-up with a portable electric stove – from Remoska to induction hobs and even a portable microwave.
Here are some of the best electric camping stoves we've found.
It couldn't be simpler. Using an electric hob or hotplate on campsite mains means you don't need to worry about running out of gas. 
It's also safer than using a naked flame inside a tent or van, of course.
Best choices for camping hotplates
Of the electric hotplates we've seen, it's probably best to go for a single hob. That's because running two plates at once will usually take you to 2500 watts or more. Have a look at the electricity info at the end of this article for more on why that matters.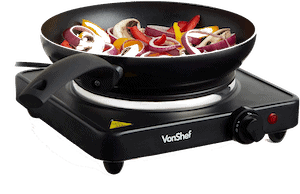 Single hobs like the Von Shef 1500W start at around £20. Traditional ceramic or metal topped hotplates can be a bit slow to heat up and cool down, so speed along to the induction section!
Lower wattage hobs do cook more slowly, so you need to be a bit smart about how you cook. Boil a kettle to fill a pan for rice, for example – quicker than starting with a pan of cold water on the hob. We wrote a guide about the best way to cook rice when camping as we've had very poorly stomachs from poorly cooked rice before
Top tip: If you're boiling a kettle or pan of water and there's more than you need, pour it into a thermos flask to use later.
There are few stoves as neat and easy to clean as an induction hob, and we've found some cheap portable ones that would be perfect for a campervan or even a tent on a site with hook-up. These hobs work by magic…almost.
Induction hobs use a flat ceramic or glass plate with an electromagnetic coil underneath. The surface itself doesn't get hot, but the bottom of any iron or stainless steel pan placed on it does heat up.
It makes for more efficient and faster cooking, plus it's safer in a small space because, once your pan's removed, there's no hot surface.
They're slim, light and come with a choice of one or two plates (though using remember that using two at once may take you above the wattage your site or sockets can cope with).
Best of all, you can buy one very affordably and they don't get dirty because food doesn't bake onto the surface. 
Readers' electric campsite cooking tips
Take an extension and use your electric hotplate outside or in the awning in good weather.
Use a pressure cooker. It might be a big beast, but it'll use less gas and can cook a meal very quickly. Plus it'll double as a mixing bowl. Stow bits and pieces inside it when travelling.
Choose a double, short-handled pot for camping because the sticky-out handle of the traditional pressure cookers is a bit of a pain to pack. And have a look at the Instant Pot mentioned on this page too.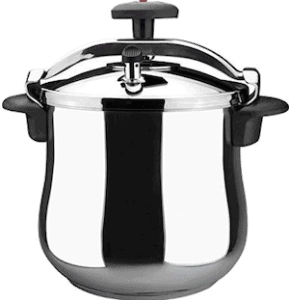 This Magefesa pressure cooker has good handles. Around £60 and a choice of three sizes.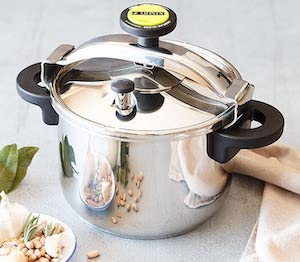 This Braisogona Monix holds six litres and has two neat handles. Works on induction too.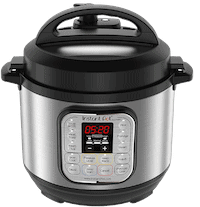 And while we're on the subject of pressure cookers…If you have a campervan or caravan or room in the car plus electric hook-up, the Instant Pot is an amazing way to cook your meals quickly and economically. 
From stews in 15 minutes to perfect rice and even cakes and yoghurt. Basically, it's a clever electric pressure cooker that also slow cooks and steams. The usual home-sized Instant Pot is big (5.7l) but not heavy. Around £80.
Better for camping is the 3l Mini Instant Pot (£70) that's the perfect size for two-three and for campervans and caravans. 
Keep an eye out for our special feature on camp cooking with an Instant Pot…coming soon. Meanwhile, here's tonight's Iranian stew with dried lime and dill. Yum.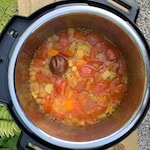 Steamers, mini cookers and more
People seem to love their 400W Remoska cookers, but they're not cheap – starting at £150.
They are versatile, however – from casseroles to cakes to chickens and more – plus they're low-wattage and said to be highly efficient.
The Remoska is a Czech invention with a long history and a loyal following. They come in two sizes – the 4-litre Grand is family-sized and maybe a little bulky for small vans; the 2-litre Standard is ideal for two people and has a glass lid, which I much prefer.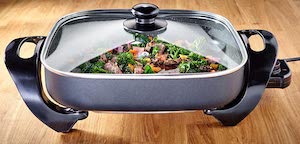 There are alternatives to the Remoska from the likes of Quest. These are often called electric skillets. 
They're much, much cheaper, come in a range of sizes and get good reviews.
Some people have told us they use a halogen oven when camping. Again, they're not expensive and can be used for all kinds of things – from curries to toast. Their downside seems to be the bulkiness.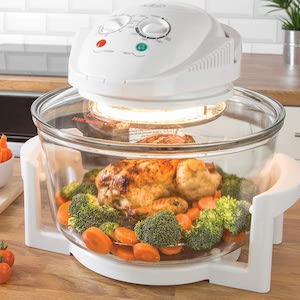 You can find 12-litre halogen ovens, however. Best of the bunch is the Quest, which is both a halogen oven and an air-fryer. You can use it for grilling, roasting, baking, steaming, frying, barbecuing, reheating and defrosting. Around £40.
Electric griddles
We've had a few thumbs-up recommendations from readers for the George Foreman griddles. There are models for every size of family (or appetite) and the smaller ones are low wattage.
They're also very cheap (from around £15) and promise healthier cooking because the fat drains away from the food. Not as versatile as a hotplate or Remoska, perhaps, but not too bulky.
Microwaves
We're not sure about the value of a microwave for camping and campervans, but that might be because we don't use one at home.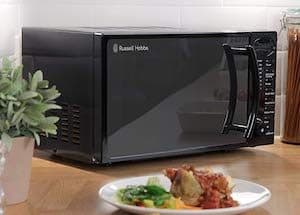 They're probably too bulky for many campervans and smaller motorhomes, though there are some more compact models around. 
The smallest we've found is the 14-litre 600W Daewoo. Next in size is the 17-litre, 700W Russell Hobbs, which is also very sleek. Plenty of 800W 20-litre models to choose from too.
You do need to watch the wattage. They may be advertised as 800W, for example, but may have an operating power requirement of 1500W or more. Have a look at the section at the end for more on power requirements.
We'd like to know what readers think of microwaves for camping. If you've used one and loved or hated it, do let us know in the comments below.
A portable microwave for campers?
We've been waiting for ages to try this portable, rechargeable, battery-powered microwave that fits into a rucksack. It's not available and may never be, but we'll report back if there's more news from the designers.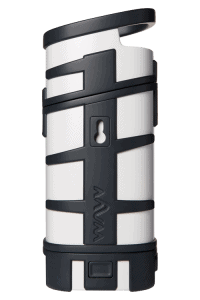 12V heated lunchboxes
These work on the 12V connection in your car or camper. They're not fast, and you do need to have the engine running, but you can pop your pies inside at the start of the journey and stop for a lovely warm lunch.
A simple 12V heated lunchbag. Despite what the manufacturers say, I wouldn't try to cook a meal from raw. More for reheating and warming precooked dishes.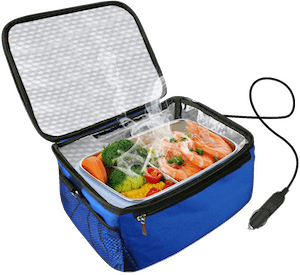 A nice solid, but more expensive, Roadpro heated lunchbox. Works on 12V. Just don't fill it with burgers and chips every day!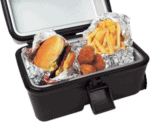 What about watts?
The total rated wattage of equipment switched on at the same time needs to be less than the power supplied to you.
On a 10A hook-up, you would have 2,300W (2.3kW) of power available. At a 16A site, this would be 3.68kW. You may come across the odd site with only a 4A or 7A supply, but they're rare.
Remember, though, that an ordinary kitchen kettle can draw 10A or more on its own. Even if you have 16A hook-up, your campervan power sockets may be protected by a circuit breaker of 10A.
Consider a special low-wattage kettle and check the wattage on other equipment, choosing a lower wattage if possible. For how to hook-up to electricity, see our feature on EHUs and other power gadgets.
Power for campers – hook-up, solar power and portable power
More camping stove ideas
We recommend the best gas stoves like the Cadac (and warn you which models to avoid) in our gas cooking feature

Oh, and have a look at the clever things people are doing to get their baking fix when camping. Love the unpressurised pressure cooker that becomes an oven, and this chip-basket toaster.

Let us know what you cook on when camping. Just leave a comment below. Off to make dinner now – all those pictures of delicious meals are making us hungry.