Saggy bottoms, bad backs…do camping chairs have to be a pain in the posterior?
No! We've been testing exhaustively (!) to find a camping chair that's both supportive and upright enough for eating at a table, and slumpy enough for lazing with a book.
Here are the best camping chairs we've found.
Latest update:  October 2020
Camping chairs to avoid
Lots of camping chairs use a folding, concertina-type construction. Great for packabilty, but they tend not to make the seat fabric taut enough.
We thought we'd found a good compromise in Outwell's Gorman Hills camping chairs. They felt comfortable in the shop and, with their choice of colour and rounded armrests, were a stylish change from all that camping khaki.
A week of sitting on them, though, and the lower back twinges kicked in. We found ourselves perching on the more solid front edge of fabric to eat at a table, but more often than not, we'd slump backwards and have to hold a plate on our knees.
So, we'd always avoid any chair where the seat material isn't held completely taut. That applies to  most camping chairs with this concertina-type fold.
The best chair (for us, at least) would have a taut seat, a strong and supportive backrest, be made of aluminium for lightness and fold up reasonably small.
So, the best we've found are directors' chairs, and the best of these for sturdiness has been the Coleman Deck Chair. Good support with a backrest and strong seat. Not exactly chairs for lounging in, but you could definitely read a book, play a board game or eat a meal in comfort.
This chair just seems built to last. It's smart, simple and very supportive. 
It has an aluminium frame, a sloping back and padded armrests, which incorporate carrying straps when it's folded (to 13 x 53 x 75 cm).Weighs around 2.5kg, can carry 113kg and costs around £40. Available in khaki or green.
There's a chair with a fold-out table too, but after scouring the web, we haven't been able to find one for a reasonable price, so opt for the Kingcamp below. 
These fabulous chairs with lumbar support look heavy, but the Guru weighs 4.7kg, and the larger Elite is just 5.4kg.
Both these chairs curve in at the back rather than letting your back slump outwards.
The Guru has a 50cm wide seat and costs around £60. The larger Elite is 60cm wide and costs around £75. Both can hold up to 130kg. They pack away into a tubular carrybag.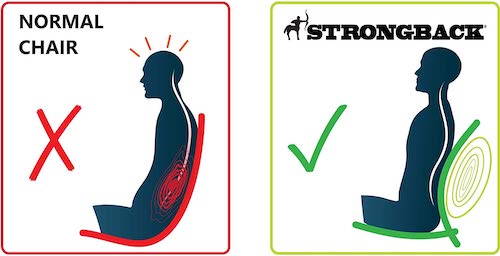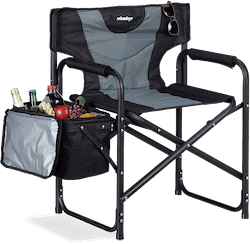 This is a good and sturdy director's chair with a side table or a cooler bag attached. The back-rest is slightly padded. The seat is a good width too. No storage bag, unfortunately. Stated capacity is 110kg (16 stone).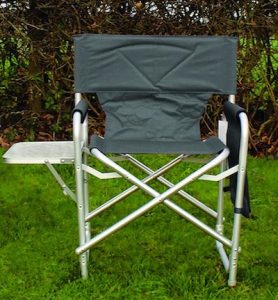 This affordable MP Essentials camping chair costs around £35. It has a fold-out table and pocket storage. A choice of three colours too
Aluminium construction makes it very light, plus nice padding and support. Folds to 85cm x 45cm x 15cm, weighs 2.5kg and can carry 120kg.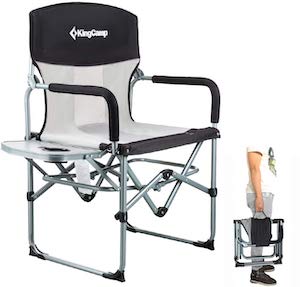 Extra-strong and with a mesh back for ventilation, the KingCamp is surprisingly light (5.4kg) for its heft. It can carry up to 136kg.
One of the most packable and carryable at 51 × 48 × 15cm and costs around £100. For £15 more, you can get a version with a cooler bag on the side.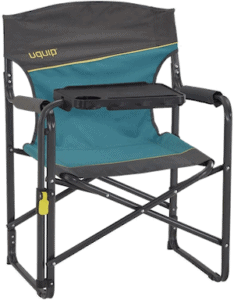 Now this is a good idea. The Uquip Woody has a swivel table that also pivots so you can use it for your iPad or to rest a book.
It's made from powder-coated aluminium and weighs around 5kg. It packs into a nice bag 86 x 53 x 13 cm. Can carry up to 120kg. Around £50. Very popular, so apologies if they go out of stock.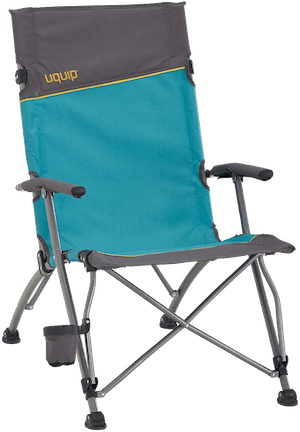 We think the Uquip tables are great, and this tall-back chair has some good features too – apart from the rather strangely positioned cup-holder!
He's called Sidney and he weighs just under 6kg. Plus he can carry a weight of around 120kg. Packs to 120cm x 33cm and a bag's included.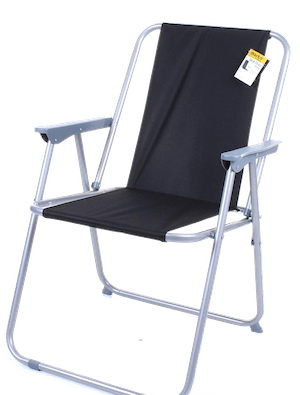 This traditional folding camping chair is by Marko and costs under £12. If you're only camping once in a while, maybe this is all you need. A steel frame but weighs only 2.4kg. Not for larger or heavier campers!
A ventilated back, a small folded size and a sturdy seat. This Quechua reclining chair is around £35 and even has a headrest. Best of all, it works for both sitting comfortably at a table and for lying back in the sun.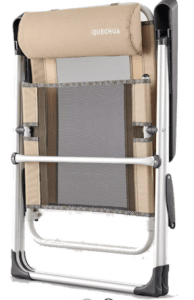 Helinox are famous for their virtually weightless chairs. They're quite expensive and, for us, not all that comfortable because your bum is lower than your knees. However, they pack small enough to go in a rucksack, so they have their place.
Naturally, there are now a zillion copycat designs and most are rather rubbish. The best we've found is the Robens Observer chair at around £30 less than the Helinox Sunset, however….
The comparable Helinox Sunset is around £130, but the Observer is £100-ish.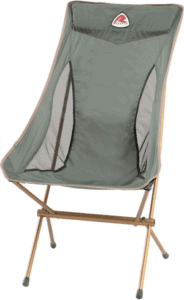 The Robens Observer chair is cheaper than Helinox, but comes in only two colours. It can carry up to 120kg and weighs 1.2kg.
Nowhere near as well made as the Helinox, but a close second.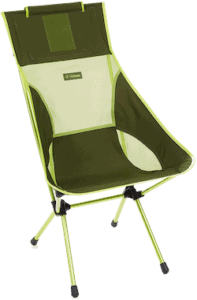 Helinox has a full range of chairs along these lines. Personally, I didn't like the low-legged versions. 
The Sunset, though, has longer legs and a high back. It's amazingly comfortable (and I was very sceptical).
 Lightweight, strong and with extra 'balls' to stop the feet sinking into soft ground. Carries up to 145kg and weighs 1.4kg.
Get it at Base Camp if you can (because they're nice people). If they don't have your colour, then go to the bad guys!
Need to lounge?
If you have the space (and the need to relax!), then an adjustable lounger is the answer. You can use it with the back straight at dinner time and lie back for a snooze afterwards. They'll make quite a big pack-size, of course.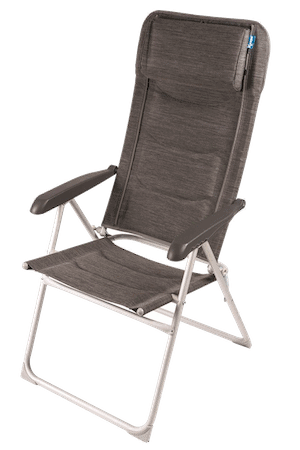 This is a fairly streamlined comfort recliner from Kampa with a choice of seven positions. It weighs 5kg and supports up to 150kg weight. Around £50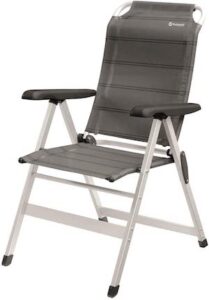 Outwell's Ontario camping chair has an aluminium frame and weighs 4.5kg. It packs to 90 x 61 x 15cm. Supports up to 125kg. Around £65.
Got a favourite chair? Or one you'd warn people not to buy? Do tell…leave a comment below.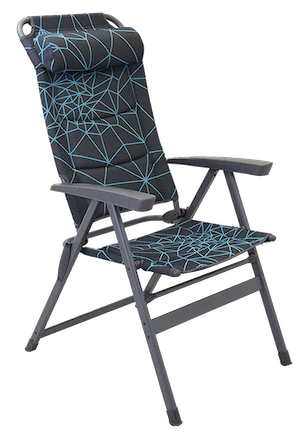 This Monaco recliner by Portal Outdoor folds flattish to 105 x 62 x 13cm. It's the most expensive at around £70, but weighs less than 5kg and has one of the most interesting styles we've found. Aluminium frame. Supports up to 120kg.
A bit bulkier and heavier than the others, but the backrest on the Westfield Outdoors Diamond chair is wonderfully comfortable. Around £75. Weighs just under 6kg and folds to 112 x 67 x 14cm. Removable cushion too.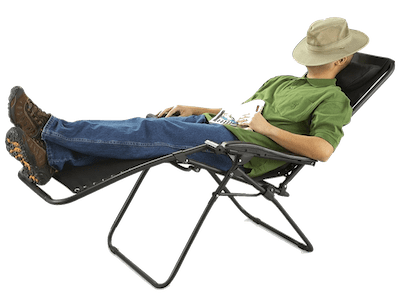 For ultimate loungeability, you'll need a zero gravity chair. These are the ultimate in feet-up-snooze-and-relax, but although they'll fold more or less flat, they're weightier and bulkier. These Denny chairs are around £130 for two,  and can support 120kg.
Legless comfort
We've tried a few of the floor chairs (like this Highlander at around £12) that have no legs and use your body weight and two straps to keep the back in place. They won't suit you if you're looking for absolute comfort, but they're extremely lightweight and small.
For an extra bit of cushioning, there are bulkier (and heavier) options like the BonVivo (around £35). This one is nice because, as well as having a few reclining positions, it can be used flat as a padded mat for lying on. It weighs around 3kg, though.