Is there anything more important than being able to see in the dark when you are out camping? Whether it is for an emergency or simply to light your way to the toilet safely, a camping flashlight is potentially one of the most essential pieces of camping equipment out there.
Unfortunately, due to the high demand for these lights, there are some manufacturers who make them very cheaply. This means that you might not always have a reliable piece of equipment which is why you need to scrutinise each product carefully. But who's got time for that? You likely want to choose a flashlight and get on with your camping trip.
If that's the case, we have got your covered because we have done the hard work for you and put together a list of the best camping flashlights on the market in 2021.
Latest Update April 2021
Do You Need A Camping Flashlight?
Before you rush off to buy one of the incredible products we have sourced, take a few moments to think about whether you need a flashlight. A lot of people instantly assume that they require a flashlight when in truth, they would be better served with a lantern (We love the soft light from these candle-powered camping lanterns) These lights provide a great option if you are looking for something to illuminate your camp as a static light.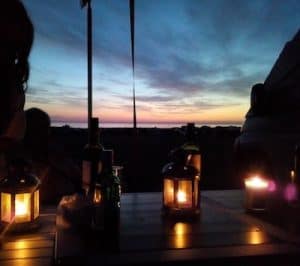 However, a flashlight will also come in incredibly handy for several things such as heading to the bathroom once the sun goes down or locating items in the tent in the dead of night.
As a general rule, use a camping lantern when performing tasks that require the use of both of your hands but use a flashlight when you are able to hold it without compromising what you are doing. Unless you decide to for a headtorch. Actually, the best headtorch we've found is the new Actik Core 450-lumen Petzl. It's big advantage is that it can be recharged from a USB socket or used with batteries. Very bright, very comfortable.
With that in mind, you may still feel as though it is a flashlight that you are looking for. In which case, check out our top picks below.
The Best Camping Flashlights
One of the problems with online shopping is that a quick Google search yields a plethora of results ranging from high-end equipment to that which leaves a lot to be desired. The main issue is sifting through it all to discover the best products.
We like to think that we know a little about camping and have tried and tested some good, and not so good, flashlights in order to give you a run down of our favourites.
What we really love about this light is that it is so much more than just a flashlight. If you are looking for something multifunctional then this is a great option since it features a 4 in 1 mode that turns this from a flashlight into a camping lantern.
It is fitted with a powerful 1000 lumen, LED light that can be easily adjusted to suit every camping situation. If you are wild camping and need to get a good range then this is ideally suited since it shines between 250 metres and 500 metres depending on the current settings.
The flashlight boasts a 3600mAb rechargeable battery as well as a USB port. If you are out in the middle of nowhere and loose charge on your smartphone, the torch can be used to give it a boost.
In terms of durability, you won't get much else that compares to this since it is both waterproof, shockproof and dust proof. Made from an incredibly robust plastic with portability in mind, you can feel confident that this flashlight will not let you down, or weigh you down.