Going camping under the stars with the love of your life is one of the most precious and romantic experiences imaginable. That is until you realise that you will need to share a bed with this person and if your camping mattress leaves a lot to be desired, the romance can quickly turn sour.
But to avoid a lovers tiff in the wee hours of the morning over who has the most mattress space, you might consider investing in a camping mattress for couples. Much like static beds in the home, these mattresses are much larger, giving each sleeper plenty of room to get a good night's sleep.
That being said, you must ensure that when you are sourcing your new couples camping mattress, you take a look at its features. This will help you find something that will meet your needs perfectly.
In this article, we will bring you seven of our favourite camping mattresses for couples along with some helpful buying tips to get you started.
All our reviews at Campfire Magazine are independent and honest.
In a hurry? If you don't have much time using the links below to quickly find our favourite double camping mattress for you on Amazon and beyond. You can be assured we only choose the best products…
The Best Camping Mattress For Couples
With so much demand for quality camping equipment, manufacturers have gone above and beyond in creating some extremely comfortable and durable camping mattresses; but which ones are a cut above the rest?
This is an extremely comfortable mattress that boasts a six airbag design. These airbags can be individually inflated so you can create a sleeping space that is suited to your needs. Perhaps you need greater support in the lower back or around the neck; anything is possible with this design.
Alongside this full-body support, you will be getting a camping mattress that is super-soft on the skin. This is thanks to the environmentally-friendly PVC material that is a dream to sleep on. Furthermore, this material is incredibly durable and therefore, ideal for outdoor use.
The mattress supports up to 270kg in weight and will sleep 2-3 people, depending on size. It may be ideal for two parents and a child to share.
One of the most impressive things about this mattress is that it is specifically designed for winter use. It features a cold-resistant material that will keep you warm even when the temperature drops.
It is quick to inflate and will also deflate at an impressive rate meaning that, once the night is over, you can pack up your gear and move on to the next location without having to wait around.
The Kingcamp mattress boasts a lot of features that easily make it one of the best camping mattresses for couples. It is made from waterproof materials with a TPU coating. This also means that the mattress is durable and will stand up to a lot of use.
But while it is such a hardy piece of camping equipment, the mattress is also very lightweight and at just 10cm in thickness, you could be forgiven for thinking that it wouldn't do much in the way of support, but the opposite is true.
The mattress is contoured to support the body effortlessly and thanks to the anti-air leak function, you won't need to worry about waking up and feeling the ground beneath you.
What's more, this design will keep you insulated making it an excellent choice for those colder nights, because who said camping has to stop just because there's a chill in the air?
If you are in the market for something that is going to stand up to a lot of use, then this is a choice seriously worth considering. The Coleman airbed is one of the most heavy-duty camping mattresses we have tried and it is safe to say that it is perfect for those who like to camp a lot.
It is made from a puncture-proof material and the internal structure leaves nothing to be desired. However, this airtight design with a double lock valve does not mean that you are not also getting something outstandingly comfortable. You can feel confident that you will get a decent night's sleep on this soft, cosy mattress.
The mattress can hold up to 295kg in weight and is super easy to inflate and deflate, leaving you with more time to enjoy camping. It can be inflated using either a hand pump or electric pump which makes it an excellent choice if you often go camping where there is not an electricity supply.
In our opinion, this is one of the most impressive camping mattresses for couples out there but not only does it have a wealth of useful features, it is also surprisingly affordable. Sometimes, you will find that not paying a decent amount for camping equipment will result in you ending up with something of a bad quality, but not in this instance.
One of the most notable features is that the Campingaz mattress comes with pillows and a handy storage compartment, perhaps for your mobile phone or valuables.
The multi-layer PVC makes this a mattress that knocks the competition out of the water when it comes to durability but that doesn't mean that you are compromising where comfort is concerned. It is fitted with 35 air coils that makes this an unbelievably comfortable mattress; you really do need to try it to get a feel for it.
While the mattress is designed to be very durable and resistant to trauma, it still comes with a repair kit in the unlikely event that you will need it.
Once again, you are getting a mattress that is easy to inflate and deflate and with the added extra of the mattress being compatible with both a hand pump or an electric one, you are getting something versatile too.
Inflating in as little as three minutes, the ComfortQuest air bed is certainly convenient, making it the idea companion to take on your wildest camping trips. This is another of the more affordable camping mattress for couples options and while it won't break the bank, it won't break itself either, thanks to the incredibly durable design.
This mattress is made from vinyl which is known for its strength but it also comes with a flocked top for added comfort and this is also kind to the skin. If you find that some materials irritate your sensitive skin, this is a great choice.
If you are looking for something with added stability then you will be delighted to hear that the mattress has a Coilbeam internal system designed for maximum support and stability but that is also extremely comfortable.
It will handle up to 295kg and comes with the pump included for additional convenience.
A lot of camping beds come with pillows but more often than not these are a separate entity. With this one, the pillows are integrated into the design and are just the right height to provide effective neck support that is conducive to a good night's sleep. What's more, this is a King-sized mattress so you will have plenty of room to roll around.
One of the most impressive things about this mattress is that it comes with a one-year warranty, not that we feel you will need it since this is a very robust product.
The mattress is made with a skin-friendly fabric which is also waterproof, if you find that you are trekking through areas where moisture may be an issue; it certainly won't be a problem for your mattress. It is also very easy to clean so should your adventures get a little mucky, some soap and warm water will have your mattress looking spotless once again.
This is also one of the fastest mattresses to inflate, taking just two minutes to go from flat to full. When deflated, it is relatively compact and comes with a handy storage bag to keep it clean and protected.
For couples who want a lot of sleeping space or perhaps for families with small children, this huge, Queen mattress will serve you well.
Aside from being huge, the mattress can hold up to 295kg, making it extremely supportive. It offers excellent stability but comfort is not compromised. Furthermore, it is made from a waterproof material so no matter what your camping trip throws at you, the mattress will always remain protected.
Despite its enormous size, once deflated, the Deeplee air mattress is relatively compact and incredibly easy to store in between trips, in the car or on your travels. It takes just three minutes to fully inflate, which makes it a great choice for when you are on the go and need a quick sleeping solution.
What To Look For In A Camping Mattress For Couples
How you intend to use a mattress and where you will be going camping will have an impact on the type of mattress you choose. Before you commit to purchasing any single product, it is vital that you take a look over the features to ensure that it will work for you. We recently wrote as guide for Best Camping Date Ideas, should you some ideas for your adventures together.
Size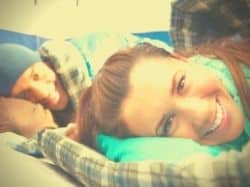 If you are happy to cuddle up to your partner then a double mattress may be enough. However, if you like to have your own space when sleeping, you may need to consider something a little more roomy like a king or queen mattress.
However, when choosing something larger, it is important to keep in mind that this may also mean that the deflated size is bigger which is a consideration for those who will be trekking between camping spots.
You might also wish to look at the maximum capacity for your camping mattress in terms of weight. More often than not, these mattresses can hold in excess of 250kg. However, if you or your partner are on the larger side, it may be worth looking for something with a higher weight limit for greater comfort and support.
Durability
The last thing you want is to purchase a camping mattress only to find that it breaks within a few uses. Quite often camping mattresses are made from incredibly strong materials but you should also check that this durability doesn't mean lesser comfort.
Look for mattresses which have a thick design, topped with a flocked or softened surface that is friendly to the skin.
You might also wish to consider buying a waterproof mattress especially if you are going to be camping in less than predictable weather or in remote locations where there may be a lot of water.
Waterproof mattresses are also excellent for those hot summer nights when you may sweat more than usual.
Convenience
There are two main factors to consider when looking at the convenience of your camping mattress for couples. Primarily, you will need to make sure that the mattress folds or rolls down to an easy to carry size. This is particularly important if you will be walking in between camping locations.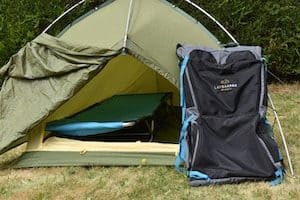 Furthermore, you should think about how quickly and easily the camping mattress inflates and deflates. Inflation should typically only take minutes, if it is any longer, you may find yourself hanging around when you want to kick back after a long day of outdoor activities. What's more, a camping mattress that is tricky to deflate could hold you up in the morning.
Location
One of the most critical things to think about when purchasing your camping mattress is where you will be camping. If you are going to be at an organized campsite where there is an electricity supply, you might choose a mattress that uses an electric pump.
Conversely, if you are heading out into the wilderness, you will need to make sure that you can inflate your mattress. A lot of mattresses come with a rechargeable pump which is great for wild camping, but do be sure to check this before buying.
Conclusion
Your choices when it comes to finding a camping mattress for couples are rather limitless but that doesn't mean to say that every product is going to be up to scratch.
These are seven of what we believe to be the best double or extra large camping mattresses on the market. However, before buying, be sure to check out our quick buyers guide to make sure that you always get a product that will suit your needs.
Frequently asked questions
How do you inflate a camping air mattress?
There are three main ways to inflate a camping air mattress including using your lungs and breath, which is the easiest technique but time consuming. You can also use a manual foot or handheld pump with an electric battery-powered pump being another option for quick inflation of large mattresses.
Do camping air mattresses come with a pump?
Most air mattresses will come with either a manual or electric pump. Manual pumps are very affordable, yet they can take several minutes to inflate an air mattress depending on the size of it. On the other hand, electric pumps are more expensive but muc easier to use
Can a Queen air mattress fit in a 2 person tent?
A queen airbed can fit in a 2 person tent but will leave no space for other gear. There are two solutions to this problem: you could either buy a larger tent or deflate your air mattress.