Cool, classy and easily available don't often go together in the camping world. That's why almost every caravan you see on the road is a white box and every trailer tent is a rather ordinary-looking tent in a rather ordinary trailer.
So, here's our round-up of cool and quirky campers, caravans and trailers that might make you think again!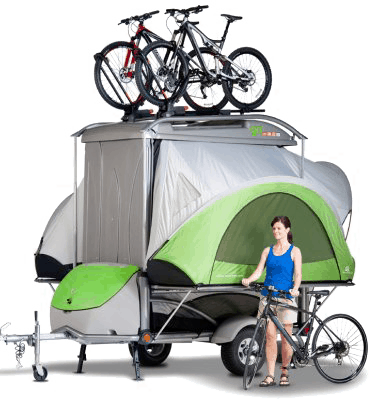 Latest update: November 2020
Good design in the camping world
Here are just a few examples of unusual camping options that have made it to the (almost) mainstream.
Do caravans have to be boring?
The UK is a country of around 60 million people and roughly 30 million cars. Only around one per cent of those people are caravanners. Jeremy Clarkson has done his bit to make sure that number isn't on the rise!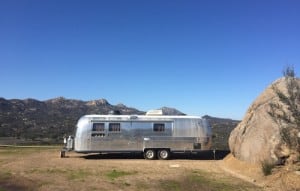 So, if you want to design something a little bit special, you're reducing your market even more. It has to be expensive; it'll probably be exclusive.
Trawl the web and you'll find lots of fabulous prototypes that have never been built, simply because there aren't enough people to buy them. And when production is small, prices need to be higher.
Our testers have found the same problem with lots of camping kit. Cheap, mass production seems to be the norm, and design innovation and finish suffer.
Of course there are exceptions – beautifully designed and made caravans, campervans and tents. Look at Airstream, for example or the VW California. 
Plus, you should keep an eye on those prototypes, because one day – maybe thanks to crowd-funding or the ability to sell globally rather than in a single country – you'll be proud to pull your smart trailer down the M1.
Now take a look at the most interesting trailer tents, caravans and camping hybrids we've found. We add more as we come across them, so do check back now and then.
The Kip Shelter
These don't look instantly amazing, but the devil is in the detail. They're lightweight and incredibly customisable – from inside/outside kitchens to room for a motorbike. There's even an off-road version. Prices start at around £9,000, but we'd guess that would quickly rise once you started adding on all the tempting extras.
The Pandavan



This unusual trailer-caravan is the work of Steve Seabrooke and it's not just revolutionary, it's been designed and built beautifully – well, the prototype has. It's not yet available to buy, but we're keeping a close eye on Steve's progress and we'll be reporting back when the Pandavan is ready. Meanwhile, though, we can tell you it's a fully-equipped, one/two-berth caravan that rises magically from a streamlined trailer.
The Phieldbug
Built in very limited numbers at a workshop in Pembrokeshire, the Phieldbug costs under £3,000 and includes lighting, power sockets, blinds and backrests, It's a micro teardrop made of marine ply on a lightweight galvanised chassis. Options available too.


Boondock Trailers
Made for adventurers, the Boondock comes as a Grizzly or Cub spec and are possibly not for claustrophobes! The Cub costs around £6,000 and and is designed for quick escapes. It has a small double bed, LED lights and a solar generator. Small and light enough to be towed behind a small car. The Grizzly has a rear outside kitchen, a bigger bed and hook-up. Around £13,000



TripBuddy
A blob from the outside, a rather nice space inside. Designed and made in the UK, it's absolutely customisable and is lightweight. Prices start at around £25,000.
Go Barefoot Caravans
Rather smarter than your average caravan, the Go Barefoot aims for luxury and bespoke options for its £24,000 price tag. Designed and made in the UK.
The Sealander
"An innovative and mobile accommodation with amphibian characteristics. It can be used as a customary caravan, but with a few hand grips and the help of an outboard engine it can let you travel on water."
A German-designed space-age caravan that's very dinky. Price: Around £15,000.
The Opus Camper
"Opus is a revolutionary folding camper. It is ultra-lightweight and extremely easy to tow, even with a small car. Its low profile allows for all round visibility, so you can hitch up and drive away with confidence. It's strong, rugged and extremely clever. With two reinforced lids and a universal racking system, it's the perfect load-carrying platform. Carry boats,  bikes, kayaks, kites..and with the Opus Moto you can even carry two motorbikes."
There's now an Air Opus too, which uses inflatable poles to speed set-up time.
Price: From £13,000 to £16,000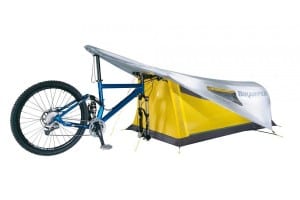 "At about 1.6kg the Bikamper is light and small, enabling you to ride faster and further. A brilliant design uses your bike and its 26″ or 700c wheel in place of tent poles. Simple and quick to set up for one person, three-season use. Features three mesh panels for ventilation and stargazing on pleasant nights. Supplied with fork anchor piece, stakes, cords and carrying bag."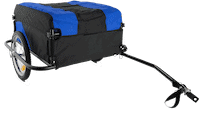 Carries a lot, folds up for storage…this is a great way to carry your kit for a cycling and camping trip.
It won't win any design awards for innovative styling, but sometimes you just want reliable and sturdy.
The trailer holds 130l and has a 70cm-long tiller to attach to the rear wheel. Around £110.
The Cricket, Woolly Bear and Tigermoth
"The Cricket's shell, made from aluminum composite panels, provides an unprecedented degree of insulation without warping. The result is an economical, lightweight and athletic trailer that exceeds industry norms for innovation, aerodynamics and durability. With a single touch roof latch that opens in seconds, Cricket removes the tricky set-up associated with most pop-ups, making it easy to use for all ages and abilities. Dual entry doors make loading and unloading a breeze."
Newest is the sleek silver Cricket. The same company make adventure trailers called Tigermoth and Woolly Bear – both equally versatile, well-equipped and weird to look at.
Sadly not available in the UK just yet. Price: $12,000 upwards
Go Camper
"GO is simply the most versatile camping trailer on the planet and was called "The Coolest. Camper. Ever." by National Geographic Adventure. As well as being superbly designed and built to the highest standards, it happens to be the only camper that can actually take your toys to the playground. Canoeing, mountain biking, road racing, motocross – your outdoor adventures will never be the same again!"
Price: From around £9,000, though they seem to have lost their UK distributor.
Mehrzeller
"The Mehrzeller – the multicellular caravan. Using our configurator, we set up a design that is unique for our customers, including their own layout that they can identify with. The configuration is generated by a computer using the customer's inputs, and then the final design is done by parameters from the architects to yield an attractive and practicable result."
So what do you get? Well, that's up to you, apparently. Price: Looks expensive!
Opera
Tracking down the Opera is tricky. There are plenty of pictures of this Sydney Opera House styled trailer camper out there, but we can't find any in the real world. We've included it here because it's lovely. Inside, the desk surfaces and beds are finished in oak, and the floor and veranda are teak. At the back of the room, behind a curtain, is a ceramic sink and toilet. There's a choice of a gas/electric stove or a charcoal grill – the Opera carries its own gas supply, so there's no need for canisters. Plus built-in compass for finding south, heating and an  espresso maker.
The Teardrop Caravan
For around £10,000, you get a dinky caravan that can be pulled by almost any car. It has a double bed and a kitchen you get at from the outside (fairweather camping only?). To be honest, there are caravans we like better, but it's  neat little thing.
There are also teardrop-shaped caravans from several other manufacturers, including these two, that give the German Teardrop a run for its money:
---
Schafer
If space age isn't your thing, how about the age of elegance. The Schafer trailer tents look like beautiful wooden boats and have some lovely design features, like this pull-out kitchen. Sadly, they seem to have disappeared. We'll leave their old web address here just in case they return, but it didn't work when we tried recently. And if your Dutch is good enough, you could try this specialist company, who also list the Opera.
Price: Around £20,000.
The QPod
A concept and soon to be a prototype..and possibly available from late 2019, the QPod is being designed as mobile glamping towable by a small car. Have a look at our full article on this new idea from former architect Duncan Chapman.
And how about this for behind a bike…..