I started to write this sitting next to a laden plum tree, watched by Colin the caretaking-cat on one of the prettiest and best-kept campsites I've ever been lucky enough to find.
We were on a week's honeymoon journey in a VW campervan. Find out where we went next!
The freedom of potluck camping
One of the best things about a campervan (and we love tents too) is that it's easier to take pot-luck. So, with nowhere booked, we followed a sign to Pitts Farm near Warwick and found an empty field pretending to be a campsite.
Well, there was a battered Camping and Caravanning Club sign at the gate, but no toilets or showers or water or anyone else there. We paid £7, drove to the rather nice Fleur de Lys canalside pub for dinner (original home of the famous Fleur de Lys pies) and then drove back to the 'site' for a good sleep despite the constant noise of the M40.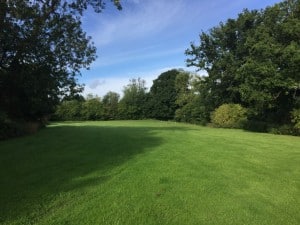 The countryside and villages in this part of the country are lovely, but we had a job to do in Leamington – to test drive some electrified Brompton folding bikes at the Nano workshops. You can read more about that here.
Folding Electric Bikes, The Brompton and More (It's Electrifying!)
Camping near Bourton on the Water
Lunch in Leamington and then a drive through more picturesque villages to our second serendipitous campsite – Field Barn Park near Bourton on the Water in the Cotswolds. What a glorious place, and for adults only – plus a few hares and leverets.
Huge grassy pitches, bamboo, fruit trees and elephant grass for privacy, Colin the friendly ginger cat, good showers and a small but well-equipped kitchen. Full recycling facilities and even a thoughtful waterproof pen to mark your food bags before stashing them in the communal fridge freezer. Plus, of course, a great starting point for walks and bike rides.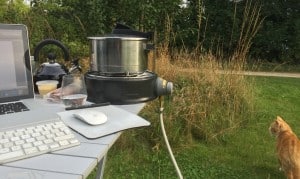 The information shed was packed with useful information. The farm grows wheat for Hovis and oats for Quaker, by the way.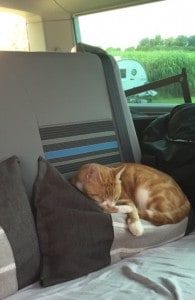 Places to visit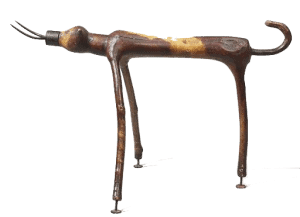 Nearby is Compton Verney – a beautiful stately home with lakes and woodland, as well as an interesting permanent art collection and an ever-changing exhibition and event programme.
The highlight of the visit was the collection of British folk art – objects such as a three-legged dog toasting fork, and some fantastic paintings, many of them funny and all of them a welcome change from Bible scenes and portraits of the gentry.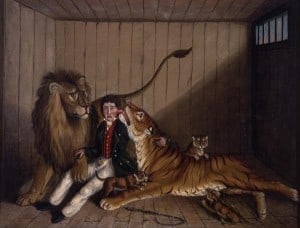 We also visited Northleach where there's a mechanical music museum (one-hour tours rather than self-directed visiting put us off), so we went instead to the lovely church. It's a mediaeval church made more grand over the centuries as wool money made the town rich. Look out for the rather pagan fertility carving of a naked man and the bagpipe player in the stained glass.
A brilliant farmshop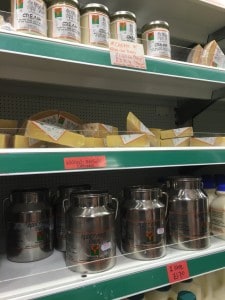 Next stop, Abbey Home Farm, and rather more than your ordinary farmshop. It's an organic mini supermarket with lots of homegrown vegetables, fruit and flowers, plus a café/restaurant, workshops and courses, good fairtrade and environmental credentials, accommodation and a campsite. There's an incongruous section of Indian handicrafts and, up the road, a barn full of furniture.
We stopped for lunch at Westonbirt, the national arboretum – a picnic of Black Russian tomatoes from Abbey Home Farm, smoked Wensleydale and bread from the bakery in picturesque Bourton-on-the-Water.
A debut trip to Devon
Devon was completely new to us and choosing where to go was difficult. We drove through Exmoor and gorgeous countryside, stopping at Becky Falls.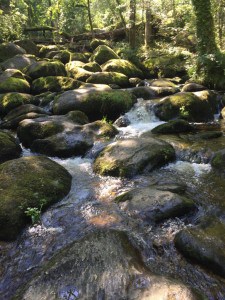 We expected a quiet beauty spot with waterfalls, but found a petting zoo, café and £8 car park too. Still, the cascades over Flintstone-esque boulders were lovely and the walks away from the family areas were peaceful and pretty.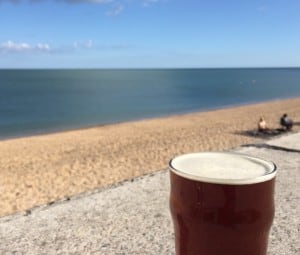 We headed to the coast at Kingsbridge and watched a couple picking cockles in the estuary before stopping at the much-hyped Start Bay Inn. It's in a great location, right on the edge of the miles of shingle beach.
You often end up with a compromise when the view is so good and that's certainly true here. The fish is very fresh, but you need to think fish and chip shops in the guise of a pub for an idea of the place. It's heaving with people by opening time, you order at a takeaway counter and as close as it gets to creativity is a giant basket of sauces in plastic sachets. Portions are generous, but it's not a place for finesse.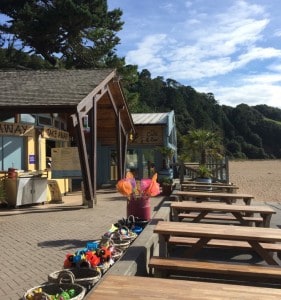 A drive up the coast takes you to the idyllic Blackpool Sands ­– absolutely nothing like its namesake. It's a sandy bay sheltered by cliffs at either end and home to the wonderful Venus Cafe
We were starting to think seaside-ness inevitably meant a compromise on quality – why bother offering more than hot dogs when you have a queue of people willing to pay through the nose? Venus, though, serves organic, local, carefully thought out and delicious food for not that much money. It's right on the beach and there's a nice store selling watersports kit and more. Outside holiday times, it's heavenly.
It was so lovely, we decided to pitch camp nearby, despite only having driven a few miles. The car park attendant recommended Leonard's Cove for its cliff-top views. We saw, we left. To see the views, you had to peer over the top of cramped rows of green statics. The nearby Deer Park site didn't charm us either, though it looked clean and well-run.
Slapton and the south Devon coast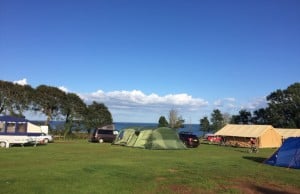 You don't have to go far for finesse, though. Head up the coast a mile or so, with the national nature reserve of Slapton Ley on one side and the silvery sea on the other and you reach the turn for Slapton, home to our next campsite stop and to the wonderful Tower Inn with its brilliant menu of local and fresh fish and meat, interesting dishes, friendly staff, candlelight and character. A little more expensive than Start Bay, but twenty times better.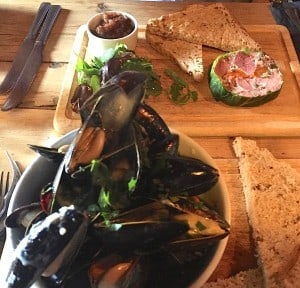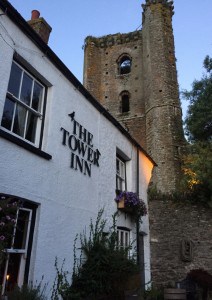 The campsite here – Slapton Sands – is a Camping and Caravanning Club venture, so immaculately kept and a little lacking in character. Do you need that, though, with a 180-degree sea view, a nature reserve to walk around, a picturesque village five minutes away and Dartmouth and Kingsbridge a short ride by bus or bike? Plus it's on the long-distance South Coast Path.
We've come to dislike these open field sites without hedges or trees, however. They're fine if there are just a few campers there, but the site was still busy with families and we were shown to a pitch surrounded by some of the noisiest families we've come across. Amazing views, awful sleeping. We'd definitely go back, but out of season.
Dartmouth
We went on to Dartmouth – a fascinating place of art galleries, shops, cafés and expensive-looking houses of all styles on the edge of the wide Dart estuary.
The marina is full of working boats and trip-boats, there are tugboat and cable ferries over to the other side, a castle, a lovely Jubilee walk across the ridge looking out to sea, a pretty old market and more. It's bustling and interesting and we ate our Cornish pasties looking over Warfleet Creek at the end of a great walk.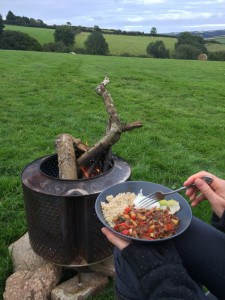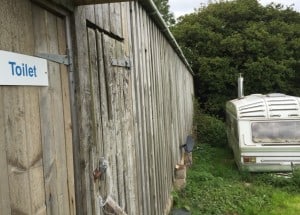 Having had our fill of hyper-organised sites and trying to get back to what camping is all about for us (being outside with nature), we took a gamble on Higher Broadgates, near Cornworthy further up the Dart.
The advertising card we picked up was stylishly put together and promised a rural idyll on a working farm. It will be that, but not yet. The owners are in the midst of building their house and you reach the camping field through a yard of old machinery and tumbledown barns. There's one shower and one toilet and two ready-erected tents for those who want them.
Glamping isn't always glamorous
In theory, it should have been perfect for us – views out over haybales and fields, a campfire, no-one else there. However, we were charged extra for our campervan (despite there being no facilities specially for vans). You got the feeling that the owners had got a bit ahead of themselves in what they were actually offering and what they were charging for (and advertising).
It would have been a blissful night had it not been for the lampers who arrived in a transit and started shooting. We'd agree with Chris Packham that people who kill animals for pleasure are psychopathic.
Camping Gear Must-Haves – Our 60 Best Finds
Totnes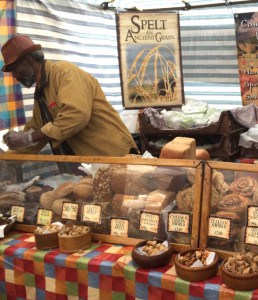 We arrived in Totnes on market day and were overwhelmed. As well as an interesting fleamarket, there were produce stalls of organic bread, cakes, homegrown vegetables, homemade cheese, plants and so much more.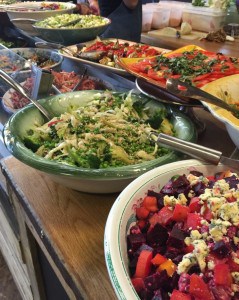 This is a town of quirkiness, wholefoods and arts. We loved Seeds2, where the help-yourself salads were inspirational, but choosing from the 15 or more great-looking cafés and restaurants was tough.
Lots of shops have envelopes you can make charity donations in and the town even has its own Totnes pound to encourage local spending.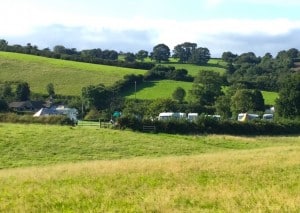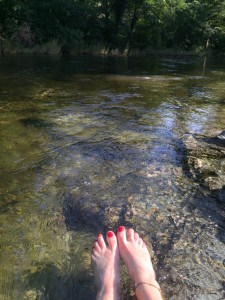 We chose Beara Farm campsite near Buckfastleigh – another big open field, but this one with a lovely atmosphere, places to swim in the Dart and a friendly farmer-owner, who's run the site for more than 45 years. OK, you pay 50p for a shower and the basic facilities are in the farm buildings across the road, but it's a fantastic spot and very good value at around £11 a night.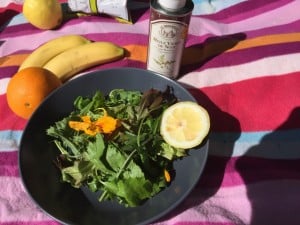 We'll definitely be going back to this area to explore more. There are cycle and walking trails, plenty of sights to see, the Dart to play in and the coast only a short drive away. Perfect.
On our way home, we popped into Wellington for their mini food festival and reminded ourselves how good it is to buy vegetables from the man who picked them himself last night by the light of the moon. Thanks, Ray!