We knew nothing about Corsica when we drove onto the ferry in Marseille.
Our spur of the moment decision turned into a camping trip in a place like no other – where every turn in the road presents another awe-inspiring view of turquoise sea and green forests.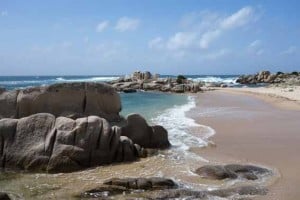 Why camp in Corsica?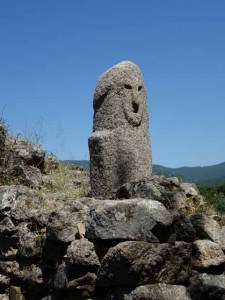 We'd been camping in mainland France and were wondering where to explore next. A vague feeling that Corsica would be laid-back and lovely was all we had to go on, but we booked a ferry from Marseille to Ajaccio.
As proof that we didn't even know where the island was, we'd expected a quick hop across the Med rather than a 10-hour crossing!
Of course, we hadn't booked any campsites but, in mid-June, we had no problems finding a spot. The first camp stop was U Turracconu in Sierra di Ferro, south of Ajaccio (sadly it's no longer open). This was the site of our first Corsican lesson in choosing the best pitch.
We foolishly camped in full sun because we wanted to be overlooking the bay. When the temperatures reached the 40s, we melted and the grass in front of our tent burst into flames!
On the road in Corsica
Driving, while sometimes a little hair-raising because of the other people on the road, is easy and the routes are simple and well-maintained.
It's also a fabulous experience, with heartstopping scenery at every turn and interesting places to visit en route.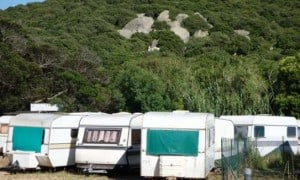 We can't, however, wholeheartedly recommend our next stop – Le Damier near Pianottoli Caldarello. It's in a fabulous area for beaches and coves (but where isn't) and is set in a pine forest. However – perhaps because it wasn't quite the season yet – the place was scruffy, some of the toilet blocks weren't functioning and there were dead caravans parked around the place. We did like the bar area (wifi wasn't working) and it was very relaxed. Here's hoping they've smartened up a bit since we were there.
Our favourite Corsican campsite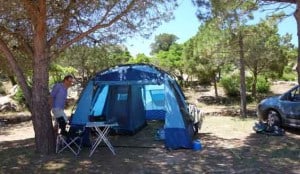 Camping La Trinite was our favourite. A medium-sized, very well-kept site with some shaded pitches, good facilities, a great barbecue restaurant and a bar next to the pool.
It's close to Bonifacio, a fabulous old town perched on crumbling white cliffs right on the southern-most tip of the island. Downsides are the ants and the lack of easy access to water. Ants, by the way, are supposed to dislike baby powder barriers and cucumber peelings. We've resorted to insect repellent around our table legs and our own feet!
A road trip – The Calanques, Plage d'Arone and Porto
To see more of the island, we made a trip right around Cap Corse, down to Ile Rousse, Calvi, Porto and Piana – not that far as the crow flies, but a journey of twisting roads, hairpin bends, winding mountain tracks, sheer drops into the sea and astounding scenery.
Our new plan was to stop in Porto – the gateway to the Gorges de Spelunca and the Calanques. There are four campsites in or near the town. We chose none of them, preferring instead another 20km of roller-coaster to a town we couldn't be sure even had a campsite.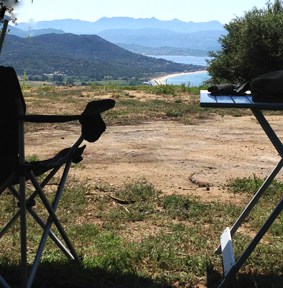 Here's why. Les Oliviers and Sole e Vista campsites are next door to each other, both up steep hills and on terraces with trees. Fabulously shady in high summer, but even in sunshine and 30-degrees, they felt sightly dingy and claustrophobic. The ground is hard, sandy and strewn with leaves, and only on a few pitches can you park the car next to your tent. There are very steep walks from the facilities and parking areas. Both have swanky pools and Les Oliviers has a fitness centre too. Neither appealed to us. And nor did the decidedly dingy and down at heel Funtana a l'Ora just outside Porto on the Evisa road. Final option? The municipal campsite in the valley bottom, which was also the council truck park and grit store. Hmm.
Inland splendours – lakes and rivers
Inland, Corsica is forested and wild with hilltop villages and amazing views. Most tourists tend to stick to the coast, so (especially in season), it's a calmer place to be
If you haven't discovered Wild Swimming France yet (or wild swimming in general), you should! This book has transformed our trips by helping us discover fabulous hidden places. See our articles on Jura and the Lakes and the Lac du Sautet, for example.
It was our bible for inland Corsica, where there are fabulous waterfalls, valleys with river pools and the Delta du Fango lagoon. The book also suggests a few nearby campsites.
The Wild Swimming Guides
A brilliant series of guides that help you discover lovely landscapes, places to swim and camp, unusual and special places to eat and more. There are guides to Scotland, Central England, the Lakes and Dales, Wales, Portugal, Cornwall and the South West, Scandinavia and wild swimming in the UK, Italy and France, which includes Corsica.
Piana and a marvellous campsite
So, we headed for Piana – a bright town high on the plateau. Into our twelfth hour of driving now and without much hope of a campsite, we met the Calanques, and exhaustion disappeared.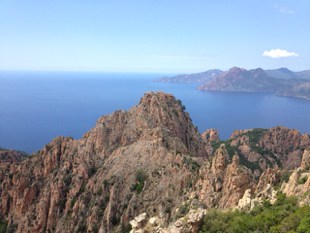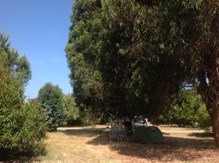 The mists were swirling around vast sculpted rocks and craggy drops into ravines of pink stone. The road wound between crazily shaped outcrops – animals, faces, city skylines on what felt like a theme park ride of fake prehistoric landscapes.
At Piana, we spotted a small 'camping' sign and took another 11km twisting road down to the Plage d'Arone. This time, we knew we couldn't be picky. The road ended here and there was nothing else for miles.
And what a great campsite to have forced upon us! Flat, shady but with air and light and with a choice of huge pitches. We didn't even know what the beach was like (though most people probably come here for that and not because they've run out of road). An evening stroll took us out onto a perfect curve of white sand with turquoise water and the mountains behind.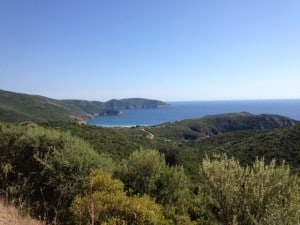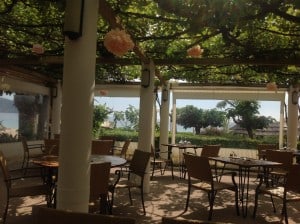 The campsite itself was our most expensive campsite to date (€28 for a tent, two people, a car and electricity) and the washing facilities were very basic and not always hyper-clean. They didn't take credit cards and there was no wifi. But what a location.
Of course, you do need to stock up on food as the nearest shops (a small super-U and a great delicatessen) are 11km back up the ridge road. The beach has three restaurants and bars, one with free wifi. When we were here in June, it wasn't very busy at all, but – despite its out-of-the-wayness – it's hard to imagine it doesn't get thronged in full summer.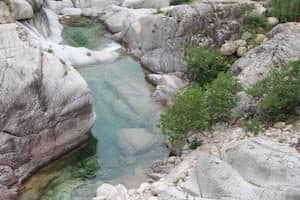 Corsica tips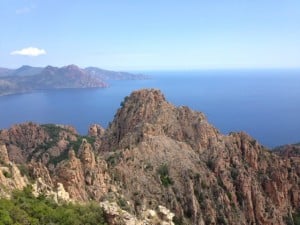 Take shade – a tarp with UV protection is ideal.
Check for ants' nests before you pick your spot (not such a problem in a campervan or with a sewn-in groundsheet). Make yourself an ant-repelling potion from James Clarks' great Homemade Repellents book!

Don't miss out on a walk through the Calanques. Driving through is awe-inspiring, but take the old Piana to Ota road high above the D81 and you get away from the foolhardy coaches and motorbikes into incredible countryside for a quiet Calanques experience.

Try the Cafe de la Plage for a treat – right on the beach, expensive but with fabulous fresh fish and a glorious covered terrace (and free wifi).

Walk the chestnut path from Evisa to the river, over the jiggly suspended bridge and into the swimming pools.

Don't do any of this in July or August!
Do let us know if you've discovered the island too and what you liked best. And if you fancy a trip there and need more information, just give us a shout!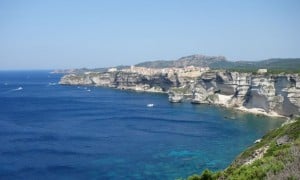 This article was originally written in 2015, by the way. It has been updated, but please check campsites are still there before making any plans!