Which kitchen tools are essential for your camping kit and which can you manage without?
I don't think we'd ever pack a mortar and pestle or an apple-corer, but what about a grater? Useful for cheese, but what else?
Well, we love this courgette fritter recipe so much, it could be worth making room for a clever tool or two!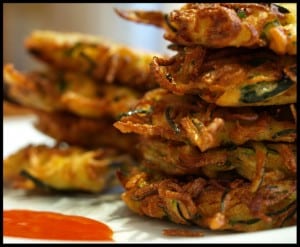 Easy camping courgette fritters
The recipe
Two or three courgettes (depending on your appetite and their size)

A medium, very finely chopped onion (spring onion would be nice too)

About five tablespoons flour (chickpea is best, but anything will do)

Chopped chilli

Salt and pepper

Three tablespoons chopped coriander

Oil for frying

When we cook this at home, we add a teaspoon of baking powder for lightness, but it's not essential
Grate (a coarse microplane is best) or process the courgette in the Zyliss and squeeze out as much liquid as you can. I have been known to add the liquid to a glass of orange juice – seems such a waste to throw it away.

Mix everything together.

Heat the oil in a frying pan and, if you've got time and inclination, test-fry a bit of your mixture so that you can check it for seasoning.

Form the mix into flat patties (you'll probably need to spoon them in and then shape with the spoon). Fry over a medium heat till brown and crisp on both sides.
These are delicious with a hot tomato sauce, a sweet chilli dipping sauce or make great 'burgers' in a bun with salad and relish. And they're good cold too.
Some other options for additions – nooch (for a vegan cheesy effect), smoked paprika and lemon, fennel seeds….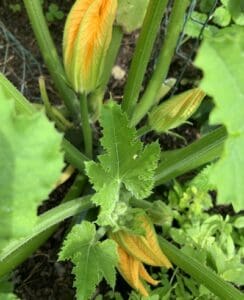 Since we first wrote this recipe a while back, we've come across a brilliant hand-powered food processor.
It's fantastic for getting your courgette to the right size with just a few pulls of a string! Also perfect for dips and chopping when you're camping. No electricity needed and easy to clean.
Have a look at our other tried and tested camp kitchen utensils. Some make your life easier (like the folding potato masher).
Others mean you can be a bit kinder to the environment (food wraps, for example). All work well and are easy to pack.
Spiralisers, eh? Only good for the comedy of an endless courgette!
Camping cooking tips and veggie/vegan recipe books
If you like vegetable dishes with great flavour and a bit of flair, the books below are the ones we use the most.
Planted just happens to be vegan (though the chef-author isn't). Veggiestan is middle-eastern and Vegan Street Food is Indian and south-east Asian cooking. Many of the recipes are too complicated and rich in ingredients for camping, but they're very adaptable (and so are we!).
Have a look at our travelling spice ideas below.