If you're fed up with the same old camping food, here are a few ideas to make the most of some delicious ingredients.
They're all cooked super-quickly with either a Cadac Safari Chef or any decent camping stove.
Latest update: April 2021
Chargrilled smoked tofu with quick lentil pilaf and barbecue sauce
Serves two. You can make this with meat or fish too, if you prefer, or any other kind of firm tofu.
One pack of smoked tofu, cut into thin rectangular or triangular slices.

One onion and a clove or two of garlic chopped finely (use the amazing Zyliss hand-powered food processor!)
One pack of ready rice (Tilda rice comes in lots of flavours and with mixes of quinoa etc too). Or use bulgur wheat, which cook very quickly

One tin of cooked green lentils

Readymade barbecue sauce (or make our homemade version in advance and take it along. You can also make a very fast barbecue sauce by mixing ketchup and fruity brown sauce, with a bit of chilli and a pinch or two of sugar and thyme if you have it)
Salad leaves or the chargilled broccoli (see below)
Fry the chopped onion and garlic till translucent in a pan with a lid. Add the rice and a small amount of boiling water, a pinch of pepper and salt or stock to taste. Mix well and close the lid. Let it sit while you do the rest.Wrap it up in something to insulate it if you can – it'll hold the heat and be ready faster. You want the rice to soak up the water and fluff up.

Put your barbecue sauce in a bowl (or get it ready to heat up, if you prefer).

Heat a griddle plate on the Cadac, or a frying pan on a standard camping stove. Add a little oil.

Griddle your tofu or marinated meat till done and cover to keep warm.

Add the drained lentils to your rice and heat through. Season to taste.

Serve with salad (or broccoli) on the side and a spoonful of the barbecue sauce.
Spiced and griddled broccoli
Serve with the 'steaks' above or with virtually any meal!

Crown of broccoli divided into small florets.

Chilli seasoning, or Tajin (a delicious Mexican lime, red pepper and salt seasoning that goes with everything)

Garlic cloves

Salt and pepper

Lime or lemon juice (if you're not using the Tajin)

Maybe a scattering of whatever herbs you have around
Parboil the broccoli for three minutes in water, along with the garlic cloves. It needs to be slightly tender but still with plenty of bite.

Drain and leave to dry out a bit.

Heat a griddle plate on the Cadac, or a frying pan on a standard camping stove. Add a little oil.

Griddle till nicely browned and sprinkle over whatever seasonings you're using. Done and delicious!
Quick barbecue brunch
For a special breakfast or a fast lunch. This couldn't be easier, or more scrummy.

Sausages of any kind, veggie or meat (you need them to cope with being cut in half lengthwise, though, so nothing sloppy).

Slices of bread

Olive oil

Garlic clove

Sliced tomatoes, mushrooms and/or onions

Barbecue sauce, ketchup or fruity brown sauce
Heat a griddle plate on the Cadac, or a frying pan on a standard camping stove. Add a little oil.

Griddle the split sausages, sliced onion, tomatoes and mushrooms in whatever order you like.

Keep warm under a plate or pan lid.

Griddle the slices of bread till just toasted on one side. Rub the garlic clove over the toasted side (it'll act like a grater). Griddle on the other side. Remove and drizzle olive oil over, along with seasoning.

Pile on your sausages and vegetables and serve with sauce on the side.
Chocolate pancakes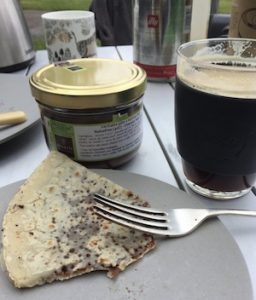 OK, you can use Nutella for these, but there are some much nicer chocolate and chocolate/nut spreads with less sugar and more chocolate. Or, go the gourmet way and use broken up chocolate and chopped nuts instead of a pre-bought spread.
The pancake mixture – premix your dry ingredients and store in a silicone ziplock bag or container.

I like to use brown rice flour, oat flour (just finely ground up porridge oats!) and arrowroot/cornflour for gluten-free crispiness, but replace the arrowroot with any flour of your choice.

Add a pinch of bicarb and/or baking powder if you want an airier pancake (remember the Little Chef American-style ones?)

If you happen to be making hummus, then add the aquafaba (chickpea water) from the tin to the batter. It adds protein and a bit of body, but it's not at all essential. You definitely won't need an egg!

Don't be tempted to add sugar at this stage. It tends to make the pancake burn.
Mix to a single cream consistency with milk, dairy-free mylk or water.

Heat your frying pan with a little oil

Cook the pancake on one side and flip.

Now's the time to add your chopped chocolate or chocolate spread, so it can melt a little as the second side cooks.

Fold in half and serve with cream or Oatly creme fraiche (non-dairy) and a sprinkling of sugar (mixed with cinnamon, if you like).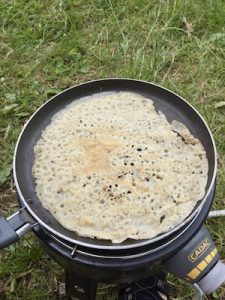 That gorgeous Americano in my reusable cup, by the way, is made using my new best camping friend – the Wacaco Nanopresso.
For a savoury version, have a look at our recipe for the whatever-you-like pancake.