In this wild corner of France, close to the Alps, every view is spectacular.
For six days, we woke to the sun on the mountains and walked all of four metres to swim in a turquoise lake.
Our campsite, the Camping du Lac du Sautet, was right on the water's edge.
Grenoble and south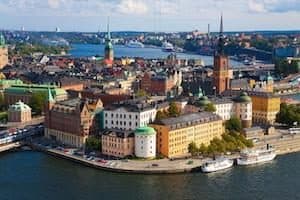 The Ecrins mountains, on the edge of the French Alps, were new to us…and what an amazing discovery.
Wind along the roads north of Gap and south-east of Grenoble and you enter a breathtaking area of wooded gorges, lakes and rivers.
If you're driving down from the northern ports (we travelled Hull to Zeebrugge), it's a chance to explore lovely Strasbourg and then the beauties of Jura on your way. Make a stop in Grenoble, circled by mountains and with plenty of history, culture, arts and great food to fill two or three days.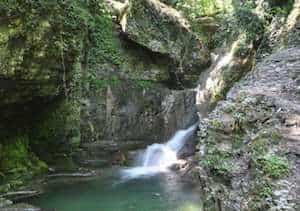 We can't really recommend the campsites closest to Grenoble, but can heartily recommend Camping de Buisson, 20 minutes away by car. A lovely site with a great attitude, not least towards the environment.
As you leave the city for the wilds, prepare for surprises. On the outskirts of Grenoble, you'll find the Gorges du Furon with waterfalls, plunge pools and caves to explore. Continuing south, the roads wind past a series of lakes, where you can take your pick from small and secluded to big expanses with campsites and water activities.
Camping du Lac du Sautet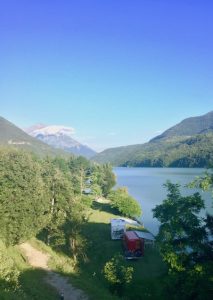 We had our sights set on Sautet, and the photos we'd seen were nothing compared to the astonishing scenery we found at every turn.
This is the Matheysine area that encompasses true Alpine landscapes and softer pastoral valleys and plateaux.
Down a side road from the village of Corps, this manmade lake forms a V shape with wooded cliffs all around and towering ranges, including the Obiou peak, as a backdrop.
The campsite is made up of three or four sections. Out of season, only the gorgeous beachside section is used, so you're almost guaranteed a pitch close to the water. The campsite owners are friendly, laidback and helpful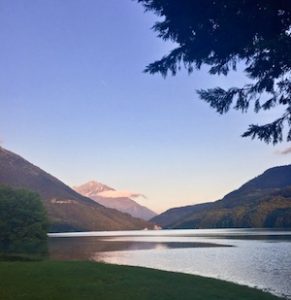 Toilets, showers and sinks are basic, clean and shared. There's electricity available for every pitch and there's a restaurant/bar at the top of the site that has good homemade pizza and plenty of other dishes. It's a separate enterprise and doesn't detract from the calm atmosphere of the site. At weekends and in school holidays, things do get busy, of course.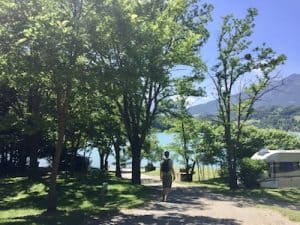 Keep an eye on water levels!
One thing to watch for – EDF sometimes raises the level of the lake. A couple who drove their campervan onto the lakeside terrace below us woke up to find the water over their axles and their gazebo standing bizarrely marooned. They had been warned!
From the campsite, you can walk 200m to a low-key watersports centre for kayaking, stand-up paddleboarding or to hire a pedal or electric boat. In the opposite direction, there's a via ferrata and a 125m rope bridge over the dam.
A walk to the village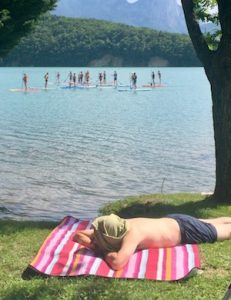 You can also walk to the village to shop for bread, for local produce at the liqueur distillery or for general provisions at the small grocery (Casino). There are two or three cafes and a smart restaurant too. It's a steep climb from the lakeside, but with unmissable views whenever you stop to catch your breath.
In the area, there are plenty of walks and an extraordinary cathedral in the mountains (Notre Dame de la Salette).
We planned to stay a couple of days, but didn't leave for a week – we swam in the lake twice a day and simply relaxed with views we couldn't ever tire of.
What else to see and do nearby
Notre Dame de la Salette
The Lac de Serre-Ponçon, south-east of Sautet. There are two nice campsites here and some wild stretches of shore forovernights.
The Severaisse valley waterfalls and small Lac du Lauzon – south of Sautet.
Lac de Monteynard-Avigonnet – with a suspension footbridge and turquoise water.
Alpine villages, gorgeous gorges and hikes to glacial lakes.
Continue your adventure by exploring the Vercors National Park to the west, where the climate suddenly feels more like a mountainous Provence with its vineyards and lavender fields.
Ferries to France – what about Hull?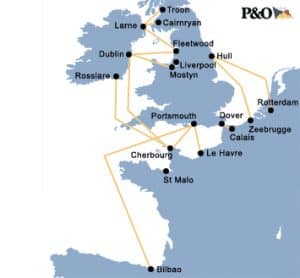 If you live in Scotland or the north of England, then getting to France is easy. We used to drive all the way to Portsmouth, but then spent a while working out the comparative costs and time of a ferry from the south versus a ferry from Hull.
Surprisingly, we found that, even if you're heading to the south-west of France, it's cheaper and less distance to go from Hull to Zeebrugge.
It's overnight – leaving Hull at 18.30 and arriving in Belgium at breakfast time. Not only does it get you in the holiday mood faster, you get to do the interesting driving at the continental side rather stop-starting all the way down the M1 or M6. And, you could do worse than spend a day or two in Hull – City of Culture in 2017.
Sadly, food on the ferries isn't what it used to be. I can remember looking forward to the semi-luxury of a buffet or restaurant meal. These days, it's expensive and mediocre and every part of the ship shouts sales messages at you – from drink-more leaflets on every table to buy wifi, cuddly toys, perfume, gin and more.
Take your own food?
We used to take our own food ready to warm up in the microwaves provided for baby food. No more. Microwaves have gone for some unfathomable safety reason.
Now, you'll either have to (literally) stomach the cost of poor on-board food, or go prepared. We take a selection of salads and dips or (if we're being very organised), make up insulated food flasks filled with stew, soup or curry.