Carrying your own water supply is essential for wild camping, and very handy for campsites too. So, we've been looking for the best water containers.
Our wishlist? BPA-free, won't leak, split or spill; easy to fill, and preferably with a tap. 
Here's what we found.

We've tested a LOT of water carriers. Disposables are out because there's way too much plastic rubbish already. But we have found some real winners.
Latest update: October 2020
 From foldable water containers to buckets with taps..the best water carriers for camping
In a four- or 10-litre option, this is a perfectly flat water container with a one-hand operated tap. The inside bladders are mylar (the stuff they make wine bladders out of) and the outside is rip-top nylon, so it's durable and won't taint your water.
Although we weren't keen at first that it didn't stand up, it's turned out to be the one we use most. The 10-litre version hangs nicely on the side of our van or in a tree and the tap is easy to use with one hand while you hold a water bottle or kettle with the other. 10 litres is also a decent quantity for a two-day trip.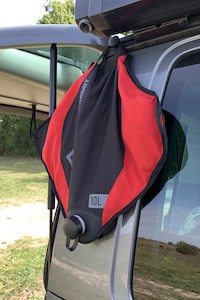 The only downside is that the fabric can get wet when you fill it. Dries quickly, though. Costs between £17 and £40. Great for minimal packing and for avoiding any chance of plastic-y water.
While they don't look as if they'd be OK for drinking water, David at Colapz tells us thes are absolutely food-safe, UV and frost resistant and BPA-free.
The Colapz buckets fold virtually flat (with a nifty stretch cord to keep them closed, have a lid and a tap that can be replaced with a cover for easier storage.
Around £25. They hold eight litres.
We use ours with the brilliant Colapz rechargeable shower (have a look at our camping shower feature), and there's also a 3-in-1 folding bucket with a detachable watering can nozzle. Plus a mains water kit for caravans and campervans.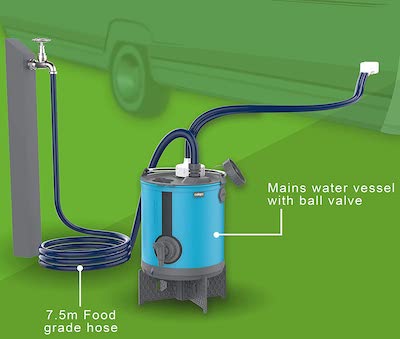 The Liquitainer is great for refilling drinking bottles and it's proved very handy on the campsite and wild camping.
Its downside is that it's a bit small at four litres, but just take two. We like it for its foldability and the fact it also stands up. BPA- and phthalate-free, wide top for easy filling (you can get ice into it too). It uses a material that inhibits bacteria build-up. Just make sure you pull the clip across the top to seal it! Around £30.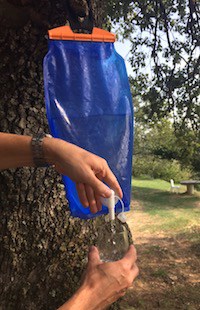 Clever water storage that comes in two-, four- and six-litre options. The wide-mouth, press-close opening is easy to fill and clean. It's BPA-free and even has a technology to stop the tank getting mouldy or contaminated by bacteria.
It stands more or less stable on rough surfaces and has a comfortable handle. A pouring spout rather than a tap, but nice to pour and water comes out quickly, which can be an advantage (use as a watering can at home!).
Costs between £20 and £40. Store it away empty for travel because the press seal on the top isn't absolutely trustworthy.
Fridge water storers with tap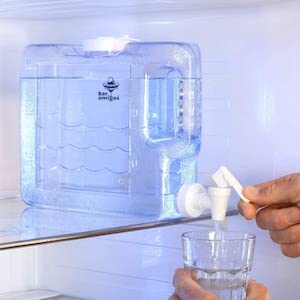 There are a few of these and most seem to be BPA-free. You may want to sterilise the inside now and again, though, as the plastic can be hard to clean out thoroughly. Not great for carrying around on a campsite because they don't have handles.
The slim fridge water dispenser (above) holds 3 litres and gets a good rating. To get a decent flow from the tap, you need to allow a little air inside through the bung. Around £18.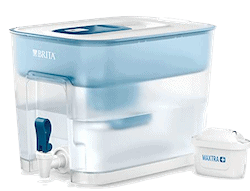 We also like the Brita Flow Maxtra (8 litres) with tap and filter cartridges. Around £30.
Jerry cans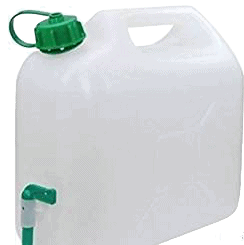 As simple and sturdy as it gets, but bulky. These come in a wide range of sizes and with taps in various positions. Very practical. Whether they're BPA-free is questionable in some cases.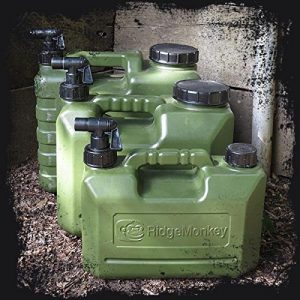 The Ridgemonkey jerry can (recommended to us by an experienced van camper) is a little rough around the edges, but it's made of HDPE and comes in three sizes. If you want to know a little about which plastics are deemed safe, check out this article. The 5l Ridgemonkey costs around £15.

One to avoid. These tend to make water taste unpleasant no matter how well you rinse them out. Made of nasty PVC.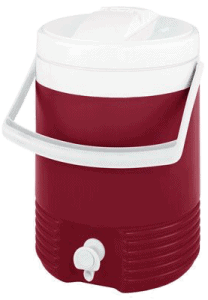 An insulated water container with a top handle and sturdy build. Costs around £20 and available in three sizes. Doesn't pack away neatly, but an option if you have the space.
VERY robust and very packable, though needs to be laid flat, these are water bags with a screw-off cap and a nozzle. The Dromedary comes in four- and 10-litre versions.
From around £40, depending on size. Drop it out of a plane and it survives, apparently.
Ortlieb make good drybags, so they've turned that idea inside-out to make bags that keep the water on the inside.
They carry 10-litres and have handles for carrying or hanging. No tap, though. Instead there's a nozzle system that can be adapted for a drinking pipe or for pouring. Around £25.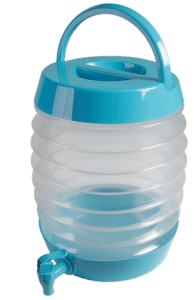 People seem like this camping water storage keg but, as with many folding plastic options, they easily puncture or develop leaks where the folds weaken the plastic. Two sizes from £10.
What to avoid unless budget is VERY tight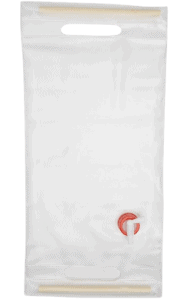 By brands such as Eurohike and Mountain Warehouse, these are usually made of PVC, which can give water an unpleasant taste.
They often have a tap, and are basically roll-up bags, so super-small when not in use. Won't stand up and the top isn't all that secure. Still, they're very cheap, but I'd prefer to get something long-lasting.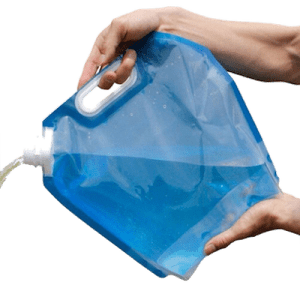 From as little as £1, these are the most basic option for camping water. Simply a bag with a handle and tap. Made of polyethylene (PE), they tend to come as five- or 10-litre options. You'll need to hold them while filling as they don't stand up very well. Won't last, so you'll end up adding more plastic to the waste mountain. A bit rubbish.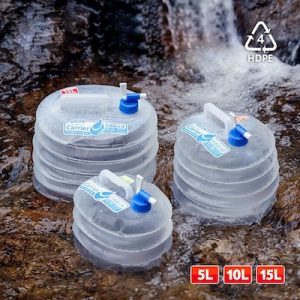 We're not all that keen on this type (which is a more basic form of the Kampa Keg). Again, the folds are a weak area. We also wonder whether they are actually BPA-free…who would know! Guaranteed not to last, so more plastic waste. Cheap, but buy something that will last instead.
And to avoid plastic altogether for your water storage?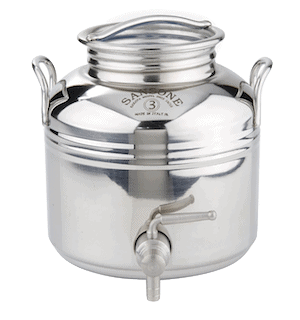 Gorgeous, eh? This is a fusti – a dispenser for olive oil, honey or water. These are made by Nuova Sansone and cost from £50. Sizes range from three to 10 litres.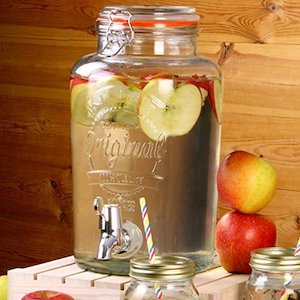 Heavy, breakable and with no carrying handle, but this glass eight-litre Kilner drinks dispenser would definitely be taste-free and not leach anything nasty into your water. Around £20.