If you've ever tried trickling water from a drinking flask to wash the mud off your dog's paws, get the sand off a surfboard or wash your hair while wild camping, we might have found just the answer – a portable camping shower.
Most of those sun-heated shower bags you fill and hang from a tree have left us chilly and desperate for more than a dribble of water. 
However, there are now some portable camping shower options that will do a better job. And they're good for cleaning off dogs, sandy feet, walking boots and more.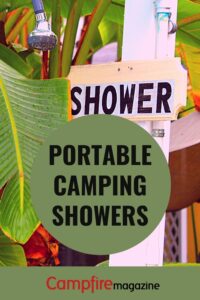 Latest update: January 2021
Our current favourite camping shower is the Colapz (of collapsible bucket and watering can fame).
The good Colapz guys have developed a portable pump shower that recharges by USB. Looks smart and neat (around £40 or £50 including a collapsible bucket).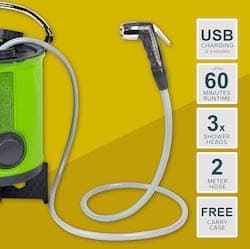 The kit has just been redesigned and now comes with a showerhead, a thumb-trigger spray attachment and a jet nozzle. There's a charging cord, hanging thingy and instructions – all in a neat carry case.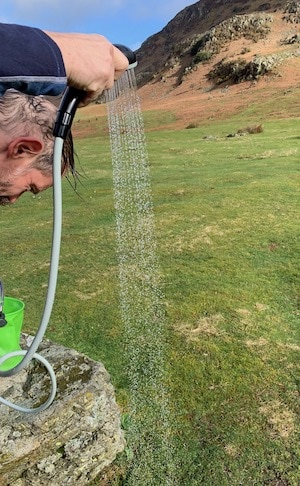 The pressure is surprisingly good and it's easy to use. You can use the Colapz bucket, the Colapz utility bags or any standing water (bucket, lake or whatever).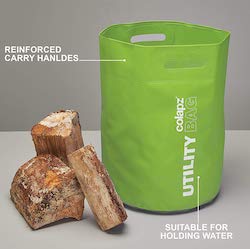 The Colapz shower was great on this wild camp in the Lakes during Storm Gareth, though. Ask the freezing guinea pig!
The original version was great but the new one has the advantage that you can turn off the shower from an attached unit that isn't in the water. The pump section is neater and fits through the hole in the lid of the collapsible buckets. Slightly more bits to connect, but we love it.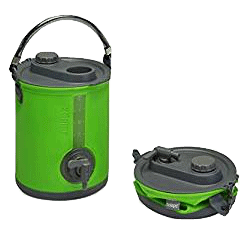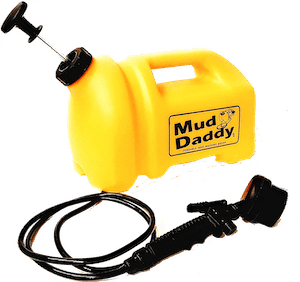 We saw someone using this hand-pumped 8-litre shower to wash the mud off their dog after a damp Lake District walk.
It's a neat bit of camping or walking gear, though the pressure was not as good as with the Colapz. Its advantage, however, is that you don't need to worry about recharging. It may suit people who find the RinseKit a little bulky. Around £50.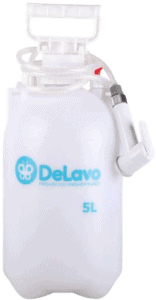 Just a simple hand-pumped shower that gives you a pretty good water pressure. Holds five litres, which might be a bit limiting, but it only costs £20.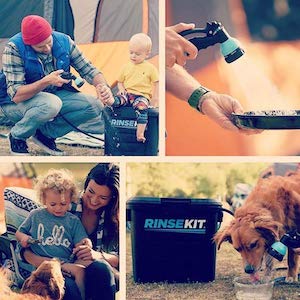 Rinsekit is a nine-litre coolbox-sized box with a handle. You simply fill it with water from a hose-tap. It's then magically pressurised to 65psi (without needing electricity) to give you a pretty decent six-minute shower. It'll hold pressure for at least a month.
If you want hot water (well, warm at least), the box is insulated and the Plus version comes with the kitchen tap adaptor included – you'll probably need an adaptor too if you want to refill while camping, but there's also a refill bag that you attach to a bike pump to pressurise the box when you don't have a tap. And there's a 12V heater module, too. Prices start to mount when you add all the extras.
The standard Rinsekit is around £80. 
Did it work for us? We were impressed with how simple it was to fill and use. The shower head is a standard hose head, so it'll be easy to get replacements as needed. We can see a use for many people, but you'd need to trade off the space it takes up with how likely you are to use it. 
Simple, packable and holds 10 litres. This is Decathlon's handpumped shower and it costs around £40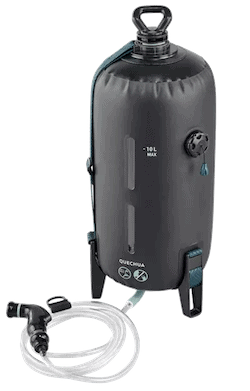 Simply fill the black 'bag' from a tap, then pull the top handle until it goes solid. Even standing on the ground (on its neat legs), it'll give you a decent pressurised spray.
Plus it all packs away into a neat bag.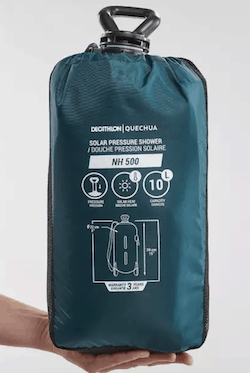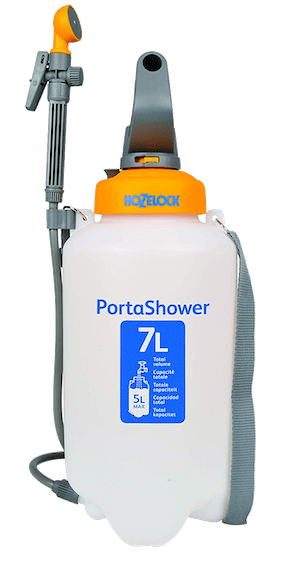 The Hozelock Portashower is a 7-litre adaptation of a garden sprayer. You'll get around three minutes of spray and you need to pressurise it by handpumping. At around £30, it might just be good enough for a quick clean-up.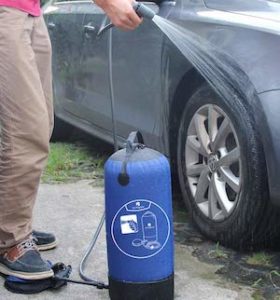 This is a nifty foot-pumped shower that heats up in the sun. Around £35.
It holds a good 15 litres, is easy to pump and folds down for portability.
Power showers?
There are also lots of electric handheld showers that you use with a bucket of water. They all look very similar in how they work and the reviews (if they're to be believed) are good.
If you're really in need of a reliable shower, though, we'd choose the Colapz shower. Neater and well-designed (plus it doesn't say "More smaler" on the box!).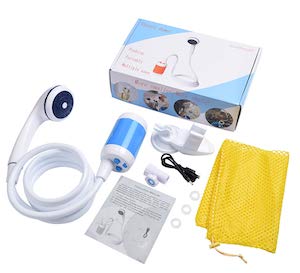 You can't get much more simple and packable than a gravity-fed solar shower. These are bags of water that use the sun to heat the contents.
In the UK, you won't get much more than lukewarm, but there's no electricity needed and the pressure is good, considering it simply uses gravity.
Of the hanging bag type of shower we've tested, there are some that stand out as better than the others.
This Navaris camp shower costs around £10 and holds 20-litres (the biggest we've found).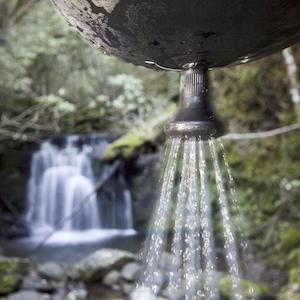 For the ultimate in packability, go for the 10-litre Sea to Summit pocket shower that folds ultra-small and has the shower head built into the bag itself (around £20).
Make your own pop-up private loo space with one of these shower tents – or nip along to our article on tarps and see how easy it is to make a more versatile shelter. 
Practise pitching – you don't want to leave it till you're desperate! Great with camping toilets as well.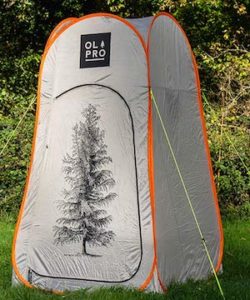 A lovely design from Olpro, but make sure you peg and guy it well in windy conditions (hee hee). The flexible structure of this £30 Olpro utility tent make it easy to put up, but (like all pop-ups) is a bit prone to bending in a breeze.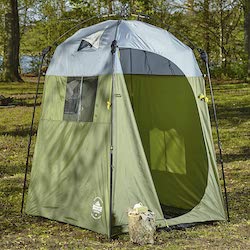 We really love the Lumaland gazebo, which we use as a campervan awning and in the garden at home. So, good to see there's another goody from this German brand.
The pole system is ready installed, so you just click the hinges into place. We like the removable floor and the neat storage inside.
It's roomy at 155 x 155 x 22ocm, which gives you lots of options for use beyond toilets and showers. Around £80.
A little tip from Debbie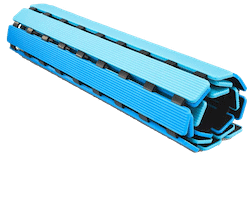 Thanks to Debbie C. for the recommendation to include a duckboard in your camping shower set-up. Keeps you, your clothes or bag off the wet floor.
This one is only £16 and rolls up for packing. A wooden or bamboo board would be nicer, but a little less practical for camping maybe.

One of our favourites – the Wolfwise £45 toilet and shower tent. Removable base mat and pops up easily. The top opens so you can hang a shower from a tree and stand inside the tent.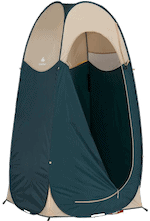 This Quechua pop-up toilet tent for around £35 is one of the best choices, but it doesn't have a roof, so better for warm climates. 
Bag included and 2m tall.
We're usually wary of Chinese-branded items that often have LONG despatch times and obviously fake reviews. Of course, most of the manufacturers we recognise are making their goods in China too. So, if we come across something that seems reasonable and will arrive before the camping season ends, we'll have a look at it for you.
This shower and toilet tent is around £40 and roomier than most. Folds away nicely, has fibreglass poles and UV/privacy material.