The Lake District is lovely, of course, but just above and just over the M6 are beautiful areas. Less dramatic maybe, but less visited too.
We spent a week camping around the area, including two days of learning to use a pole lathe at the amazing Quirky Workshops in Greystoke.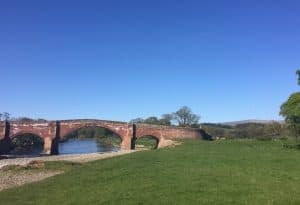 The garden of Eden?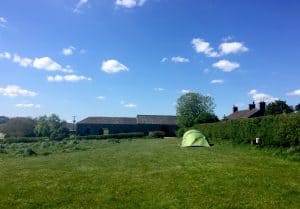 Robert and Julie Pickthall have farmed at The Mains in the Eden Valley for 60 years, but now concentrate on making campers feel welcome.
There's acres of space, separate fields for campervans and motorhomes, for tents and for the camping pods, and all set in lush green countryside with woods behind and the River Eden a stroll down the field.
The perfectly clean and well-kept toilets, showers, kitchens and bunk bedrooms are housed in converted stables and barns. No missing toilet seats here…there are even freshly laundered hand towels, a washing machine and hairdryer (free to use) and all the cooking equipment you need. There are recycling facilities, wifi (though patchy), local information and a pick-up service for the coast-to-coast cyclists.
Within reach of the village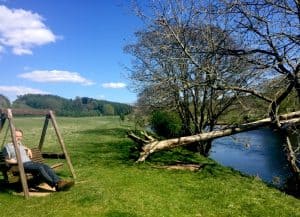 Pitches are kept as far apart as possible and, although there isn't the privacy of trees or hedges, the fact that caravan and tent fields are separate makes it feel a comfortable place to stay. We were here on a Friday evening in mid-May, but it does get busier in holidays and over summer weekends.
It's a (one mile) walk to the village of Kirkoswald, where there's a village shop and two OK pubs, with reasonable food.Across the pretty bridge is the village of Lazonby, which is on the Settle to Carlisle railway and has a heated outdoor swimming pool. There's a small campsite next to the pool too. And the area is brimming with opportunities for walks, cycle rides, heritage and exploring. Of course, you're only a stone's throw from the Yorkshire Dales and the Lake District too.
When you're camping with basic facilities, having the right camping equipment makes things much more enjoyable.
Have a look at our tried and tested camping must-haves – from your own toilet and shower to lights, sleeping bags and chairs. Plus some very useful gadgets you might not have come across before.
Camping in Cumbria – Town End
We'd struggled to find a peaceful campsite near the Quirky Workshops, so actually joined the Motorhome and Caravan Club.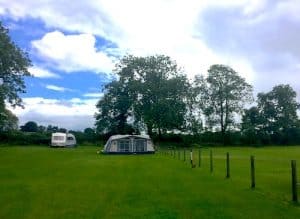 Not something we'd considered before, but the £49 annual fee gave us access to a small site 10 minutes away from Greystoke that charged only £9 a night.
Town End Cottage at Laithes is about as a basic as you can get – a field (flat and well-kept), a tap, a toilet (no washbasin), hook-up, a chemical toilet emptying spot and recycling bins. We got around the lack of facilities by nipping to Greystoke's great community-run outdoor pool for a swim and a shower.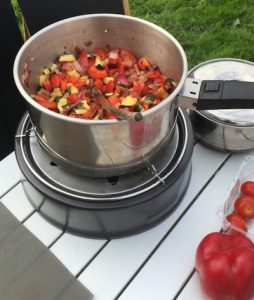 It's a laidback site in a pretty location and, even mid-August, there were only three pitches taken.
To make the most of basic sites like this (and wild camping, of course), there are some essentials you need in your camping pack – water to drink, a way to get washed, possibly a loo and, while you can always go out to eat, a simple stove and some easy camping food is a good idea.
Here are a few other Cumbrian campsites to try
The Quiet Site

A lovely little T2 campervan at Side Farm

Side Farm at Patterdale – fabulous location, but only for tents and small campervans. See our Lakes review
Sykeside Camping – big site with its own pub and great views. Open all year too.

Moss Thorn Farm – 01768 862846

Gill Head Farm – a bit bleak and the green statics are awful, but the beckside area is nicer