If you thought the camping season was just summer, you're missing a treat. Add some warm layers, stoke up the campfire and have a look at our autumn and winter camping articles.
Plus…take some inspiration for outdoor cooking from Andy Stevenson, developer of Local Food Lunches.
How did you first get into camping and outdoor cooking?
I really have to thank my parents for the introduction to camping and to outdoor cooking too.
We used to have a huge canvas frame tent that looked a little like a portable orange bungalow – it even had faux lead latticed windows. This transportable house went all over the UK along with all the support kit in dad's reliable little home-made plywood trailer that mum nicknamed 'Gertie'. We camped in all weathers, in locations such as Wales, the Lake District, Suffolk and the South West.
On one occasion near Tenby, my dad took my younger brother and I out on a fishing boat. Back at the canvas bungalow, we grilled some of our fresh mackerel with a simple lemon dressing and seasoning. Even as a young teenager, I recall being gobsmacked at the taste – it was unbelievable, so tangy and fresh.
Lightbulb moment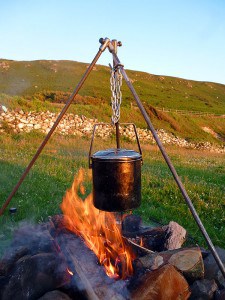 Now I take my own family camping, and we had a sort of 'lightbulb' moment a few years back when we first started to go to campsites that allowed campfires. All of a sudden, the camping experience seemed to come together into a much more rounded outdoor adventure mixed with foodie experiments.
We began to use the fires to cook on and it wasn't long before I'd bought a fire tripod to suspend pots and pans from and fashioned a slightly rudimentary suspended grill contraption out of old bits of chain and the grill element from an old barbecue.
What's Local Food Lunches and how did you come up with the idea?
Local Food Lunches is an online community that celebrates and helps raise the profile of local and regional producers.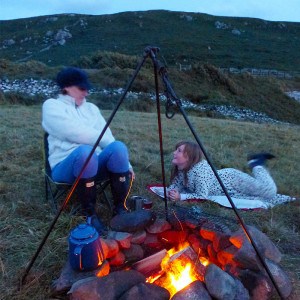 I buy examples of local produce from a high street in the region and then go home (or out under canvas) and make an interesting meal of some kind. Nine times out of ten, if cooked for two or more people, these meals rarely run to more than about £2.50 a plate – reinforcing the idea that good local food needn't cost the earth.
I've seen local towns where I'd grown up in the East Midlands have their high street shops and much of their community spirit destroyed by the arrival of big supermarkets.
It struck me that supermarkets are usually very poor at stocking and selling local produce, whereas these products are often cheap and easily available in local shops. So, this could be where local shops could get one up on the big boys.
Food miles
I also began to get interested in the idea of 'food miles'. I realised that a bottle of our local Teme Valley apple juice is just delivered to local shops from the producer from "up the hill" (the words of our local grocer).
If a superstore were to want to stock this apple juice, then they'd be forced to work with their vast central distribution systems. The juice would most likely have to travel in a truck 80+ miles to a vast cold store near Bristol, before coming back to where it started to be sold in our proposed supermarket. That's about a 160-mile round trip for a bottle of local apple juice. Food miles gone mad!
How would you like to see the concept develop? Is there a way people can get involved, for example?
For starters, I think the interest in good quality local and regional produce is on the rise nationally.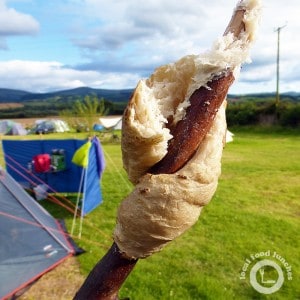 Personally, I'd like to see more representation and recognition of the importance of local produce and local retailers in as many of our small towns as possible. I know that there seems to be some progress with this across the UK, but we're especially blessed with the representation of local produce in the surrounding counties of Worcestershire, Herefordshire and Shropshire.
What are some of your favourite camping spots?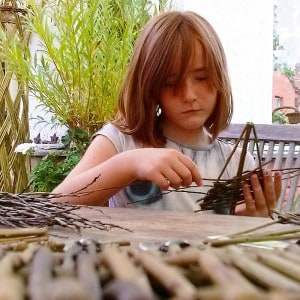 One of my all time favourite camping spots is Nature's Base eco campsite further south near Aberaeron and the West Wales coast.
It's a great site, loads of space around your little mown area for the tent and a place where the kids can roam free, explore and meet other little explorers too.
The owners, Gyles and Alison, are lovely people and nothing is too much for them to sort for you. Again, this is one of only a few sites that allow campfires near the tent. To top it all, Gyles has built his own wood-fired cob oven on site in his straw bale building and one night a week all on the site are invited to join in a big social evening and make/cook their own pizzas.
ED: Have a look at some of our other favourite and reader-recommended campsites too!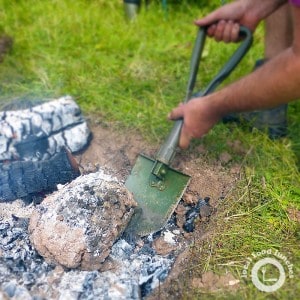 What's been your most amazing camping and cooking experience?
That's a tough one, I think it probably has to be the sheer delight when I successfully cooked a whole clay-wrapped chicken in embers once (Beggar's Chicken).
The method is supposed to be based around an old Chinese story of a thief who steals a chicken, dispatches it and then, to his frustration, realises that he has no method to cook it by. The wily thief then camps and makes a fire by a nearby river and decides to try wrapping the cleaned-up bird in nearby thick river clay. He then pops it in the fire and warms himself for an hour or so. He takes the baked-dry brick out of the fire eventually and cracks it open to reveal the most tasty, tender and slightly smoky chicken he's ever tasted.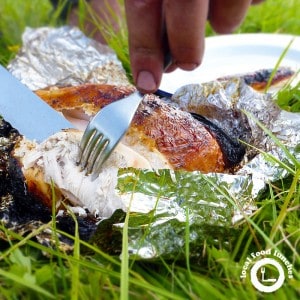 Pot-luck chicken
Well I wasn't sure whether this method would work, but I tried a modern day take on this and wrapped a small (bought and paid for) free range local chicken in foil and then a crust of about 3cm of thick clay mud. With no real idea on timings, I left it for about 2.5 hrs in the burned-down embers of a fire – having covered and rotated it carefully a couple of times.
I took in out eventually with a spade and literally split the baked clay surround open. Not knowing what to expect, I peeled back the foil to reveal an amazingly golden and perfectly cooked chicken. Amazed, I then tried a slice of it and it simply melted in the mouth it was so tender.
Do you have any equipment that you wouldn't be without?
I love the idea of age-old wisdom encapsulated in objects, something simple that has evolved to near perfection over many generations.
In this I'd include such things as my campfire tripod with adjustable hook/chain. On it I can hang my heavy dutch oven, pans, campfire kettle as well as my upcycled suspended fire grill. It's simple but great kit and using it allows you to grill, boil, simmer and keep food warm on an open fire – genius really.
Another classic piece of equipment is the hurricane lamp. It's just a 'no fail' piece of kit. I've had them ticking away in howling winds and driving rain.
One final thing I really rate is my little Cobb BBQ and oven. I haven't used it anything like as much as I'd hoped to this summer, but I think as a cooking device it's got great flexibility.
Can you share a couple of recipes?
Possibly the easiest and most satisfying over a campfire grill that we've found is a mixed kebab (either meat and veggies or just veggies) that has been marinating in a bowl for 15-20 mins beforehand.You can use all manner of stuff in the marinades and they always deliver a great taste once grilled. The last one I created out on the campsite used a pre-packaged curry paste (like Pataks). These pastes don't rely on too much refrigeration normally (useful when camping if you're off grid too) and mixed with a bit of oil they make great marinades.
Grill and rotate your kebabs over an open fire until done to your own preference, then simply toast a pitta lightly and stuff it with the delish smoky, roasted veggies and meats. If you have a little pot of yoghurt to hand then that would be a great addition.
Chocolate stuffed bananas – mmmm
And you can't fail with chocolate-stuffed banana – so simple but blimey does it punch above its weight! Just cut a ripe banana lengthwise and poke in some chunks of chocolate. Wrap it all in foil and lay in the embers to cook for five to 10 minutes, turning it once during this time. Carefully unwrap it and you immediately get that fantastic whiff of earthy chocolate and sweet baked banana.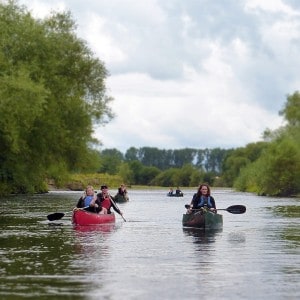 Any tips for camping and cooking outdoors with kids?
Our kids are 15 and 11, and we've been camping with them since they were babies really. I think keeping them occupied in some way is a key factor towards in a successful camping experience.
One of the great things we always love about camping is that the kids will normally pretty quickly team up with one or more others on the site. Sites like Nature's Base are easy for camping with kids too. They're geared towards (and are passionate advocates of) allowing the kids to roam free and explore.
As well as there being rope swings on site, there are also more formalised activities like an evening sing-song around the campfire or their legendary cob oven pizza nights.
Making and firing pizzas
Talking of keeping kids well-fed: simple, outdoor cooking experiences with them can really enhance their own enjoyment and feeling of engagement with their camping holiday too. The best experience we had with ours was when they were making and firing their own pizzas. They loved it and the process of making their own dinner really seemed to give them added enjoyment when eating.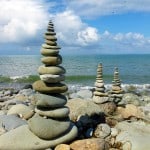 The one simple thing we always do before the first night of any new camping adventure though is to pre-cook/prepare the first night's meal and bring it along with us to the site. There's nothing quite like some quickly-prepared, hearty, comforting, warming nosh that you can do bread dunksies in to offset a chilly evening. In short, I think if you can keep your kids occupied, warm and well-fed, then you're onto a winner wherever and whenever you camp with them.
Have a look at our camping fun and games article for some more ideas.