We set ourselves a challenge – to find the best cycling and hiking headphones – neat, comfortable, wireless and safe.
Safe? Yep! We wanted headphones that let you hear a car behind you or the sounds of nature when you're walking. Earphones or headphones that allow ambient sound.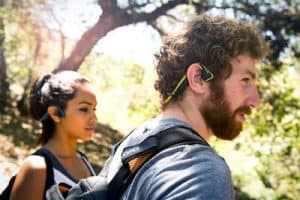 Latest update: October 2020
Want to swim in your headphones? Have a look at the Aftershokz XTrainerz below.
We don't often devote an article to one piece of outdoor gear, but we came up with four great choices for headphones and earbuds that let you hear your surroundings. 
Bone conduction marvels – the  Aftershokz Trekz don't sit on your ears at all. They conduct sound through your cheekbones!

The super-cheap, cool-looking JLab Retro headphones are the best if you don't want to spend anything!
You might look like you're wearing electric toothbrush heads in your ears, but… the Apple Airpods beat all for sound quality and simplicity
Which are the best headphones and earphones?
We waded through hundreds of recommendations, spent hours on internet research, visited all the hifi equipment shops in Manchester and Leeds…and we still didn't find what we were looking for. 
Most people want headphones (or earbuds) that block out the world. So, when you go into a shop and ask if they have headphones that allow you to hear outside noise, prepare for at least a raised eyebrow! 
By the way, we did try quite a few unbranded earpods, some of which looked VERY much like the branded ones. We found bluetooth connections and sound were flaky. Having said that, some of them are so cheap that it might be worth a go.
Here's why noise cancellation or isolation is not always a good idea:
Cycling – you need to be able to hear the bus about to overtake you, the car horn, the sound of kids just about to step out in front of you.
Walking – you want to be able to hear nature, chat with friends and feel like you're there in the countryside. So why would you be wearing headphones at all? For some, it's because they need to answer phone calls; for others, it's a chance to catch up on podcasts or study a language or listen to music.
Work – if you use headphones for telephone interviews, the sound of your own voice is awful when your ears are blocked by headphones. In everyday work situations, you want to be able to hear when colleagues ask a question or you need to ask them something.
Shops will offer you earbuds, on-ear headphones and the like, but anything that blocks your ear – even if it doesn't have active noise cancellation – will block out most ambient sound. What we realised we needed were headphones that didn't cover the ears at all – daft, eh!
So, here are the best headphones we've found for cycling, walking and hiking…
Aftershokz Trekz – brilliantly conducting sound through your cheekbones
The Aftershokz Trekz are different. The water-resistant Star Trek-like device, made of titanium, sits round the back of your head and two sound conductors sit close to, but not on, your ears. It's called bone conduction.
There are now five models to choose from, including the just-launched OpenMove – affordable and super-lightweight.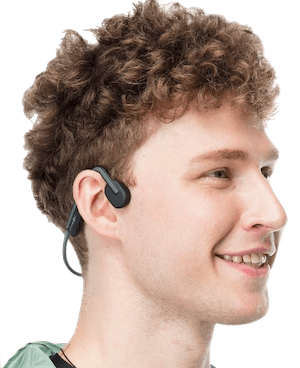 Bluetooth 5.0
Titanium headband and polycarbon ear hook
7th generation bone conduction for great sound quality
6 hour battery
IP55 waterproof
29g
Dual noise-cancelling microphone for calls
Bluetooth 5.0
Full titanium band
8th generation bone conduction for top sound quality
8 hour battery
IP67 waterproof
26g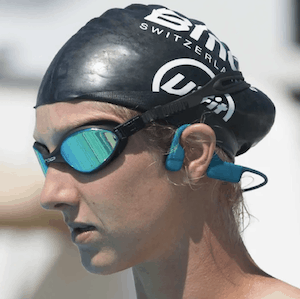 The name gives me the collywobbles, but if you want to swim in your headphones, these are the ones for you. Water resistance level of IP68.
A secure fit with swimming caps or goggles too.
Obviously, you wouldn't want your phone stashed in your cozzie, so the XTrainerz store 4GB of music files (as MP3s and a range of other formats) rather than connecting to a device by bluetooth.
No bluetooth. 4GB music storage built-in
Full titanium band
7th generation bone conduction
8 hour battery
IP68 waterproof
30g
No microphone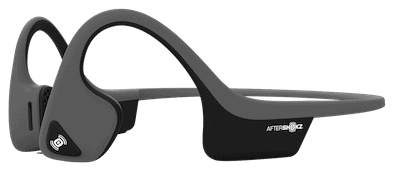 Bluetooth 4.2
Full titanium band
5th generation bone conduction
6 hour battery
IP55 waterproof
30g
Dual noise-cancelling microphone for calls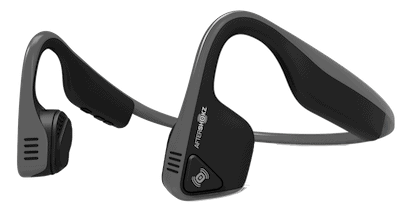 Bluetooth 4.1
Titanium headband and polycarbon ear hook
5th generation bone conduction
6 hour battery
IP55 waterproof
36g
Dual noise-cancelling microphone for calls
Any issues?
It takes a bit of time to get the positioning of the conductors right, but the device is so flexible that it's easy to play around till you hit the best spot for you.

The device is small, so the controls are small too. The main function button is a decent size, but the switches for volume, power off and so on might be a problem for anyone with meaty fingers.

While the sound is good, it's not immersive, full hifi quality. The kit comes with earplugs if you do want to block out the world.
To buy or not to buy?
They're not cheap (£60 to £149), but they're excellent. It's why they're the official headphones for England Athletics and the only brand to be fully approved for use on road races in the UK.
We loved them for their lightness, ease of set-up and great quality. An absolute best-buy, in our opinion, if hearing the world around you is as important as hearing music or phone calls.
What we liked
Good, clear sound (after changing the equaliser setting).
Superbly clear microphone – callers really don't know you're speaking into a mic.
Easy to set up and reliable pairing/connection.
Very comfortable – a single, flexible band that holds without feeling tight. The Titanium model comes in a mini size too, for children or those with a small head.
No sound leakage so you won't annoy your neighbour on the train.
If you wear glasses, they sit perfectly over the headphone. Helmets and hats work too, but take some adjusting if they come down low at the back.

These are by no means as high-tech as the Trekz, but look at the price! The JLab Audio Rewind are retro-styled, tiny, foam-cupped headphones that barely cover the ears, so you can hear what's going on around you.
Bluetooth is excellent, controls are simple – a voice even gives you feedback when you turn on and off and for battery level. They paired perfectly, sound is decent and you can make calls using the built-in microphone. USB charging and a two-year warranty.
When my Trekz were stolen (see our article on camping security for more on that sad story!), I was more than happy to make do with these. They won't work inside a cycle helmet, of course, but for walking (and running), they're great. The one disadvantage I found was that your ears can get a bit hot.
We hadn't really considered the Airpods, partly because of the price and partly because they make you look as if you're wearing electric toothbrush-heads in your ears. But, they're actually our top choice now.
It's staggering how they manage to stay in your ears, but I've run in them and done yoga without them budging. There are now three models.
Airpods Gen 2 with wireless charging – around £160
Airpods Pro – customisable fit and noise cancellation (so not our choice despite the 'transparency' mode that undoes the sound-blocking of the silicone tips) – around £220
Amazon was the cheapest at the time of writing, as they have a partnership with Apple.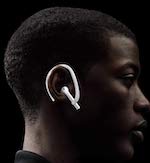 What we liked
A stunning and simple design – from the dental floss-sized case with satisfying magnet closure to the smallest, lightest and most comfortable earpods.
Optical sensors and motion accelerometers engage the microphones for phone calls and Siri access, and enable the AirPods to play sound as soon as they're in your ears.
You can wear one or both AirPods, and you can play or skip forward with a double tap when listening to music.
Charging is fast and, of course, they work seamlessly if you have an iPhone.
Any issues?
For those worried about them staying in your ears, there are lots of add-on ear hooks available for not much money.
They're easy to lose because they're so small. Get a nice charging case with a carabiner. I love the Spigen Urban Fit case because opening its top automatically opens the Airpod case inside.
You have to use your phone to turn the volume up and down (unless you ask Siri to do it for you).
To buy or not to buy?
Buy! I've changed from sceptic to absolute convert. The sound is amazing, you can still hear what's going on, but somehow that doesn't detract from the music or phone call.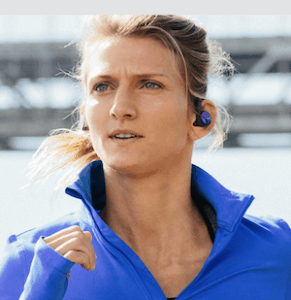 If you want absolute certainty your earphones will stay in your ears, then these are the ones for you. 
Plantronics specialises in headphones and headsets, so they know a thing or two about sound quality and ease-of-use. These Backbeat Fit 3100 are two small earbuds that don't wholly block the ear canal. They work by Bluetooth and let you take calls, shout at Siri and listen to music or podcasts. They come in a smart little zip-up charging case. Around £85.
What we liked:
Fits partially into the ear, so outside sound isn't blocked. They stay in place thanks to soft and flexible 'wings' around the outside of the ear.
Up to 5 hours of wireless listening and up to 10 additional hours with the included charge case. We like the fact putting the earbuds into the case automatically turns them off. They turn on again when you lift them out.
Sweatproof and waterproof.
Easy tap and touch controls.
Voice information to let you know about battery life etc.
Decent voice calls with a one-tap accept and end call.
Any issues?
The left earbud is turned on separately. If you forget, you'll hear in mono and won't have volume controls.
The tap customisation isn't all that useful (to us anyway). A limited choice of what it can offer (time check, Siri and a few others), plus you can't have both that and volume controls.
To buy or not to buy?
Buy! Good sound (though not quite as good as the Airpods) and you can't tell you're wearing them, even on a run. The neat case and easy charging is great. How fantastic not to have to scramble around for a cable, because the mini USB cable sits inside the case too.
If you don't mind the connecting strap/band, then the Backbeat Fit 2100 will save you between £20 and £50 (depending on current prices of the strapless 3100).
And in case you're after the best speaker…
The Wonderbooms 2 is marvellous. Rugged and waterproof (even floats), connect two for true stereo for use at home, tiny form, big sound…what more do you need?
Made by Ultimate Ears, the Wonderbooms speaker gives all-round sound and has an outdoor boost for better clarity.
Oh. and the battery lasts 13 hours. If that's not enough, you can choose your colour too. Around £60.
Do remember your camping neighbours deserve peace and quiet, though!