What a very sad article to be writing. Camping should be fun and stressfree, but we've now learned the hard way that we also have to think about how to stay safe in a campervan or caravan.
We don't want anyone to suffer the same ordeal as us, so here's our guide to campervan security. 
First, read about what happened to us, then see what simple alarms and deterrents you can buy.

Scroll further down to find out how thieves operate and how to protect yourself with some common-sense measures.

Get info on gas attacks, hear our readers' recommendations and, finally, some good news about insurance.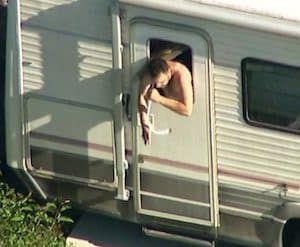 Latest update: September 2020
Burgled! This is what happened to us
Back at one of our favourite campsites in the Pays Diois in France, we were woken at 4am by cars and lights at a caravan just across from us.
We assumed someone had been taken ill. After an hour, the cars left and the lights went out. We got up to go the loo and, behind the van, found one of our bags with the contents tipped all over the ground. 200 euros had gone, along with expensive headphones and lots of irreplaceable personal things. 
£1,500-worth of things
Our passports, credit cards and car documents had been taken out of a plastic wallet but were still there. An iPad was still there. Only when we went back inside, did we see that a large carryall with all our clothes and a bag full of toiletries were also missing from inside the van – altogether, items worth around £1500. The side window was wide open and it was clear that we'd been burgled while we slept upstairs. We didn't hear a thing.
Those cars we'd seen at the caravan? That was the police. The owners had woken up to find almost everything gone – laptops, phones, documents, car keys (though not credit cards…I'll come back to that). 
The burglars had been within inches of them as they slept in bed, rifled through cupboards and got away without ever waking them. They were so brazen, they even stopped outside to eat a banana.
Campervan and caravan alarms
The best alarms are hardwired or come as factory spec on your campervan. They'll go off if someone opens a window or door. 
Most campervan conversions and the factory-built Californias have car alarms and immobilisers. They also have motion detectors inside and the best have anti-tow alarms. When you're in the van at night, though, you need to be able to set the door/window alarms but disable the interior motion detector.
Read your manual or check with your dealer and practise the routine for setting the alarm before you need to.
Do-it-yourself campervan and caravan alarms
One caravan owner we spoke to after the burglary showed us his window alarms. He'd designed them himself using simple magnet contacts, and had networked them to a control and text message facility so he could set them remotely and even check which alarm had gone off.
You can also get plug-and-play wired alarm systems that are relatively easy to fit yourself to your campervan, caravan or motorhome
The best we've come across is by Haegil because there's only a small amount of hardwiring to do and installation is designed for 'ordinary' people doing the job themselves
They cost around £150. Features include a night mode, a tilt sensor, interior movement detector and a high-frequency siren. There are two alarm key fobs included in the kit.
Portable, easy-install campervan and caravan alarms, sensor lights and deterrents
If you don't have a built-in alarm system, then there are plenty of alarms you can easily install yourself – and you may want to add one or two of these even if you do have a main system.
Window and door alarms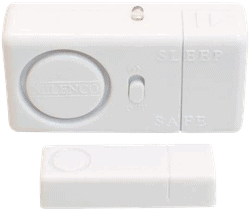 Milenco's set of six window alarms for around £40. Highly thought of too. These attach to windows and doors. If the magnetic contact is broken, the alarm sounds. 
Anne B. told us she'd bought the Milenco alarms and loved the added security – not just because she'd be alerted to an intruder, but that people around her would be aware too. "Well worth the money," she says.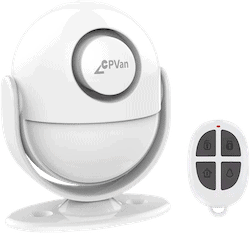 This CP Van alarm is wireless and works well for caravans, tents and campervans as well as at home.
It hs a 125dB alarm and a good range for motion detection and for operating the remote. Powered by three batteries or a mains cable (not included). Around £20.
Sensor lights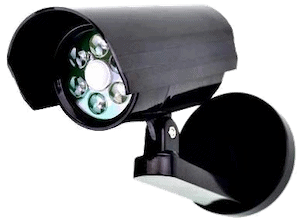 On our campsite, darkness was definitely the thieves' friend, so a
waterproof sensor light
 that goes on if someone approaches the van is another excellent idea.
The best we've found (so far) is this
Proxinova
sensor light. It looks like a security camera, which might be another deterrent.
You'll have to be creative about how it attaches, but we managed to fix it to the awning rail (removing it when driving, of course).
Here's our shortlist of other alarms and security devices that cost relatively little and should make you a little safer. 
The 100 dB alarm goes off when the disc shakes or breaks. Built-in vibration sensor and thin enough to work on any window, cupboard or drawer. Sticks in place. Around £25 for a pack of four.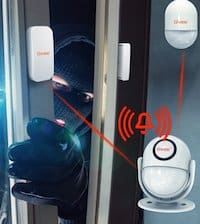 Motion sensor alarm system with remote control. 125 dB alarm or loud chime mode. Powered by batteries or mains. There are other Tiiwee items in the range to add other security features, but this will work as a standalone device. Around £35.
A wireless freestanding (or wall-mounted) 130dB PIR motion sensor alarm. It can be armed/disarmed using a remote. And you can add sensors and extra remotes to the system if needs be.
Good distance coverage for both the movement sensor and the remote. Around £20.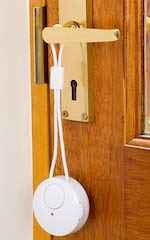 This alarm is designed for hotel room doors, but if you can work out a sensible place to hang it (that doesn't mean it'll set off if you move in the van), then it's a nice simple deterrent.
You can adjust the sensitivity and the alarm is a loud 125dB.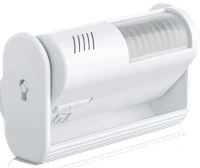 This motion detecting alarm is battery-operated and lets you choose either a 70dB siren or a doorbell chime.
It has a detection  range of 10m at an angle of 60° and can be swiveled 360° so you can set your 'perimeter' accurately. Around £8.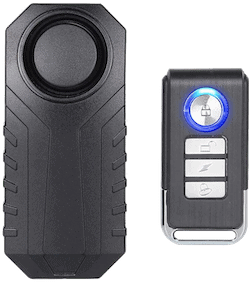 The Mengshen alarm has a remote control and a big range of sensitivity and loudness options. It's vibration activated. Fasten it using sticky pads or cable ties (supplied). Great for smaller items as well as the campervan, caravan or tent. Around £12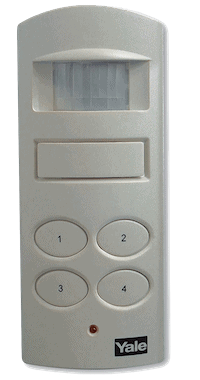 This Yale alarm designed for sheds and garages has motion detection and a 100dB siren. 12m detection range and can be freestanding or wall-mounted. Battery-operated with low battery warning light. Around £16.
An alarm for all types of glass window or door panels, including double glazing. Shock sensor technology detects forced entries and attempted smashing. Adjustable sensitivity. Powerful 110dBs siren and bright warning sign. Sticks in place. Around £12 for two.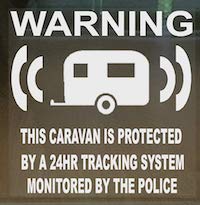 A cheap deterrent that might just do the trick.
Platinum Place warning stickers for caravans, campervans and cars. Around £3.50.
A floormat pressure sensor?
We haven't tried this idea yet, so we'd love to hear from anyone who has. How about a mat that set off an alarm when they detect pressure? Most are designed for inside use – for care homes, for example, where they let you know if someone has got out of bed or fallen. 
A 56 x 60cm battery-operated mat system with a 10m cable that links to the sounder. You can set it to sound an alarm or a doorbell chime. Not strictly for outside use, but you could use it in an awning or tent providing you can keep it all dry. Around £30.
This intruder-detecting mat is smaller and people seem to use it to alert them to a pet coming back in. Two volume settings and a choice of chime. The mat itself is waterproof but the wiring won't be. Around £25.
Camera systems and GPS trackers
If you want even more certainty, you could consider a camera system with alarm and text notifications. 
We use an Arlo home security camera to monitor home and pets while we're away or out for a few hours. The range also includes a travelling camera option – the Arlo Go – that works on 3G/4G mobile networks.
Place it anywhere, indoors or out, for live streaming (with night vision) and alerts. It's not cheap (around £300) but it also works with Amazon Alexa, Echo Show, FireTV and Arlo smart home security lights.
Vehicle GPS trackers are not always that reliable, we've found. Plus, are you really going to confront the thieves wherever they're hiding out with your property? Would the police have the time/speed to follow up on a tracking location?
These are probably only worthwhile for tracking the whole vehicle if it gets stolen. Remember, though, that if you have iPhones, iPads or Mac laptops, you should always switch on the 'Find My' settings so that you can track these and disable them remotely.
These are the two we'd recommend (but do let us know if you've found another good one). Both require a subscription, but they're not expensive. The devices themselves cost around £50.
The PAJ tracker comes with a free app and comes with a SIM card installed. It has worldwide detection, live tracking and lots of alarm options. It's small enough to go unseen and to protect a variety of things.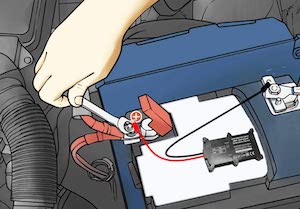 This Rewire tracker attaches easily to your battery (you'll need the upgraded model if you have solar or a trickle charger). It'll detect movement or the ignition being turned on and alerts you via an app.
Security at home
While you're away, you'd be well advised to have a camera system like the Arlo one we use.
We set it to come on automatically when we leave the house and have an overnight setting too.

If you like to make your home look lived-in while you're on holiday, we really recommend the Kasa Smart Bulbs and smart plugs. These are controllable via a super-simple app and they work magnificently well.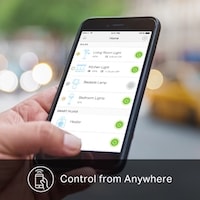 The bulbs are dimmable, colour-changeable and tuneable white bulbs and you don't need a separate hub. From around £20. You can set schedules, turn them on and off from your phone and even get Siri to do it for you.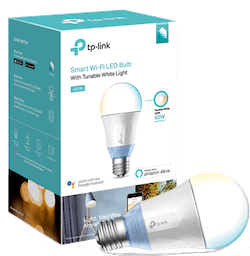 We use our plugs to turn a radio and standard lamps on and off.  Again, you can set schedules or operate manually from wherever you have wifi or a phone signal.
Both are so good, we've included them in our must-haves…
Where do thefts happen?

People have told us they've been burgled at motorway stops and aires, at municipal campsites, in car parks and on seemingly perfect campsites.
While there do seem to be more reports from some areas – the south of France, some parts of Spain and Italy, for example – you really can't take it for granted that you're not vulnerable. I don't write this to frighten anyone, but simply to remind all of us campers that we need to lessen our risk wherever we are.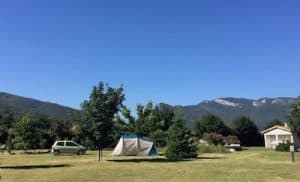 The site we were on was beautiful. Bordered by the river, woods and fields yet not far from a good road. The pitches were huge with lots of privacy. Even better, there was no light pollution.
 All of those qualities also happened to make it perfect for thieves. They could get onto the site and move around in complete darkness and disappear into the woods in seconds. Each pitch was so far apart, neighbours would be unlikely to see anything even if they got up in the night.
What do the thieves want?
Anything and everything. Expensive gadgets, money, credit cards, sometimes food and clothes, sometimes bedding, towels, sometimes bikes, sometimes a whole caravan! The one thing they don't seem to be interested in is camping gear.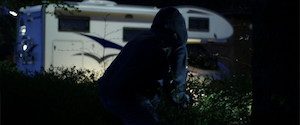 In our case, the burglars left credit cards behind. At first, we thought this was because they'd been disturbed or only wanted immediately useable things and cash.
Now, though, we know that they probably emptied that bag of stuff behind the van (in the darkest spot) to take photos of the cards (and possibly documents). Leaving the physical items behind was designed to make us think there was no need to alert our banks. 
We're still baffled why they took a dodgy, old pair of earphones out of a bag, but left the iPad behind.
By the way, tents can be targeted too. Caroline W. says her sister had her tent burgled. The thieves used a blade to cut the tent knowing to target pockets and under airbeds for phones, iPads, wallets and so on.
Some of the security devices we've mentioned would be great for a tent, especially the sensor lights.
Commonsense ways to cut campervan theft
Think about where you choose to pitch. As you can see from our story, we made it easy for the thieves to disappear with our things by being right on the edge of the wood, next to a footpath and well away from anyone else.
Don't leave windows open unless there's an anti-theft device to ensure they can't be opened completely. This is obviously important when you're away from the van. When you're sleeping in it in 30-degrees of heat, you need to assess whether the through-breeze is worth the risk.
Hide valuables. Better still, leave them at home. The less you have with you, the less you can lose. The caravan couple in our incident lost two laptops, an iPad and two phones. I wish now I hadn't taken my Trekz Air headphones with me because I had no real need for them on holiday.
Take important things with you to bed – documents, purses and wallets, car keys etc.
Mark property with a UV pen (postcode and name), so that stolen property can find its way back to you.
Close curtains or blinds when you're out or in bed – it hides valuables from sight but may also deter opportunists who can't be sure if the van is occupied (of course, that didn't worry out burglars!)
Don't make it obvious you have things worth stealing. You never know who's watching.
Always set alarms and turn on sensor lights (see above for our recommendartions).
Consider whether you should lock the van when you go to the showers. A sad thing to have to do, I know. Ask the campsite owner about security and whether there have been any incidents in the past. Only after our burglary did we discover there had been five caravan burglaries on the site in the last year.
Ask your campsite owner if they have a safe or somewhere secure for valuables.
Make sure you have all the phone numbers for your bank, insurance company and so on safely stowed.
Make sure you have a flashlight near to hand should you hear anything unusual. (check out our Best Camping Flashlight Review)

Be a neighbourhood watch for your fellow campers. Don't be afraid to report anything suspicious, even if you have to stumble through in a foreign language. Make a nuisance of yourself by checking rather than regretting not doing that later.
What about gas attacks on campers?
This is the stuff of nightmares, but I personally believe it's (usually) an urban myth. You'll no doubt have heard stories (especially in the tabloid press) about caravan, campervan and motorhome owners being kept asleep because the thieves had somehow pumped narcotic gas into their vehicle.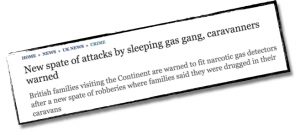 In fact, the caravan couple in our own story were told by the police, no less, that the blanket they found pushed against the outside of one of their windows could have been intended to keep the gas from escaping. This was nonsense. There were at least three other windows, vents and a skylight that had not been sealed off.
It was far more likely that the blanket ensured they wouldn't be woken up by a phone flash as their cards were photographed outside in the awning. The fact that the police jumped to the gas conclusion without any hard evidence has to make every other gas story look a bit shaky.
And these are the reasons I think it's all but impossible:
There are very clear statements from the Royal College of Anaesthetists that there is no gas they know of that could be used to send someone to sleep in an open space like a caravan. Either the gas would be easily detectable by its smell or the after-effects on the victims, or it would need to be used in such quantities that the thieves would have to drive a truck onto the site.
The RCoA, however, doesn't touch on the possibilities of exhaust gas (carbon monoxide). In theory, this could be vented into a campervan. This is unlikely on a quiet campsite. It may be possible in aires and service station car parks where traffic noise is pretty constant. (see Beverley's comment below).
We analysed 30 stories in the media and in none of them was a gas named. Nor did we find anyone who'd had a blood test after a theft that could prove they'd been gassed.
The stories grow on each other. Someone knows someone who knows someone who is sure this happened to them, and then they back it up with the amazing tale of two train carriages of passengers gassed as they travelled so that thieves could walk down the aisles taking valuables. That particular saga comes from a forum but there is NO mention of it anywhere in the media.
People love to share sensational news. How much better the story is when you can say you were gassed rather than that after a 150-mile journey and half a bottle of wine, you were really, really tired!
Once you convince someone that gas is unlikely, they may well turn to theory number two – that, OK then, the thieves must have put something in the water.
I know there will still be some readers who are adamant that there is a mysterious gas capable of knocking us out, that anaesthetists don't know everything and that thieves are clever. 
We concede that exhaust gas could be used in some situations, but we suspect tiredness after a long drive, a bottle of wine and a relaxed state of mind may well be what keeps many victims asleep. However, take a CO alarm – better be safe than sorry.
Readers' recommendations for campervan and caravan security
Thanks so much to everyone who shared their practical tips for campervan and motorhome security. Some great ideas and some simple deterrents.
Rachel F. says they have a shed alarm on the habitation door of their motorhome that's really loud if the door is opened. "We also put the seat belts through the door and plug them in so you can't open the door, and we were thinking of using a ratchet strap too," she adds.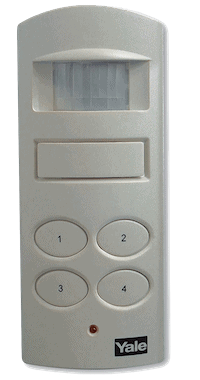 Gill C. also uses seat belts or cycle locks on cab doors and hooks a rape alarm on the habitation door. She always locks windows and leaves the skylight ajar for ventilation.
Jeff K. has a reminder about keys. If your campervan or motorhome keys are stolen (the main ones or a spare), you'll have to decide whether to get locks recoded or to actually change the locks and keys. 
The latter is expensive. Recoding, though, will only protect your van from being stolen; thieves could still get into it with the physical key. If the incident happened in another country, you're probably not going to get a thief trailing you home to get back into the van they've already burgled. Consider, though, how your insurance company might view this!
Elizabeth L. suggests tripwires with bells and bells hanging on doors/windows inside. Great idea that's cheap, economical and efficient…and doesn't need batteries.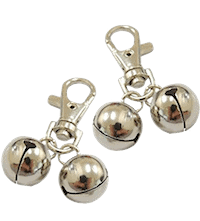 Yvonne C. says it was only a lapse of clear thinking due to illness that made then forget their usual routine of locking everything valuable in the car with the alarm on and car keys well under the airbed. "Be particularly vigilant on windy nights," she says. "The thieves love this, as the noise they make is drowned out."
Sheri R. says she's fitted a couple of secret hiding places in the van for things like phones, passports, money and laptops.
She also arms the perimeter alarm when they sleep and straps the front doors together so they can't be opened from outside.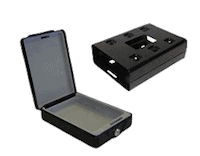 Mandy C. has fitted a small safe under the rock-and-roll bed. ED: Personally, I wouldn't lock anything in the glove compartment. Too obvious and too easy to force. You'll end up with damage as well as stolen items.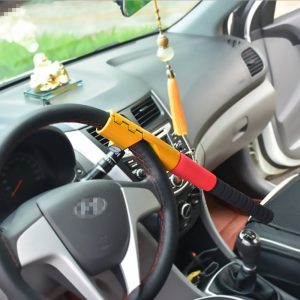 Mandy C. suggests swivelling the seats and padlocking them in place to avoid theft of the actual campervan or motorhome into place. "I have a baseball bat steering lock that works well on slimmer wheels and doubles as a cosh if needed!"
Hazel W. recommends leaving expensive things at home. "Many take an iPad, but a cheap Android tablet at a tenth of the price would do the same job," she says.
"Bank cards don't even need to be removed from wallets to scan, so leaning them near a window means a thief doesn't even need to enter. An RFID blocking wallet or a couple of bits of aluminium can stop them from being scanned. Signage indicating security is in place is a deterrent."
Alan N. says: "I've been telling people to be security aware, only to be told that I'm being too negative! But I and seven other vans were robbed while we slept at an aire just outside St Malo.
My recommendations are a Category 1 alarm that can be on when you're inside, deadlocks on cab doors, extra locks on other doors and alarms on windows. It may never, ever happen to you, but the insurance companies love the extra security. Be aware of where you park!"
David B. has fitted reversing sensors down the sides of the van and switches them on if he's wild camping. If anyone gets too close, they sound the parking alarm inside.
Camping with dogs
Dogs, dogs, dogs. When we asked people how they stayed safe, a barking, growling thing was the number one answer.
A Danish couple opposite us on our tragedy-campsite had two dogs. They started barking at 2am and probably saved them from being targeted.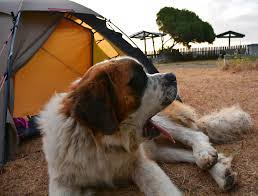 As some have pointed out, though, a dog won't guard your van if she's out with you on a walk. That's when you need a couple of bears back at base.
Yvonne C. says: "It's easy to think that it couldn't happen to you, but it can…it happened to us whilst sleeping in our tent on a good quality site in France. We didn't hear a thing and a couple of caravans were burgled the same night. We started putting a dog's drinking bowl outside the tent. It might sound a bit silly, but that – or one of the spirals for attaching a dog's lead to – could be a deterrent.
Or how about an alarm that sounds like you've got a dog? That's a suggestion from Katie S.
And a word on insurance
Firstly, a huge thumbs-up to the Camping and Caravanning Club insurance (Club Care). Within a day of getting home, we'd been reimbursed for all our personal possessions apart from the cash element. They even paid for the amended ferry booking when we decided to come home early.
A few things to note, though:
You don't need to be a member to get insurance with them. They advertise a discount for members, but fail to make it clear that if your premium gets to a certain minimum, there won't be any extra money off for joining.
There's a limit on cover for personal possessions. Check the amount before you go and don't take anything that might not subsequently be covered. It's a good way of reminding you to leave valuables at home if you can.
Finally….
In 20 years of camping, we've had only one incident. So, don't stop camping, but do make some changes to stop the thieves. Please do tell us if there's anything we've overlooked, or share your stories with us so we can help others avoid the trauma.