Nine years ago, Hugh Sandie rediscovered camping and began taking his daughter on quick trips around the UK during the school holidays.
Like many weekend campers, he'd stare wistfully into the campfire dreaming about how he'd set up his perfect campsite.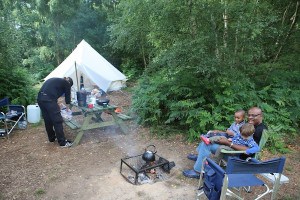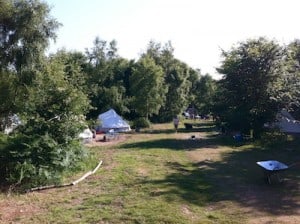 Not surprisingly, Hugh's become a bit of a camping expert. Here, he shares some of his tips with us.
Almost wild camping
A few years ago, Hugh turned the dreaming into Eco Camp UK. He opened the Wild Boar Wood campsite in a beautiful woodland in West Sussex.
The vision was to have a woodland campsite, in an off-grid ecological setting, where people could get back in touch with nature and the outdoors. Campfires were a must, as was the need to offer 'real' camping rather than a concrete-laden extended car park. A year later, he opened the Beech Estate campsite in a 600-acre woodland in East Sussex.
Wet wipes make for easy washes
We always take a couple of packs of these totally natural Aqua Wipes. Not dear, either.
Great for kids with sticky hands, of course, but also good for adults who don't fancy another trip to the shower block. The Campfire Magazine team tell me they swear by Aqua Wipes, because they're just biodegradable cloths and 99.9% water – no perfumes or oils or anything.
Wrap it and roast it
We always pack some tin foil because it makes cooking easy and fun. You can wrap potatoes, sweet corn, onions, mushrooms, tomatoes (or almost any veggie) and cook them on a barbecue or the edge of an open fire.
Be everyone's friend!
Take a corkscrew and you'll make friends! Someone will be wandering around at night looking for one – guaranteed!
Get stackable pans
Don't make your pack more difficult by trying to squeeze in cumbersome kitchen pots and pans. Invest in a set of lightweight, durable and easy-to- clean camping pans, like the Kampa Munch set.
They'll stack inside each other and take up far less room. They often cook faster too because kitchen pans tend to have much thicker bases. Just make sure you have decent handles.
If you can afford it, get the Tefal Ingenio system – a set designed for home that's great for top-class camp cooking as well.
Need help with choosing a tent for your wild camp? Or fancy hanging a hammock tent in the trees? Have a look at our articles and let us know how you make wild camping a pleasure.
You can never over-do it with lights
Clever and versatile Luminoodle
It seems obvious, but you'd be amazed at the number of people who rock up at our campsites with one torch and flat batteries. Check out our guide to camping string lights, should you want your pitch to really stand out
Headlamps, table or hanging lamps and torches plus spare batteries are essential. I'd even recommend including a wind-up lantern, like this multifunction Duronic.
Ed: We always take Petzl headlamps and the nifty Noctilight pouch that turns them into a small lantern.
The Luci Base lamp is also a great foldaway light with brightness settings, plus it has a phone charger and is waterproof. Recharges by USB or solar.