The countryside is lovely as you drive towards Salles sur Verdon, but nothing prepares you for the first sight of Lac Sainte Croix.
The water is the most unbelievable turquoise and the lake seems to stretch on forever.
Around it are lush forests, white stone beaches and amazing rock formations. And, when we arrived one late June, plenty of space to ourselves.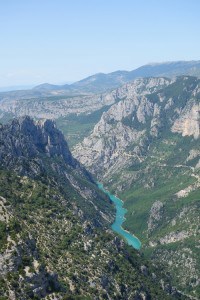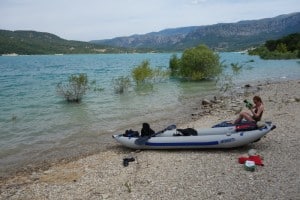 Two lakeside campsites
There are two campsites on the edge of the lake (and more within easy distance).
The first was almost full and the available pitches were too stony for our tent and too squished in for our pickiness. That turned out to be lucky, because otherwise we would never have driven round the corner to Camping les Pins.
It's a perfectly laid-out site with one of the best and cleanest shower/toilet/washing up blocks we've found. There's a good range of pitch types for campervans, motorhomes, caravans and tents, plenty of privacy, the most gorgeous-smelling linden trees and shining eco-credentials.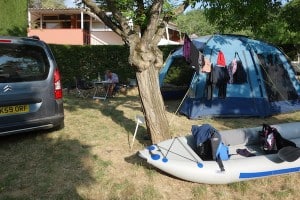 You can be in the blue water of the lake within two minutes of leaving your tent, or be buying fresh bread and sacristan pastries in the village above within five minutes.
The owners are friendly, helpful and have a great sense of humour. The site is very popular with German campers, which explains its being busy despite the French school holidays not yet having started.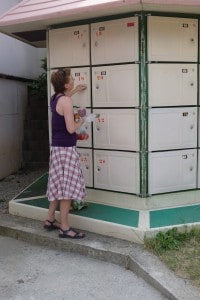 We've picked it as a worthy recommendation for camp-chefs because:
There are fridges to hire for not much more a day than it would cost to refreeze your ice-blocks. They're in a central column and you get your own key. Have a look at our guide to fridges – some way of cooling is essential if you're heading this far south.

There's a big shared barbecue area where you can cook a 'private' meal or socialise.

The small shop has reasonably priced bits and pieces to buy.

A pizza van visits now and then in case you forgot to pack your wood-fired pizza oven.
And all this is right in the heart of spectacular Gorges du Verdon country – perfect for walkers, kayakers, swimmers and explorers.
UPDATE: We've now been back to Les Pins three times!!