Building campfires and getting the barbecue going are lots of fun, but we'd like a bit of relaxation too – just sitting back with a glass in hand and a chance to look at the stars. 
So, we've compiled some of our favourite camp cooking tricks to help take the work out of outdoor cooking.

Latest update: October 2020
Everything in its place – for the born camping organiser
Measure out your ingredients
Organise the ingredients you need for each meal and pack in ziplock plastic bags or boxes. Choose reusable, BPA-free bags. And remember to label what's in them!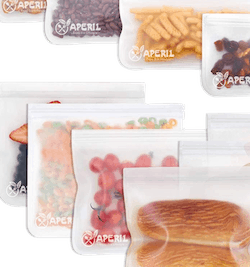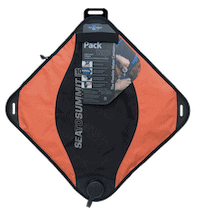 Make water carrying easy with your own supply.  Current favourites? The Sea to Summit PackTap above and the Source Liquitainer below.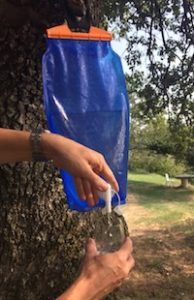 Handleless pans are fantastic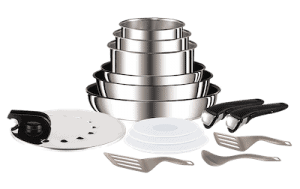 When it's time to change your home cooking pans, get the Tefal Ingenio ones. These are pans and frying pans with a handle that detaches. They have lids for when you're cooking and plastic lids for storing.
Use them in the oven without the handle, mix in them, store in them. Very versatile and pack inside each other with no sticky-out bits for easy camp packing.
A choice of affordable sets or lovely but expensive stainless steel (sets too). Not cheap, so you might not want to buy them just for camping…or then again.
Make your first few meals ahead of time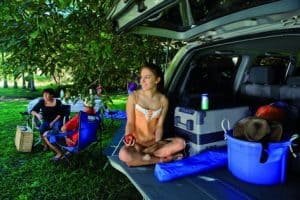 Make stews and soups at home. Freeze them and keep them in the coolbox or camping fridge. 
From the top-notch Dometic compressor fridges to the most efficient coolboxes.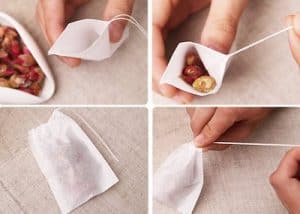 Use paper tea filter bags to make up spice or herb pouches. Either dunk them in your cooking like a bouquet garni or empty out the perfectly measured contents for your own instant flavouring.
The bags, of course, are also great for making your own plastic-free coffee and tea bags. 
Don't worry…just cheat!
No-one will judge you if you can't be bothered to cook a gourmet meal every night! Just make a readymeal once in a while for complete ease.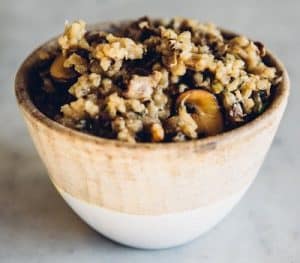 We've tested lots of these, but the best is the Firepot range for a homecooked taste with real ingredients and nutrition.
Firepot have started making some of their range of camping meals in paper packets. Just add water, simmer and eat – and it's real food!
We love LYO foods too – just try their squash and sweetcorn casserole. Sounds odd, tastes delicious.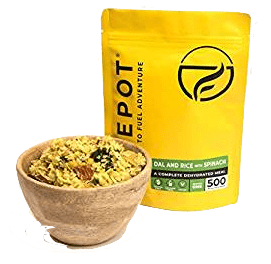 See our other recommendations for decent camping readymeals.
Smart essentials – quick tips for camp cooks
Perfect burger cooking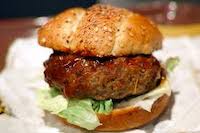 To cook burgers more evenly throughout, put a hole in the middle of your burger about the size of your finger. The hole will disappear as it grills but the centre will be as cooked as the edges.
Too much salt?
If you add too much salt to a recipe, lots of old wives and husbands recommend adding a peeled potato to the dish for the last 20 minutes or so of cooking. The potato is supposed to absorb the excess salt.
Well, we gave it a scientific test and…it doesn't! Methods that DO work are diluting the soup or stew, making it creamy or serving it alongside something very unsalty.
Easy clean pans
Smear washing up liquid on the bottom of your pots and pans before you put them over the fire. You'll find they clean up much more easily afterwards.
Aluminium foil has lots of uses when camping
Make a ball of foil to use as a scourer for your barbecue grill. Sharpen scissors by folding the foil a few times and then cutting it with the scissors. For cooking, you can wrap up food for baking on the edge of the campfire.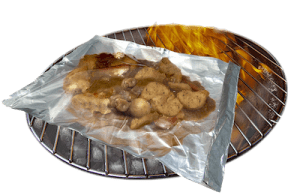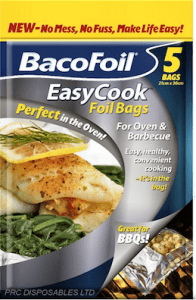 Foil bags are perfect for barbecues and campfires – much cleaner and easier all round.
Crack jokes not eggs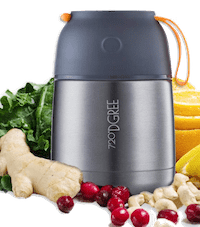 Instead of taking eggs in their box, crack them at home and put them into a wide-mouthed flask.
It'll avoid egg mess and you can shake the bottle and pour straight into a hot pan for scrambled eggs. Don't shake and, with a bit of skill, you can pour them out yolk by yolk for fried eggs. If that sounds frightening, go for a Lock & Lock egg box.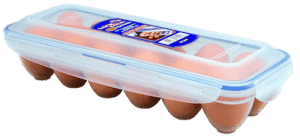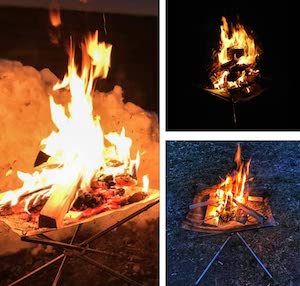 Here's an idea for avoiding ground scorch under your campfire. This portable mesh campfire keeps the burning logs off the floor and makes it easier to clear up the ash afterwards.
Folds to next-to-nothing and stores away in a neat bag. Around £20. Lots of brands make the same thing, by the way. We chose the cheapest and fastest delivery option (at the time of writing!)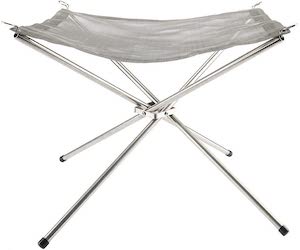 Wrap it up without plastic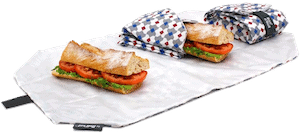 Keep your sandwiches neat and eco-friendly by ditching the clingfilm. Opt for reusable sandwich wrappers like the Boc'n'Roll instead. They're great because they double as a tablecloth for your lap and can even hold your sandwich together while you munch.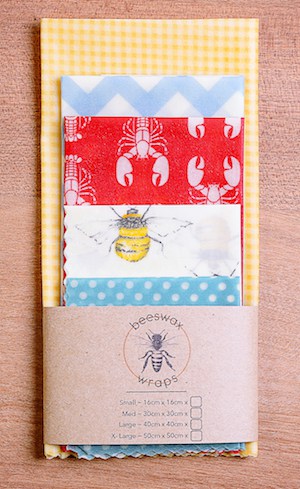 Wax wraps – beeswax or vegan – are excellent for covering dishes instead of clingfilm or for wrapping sandwiches.
They can be used lots of times, simply washed in cool water.

Make your own easy wax food wraps
With a big thanks to reader Sharon O'Neill.
You need 100% cotton cloth and food-grade beeswax. ED: Sadly, I haven't been able to find food-grade wax suitable for vegans, except in bulk amounts. If you know of somewhere, do tell.
I use an old fitted sheet. Wash it without fabric conditioner and put on an extra rinse cycle.Dry and iron it.
Cut to the sizes you need.
Melt wax, dip cotton fabric in. Squeeze off excess gently.
Allow to dry flat, hanging over a clothes maiden.
Once dry, fold and keep in an old biscuit tin (just to keep them clean).
25 ways to make camping more environmentally friendly
Use a pressure cooker. It might be a big beast, but it'll use less gas and can cook a meal very quickly. Plus it'll double as a mixing bowl. Stow bits and pieces inside it when travelling.
Choose a double, short-handled pot for camping because the sticky-out handle of the traditional pressure cookers is a bit of a pain to pack. And have a look at the Instant Pot mentioned on this page too.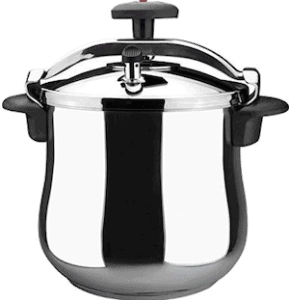 This Magefesa pressure cooker has good handles. Around £60 and a choice of three sizes.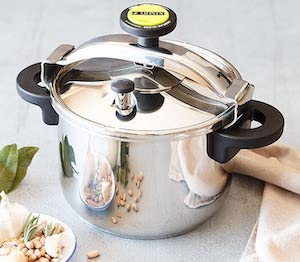 This Braisogona Monix holds six litres and has two neat handles. Works on induction too.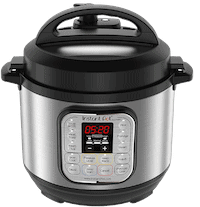 If you have a campervan or caravan or room in the car plus electric hook-up, the Instant Pot is a great way to cook your meals quickly and economically. From stews in 15 minutes to perfect rice and even cakes and yoghurt.
Basically, it's a clever electric pressure cooker that also slow cooks and steams. The standard size Instant Pot holds 5.7l, but it's not too heavy. Around £75.
We chose the the 3-litre Mini Instant pot (£60) for portability, plus it gets used all the time at home for cooking chickpeas from dried in 20 minutes, for stews, curries, rice, dairy-free yoghurt and more.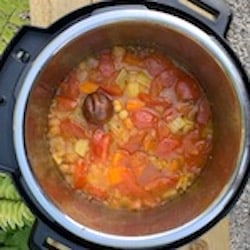 Keep an eye out for our special feature on camp cooking with an Instant Pot…coming soon. Meanwhile, here's tonight's Iranian stew with dried lime and dill. Yum.
Make yourself a neat camping box of herbs and spices and you'll never have to rummage in your kitchen bag again.
If you've got a weigh-and-save or zero-waste shop near you, you can refill containers like these more cheaply and with less wasted packaging too. We all have our own essentials and favourites, so pick and mix to suit, but here's what we always have:
Curry powder, Mixed herbs, Chilli powder, Cumin, Coriander, Chinese five spice, Garam masala, Whole spices (cardamom, star anise, cloves), Smoked paprika, Dried lime leaves, Sesame seeds