It's mid-April and after Easter, but it seems most of East Hampshire is still asleep.
Well, apart from those city workers, who are zooming up and down the A3 just 100 metres from our pitch.
But every campsite is closed, under development or not geared up for us. Where can we camp?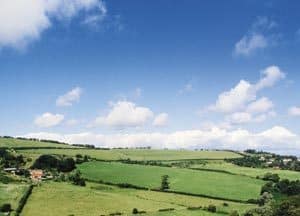 Old Barn Farm

We're staying at Old Barn Farm near Liphook. It's a vast field and it wasn't until our fourth day that we saw a soul.
In that time, we built a few mysteries around the three giant American motorhomes and two caravans, fuelled by seeing only glimpses of our (distant) neighbours who didn't seem to be on holiday.
The field has a 'tourist hut', with out-of-date leaflets and stacks of carpet samples you can take for your caravan or tent. A motley collection of cars and vans come and go.
The lovely owner. Nic Gilbert, appeared on day four to welcome us – and the mysteries were solved. It's such a laid-back place that, as well as caravan rallies and odd campers like us, there are people staying here while they wait for a house to be finished and other such scenarios.
There are no toilets, showers or washing up facilities, although there are hook-ups and taps all around the edge of the field. We were invited to use the farmworkers' immaculately kept and brand new shower room and kitchen – a healthy quarter-mile round trip from our pitch, but this isn't available most of the time. The decision to have no facilities in the field was forced on Nic (and his wife Nadine) by the sad fact that too many people are "too disgusting".
Upper Parsonage Farm and Cedar Valley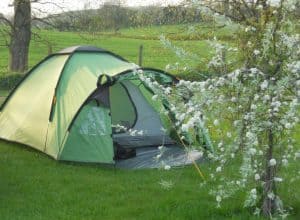 Because of the road noise, which is constant and loud, we tried to find an alternative to Old Barn Farm.
Upper Parsonage Farm near East Meon was stunningly pretty, green fields sitting in a dip in the hills near the Butser ancient farm and the Queen Elizabeth Country Park.
Cedar Valley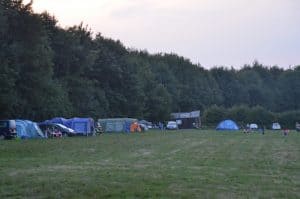 Not far down the road on the Bereleigh Estate, Cedar Valley had perfected its luxury safari tent set-up and was building its (sloping!) camping field facilities. Do check the latest there.
Watercress Lodges

There were others we didn't try because they warned in advance about their lack of facilities – so suitable only for motorhomes and caravans on short stays.
The final possibility was Watercress Lodges and Camping near Alresford. This was (at the time) a very new-looking strip of a site along the Watercress heritage railway line.
Big showers, great disabled access, a nice kitchen area with fridge, but no option for campervans and motorhomes and, unless you love the trains, a not-so-picturesque view of engine sheds and rolling stock.
Understanding East Hampshire
East Hampshire itself is more of a dilemma. It's not the Hampshire of the New Forest and it's not the Sussex of the South Downs. Instead, there are lots of gentle 'tourist attractions'.
We've picnicked on the lovely hummocky nature reserve at Noar Hill, strolled around Gilbert White's house and garden in Selborne, wandered down the sunken lanes, visited Hinton Ampner and Uppark, seen inside Jane Austen's house at Chawton, taken a trip into Winchester and cycled and couch-to-5k'd through Alice Holt woods (which might just be in another county, because this part of Hampshire merges into Surrey and West Sussex).
Hinton Ampner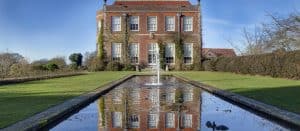 But this is the land of the wealthy commuter. The countryside is beautiful with woods, rolling hills and well-tended farms, but there's a sense that it's off-limits – a countryside you can either inherit from your family or buy with city or offshore money.
It's an exaggeration, and there are plenty of ordinary people living here (some of them are even poor), but here you sense a ruling class like nowhere else. Every mansion hidden up a tree-lined drive, every 'private woodland' sign and tall yew hedge asserts ownership, not just of a patch of Hampshire but ownership of England's most beautiful areas.
If you have a favourite campsite in the area, do share with us.