How fantastic when someone falls in love with a piece of camping gear that we've recommended!
Clare Wells took her new Coleman Cortes Octagon tent on a trip to a great campsite in Wales…here's what she thought of the site and the tent.
From Yorkshire to the sea
Dave and I go away every year, out of the busy season, with a group of friends.
All the women are keen swimmers, so we always choose somewhere close to the sea and usually in North Wales, which is easy to get to from Yorkshire and has everything we need.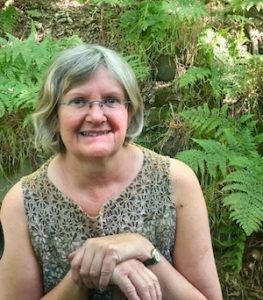 Half of us have campervans, half camp. We sometimes envy the campervans their fridges, but they envy our space and large sleeping area. We actually take a memory foam mattress topper because we like being comfortable!
Self-igniting (piezo) cookers have revolutionised cooking for us – no more soggy matches or burning fingers on lighters.
Next time we may head for Anglesey, but wherever it is, mealtimes will be lengthy and awnings will be discussed!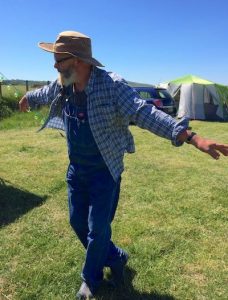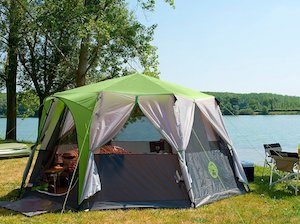 It was our first outing with the six-to-eight-person Coleman Octagon tent (we chose green). And it was fantastic. It's easy to put up thanks to its colour-coded poles. It was also airy and bright. With only two of us in it, it felt positively palatial.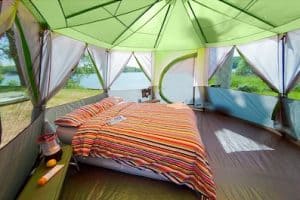 It looks beautiful and that hinged door really does save a lot of annoying zipping.
The yurt-like ceiling gave Dave (6'1") plenty of headroom. And it feels pretty glamorous inside too! When the sea breeze got up in the night, it held up well.
ED: The Cortes Octagon. It's been our top pick for tents for quite a while. There's a new blackout version too for those who like a lie-in!
Towyn Farm campsite
This was our third visit to Towyn Farm campsite on the Tudwielliog Llyn peninsular.
It's near the most perfect beach for swimming and its small sandy bay is one of its main attractions for me.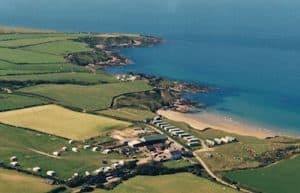 Tents occupy the third field, which is large and flat with the most fantastic views of the sun setting over the sea and the field is big enough for privacy and for kids to play ball games without annoying other people. It's family-friendly with a relaxed feel and barbecues and dogs are welcome.
Facilities are simple with a rustic homespun appeal – clean toilets, good working showers, washing up sinks under cover with hot water and the use of a small fridge and freezer very welcome in the heatwave. On the downside, the women's loos are a bit dark during the day because the lights are on a timer. You can tell there's not much to complain about!
There are stunning red geraniums dotted around the campsite and all members of the owner's family worked tirelessly around the place, which is also a very busy working farm.
Crafts and cafe treats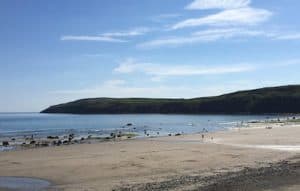 Next to the beach path is the potato shack, Ctw Tatws – a purpose-built shed with a range of slightly pricey but tasteful local crafts, including pottery, cushions, sheepskin rugs, soap and beautifully displayed curios and art.
There's wifi and a small café – a small oasis of hidden comfort for those that like that sort of thing (and who doesn't like a delicious, locally made rhubarb ice cream!)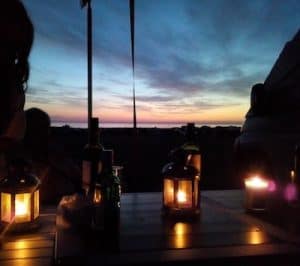 Towyn Farm is also very good value for money and is in an idyllic position to explore the coastal path with its coves and abundant wildlife. We'll be back.
If you have a favourite tent, do let us know so we can share with readers!
Have a look at our Anglesey camping feature, our guide to the best camping fridges and our choice of reliable camping stoves. Now you're all set!