We found Bornholm by accident…sort of. A happy accident.
Nowhere on the island is further than 15km from the sea, and there are campsites, wild camping, lakes, forests, cliffs, beautiful beaches, fabulous food, art and crafts.
Welcome to Denmark's exotic island in the Baltic.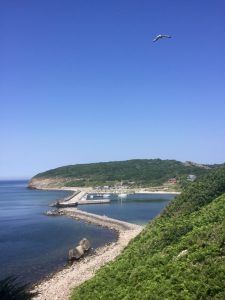 Camping on beautiful Bornholm
We'd travelled through Belgium, the Netherlands and Germany and were wondering where to go next. How did we even stumble on the idea of Bornholm?
However it happened, we took the ferry (three and a half hours) from the unlovely German town of Sassnitz at the top of Rügen Island, having camped for a night about 20km away in the very lovely Banzelvitzer Berge woodland campsite right on the coast and in the Jasmund National Park.
You can also drive through Denmark and catch a ferry from there or from Sweden. There's a small airport too, with short flights to and from Copenhagen. All driving routes from the UK are long, of course, and another possibility is a flight, and then hire bikes and camping kit. Given that the island is just 40km north to south and that there are more than 230km of cycle trail, cycling is a great option.
Welcome to 140km of beautiful coast
Bornholm doesn't only have fabulous beaches and a sparking sea. It also has a reputation for great food, painting, ceramics and glass, but we knew little about it until two days before deciding to catch the ferry.
Although mostly flat by UK standards, it has variety too – granite cliffs, a fossilised seabed, Denmark's fifth largest forest, pretty harbour towns, and a choice of beaches with rock-pools or the whitest, finest sand imaginable.
With no idea where to go first, we drove 20km from the capital, Rønne, to the island's only 'major' inland town – Aakirkeby – along straight, flat roads between fields of crops and dotted with houses, always surrounded by a stand of trees. Many of the buildings are painted a deep rust colour and you immediately feel you're somewhere special.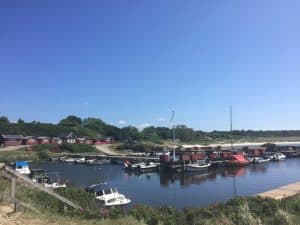 Here was our first realisation that Denmark (or at least Bornholm) was not the unaffordable place we'd been led to believe. In fact, it was cheaper than Germany. We checked the exchange rate four times to make sure.

Great campsites on Bornholm
The Aakirkeby campsite is almost perfect. Green fields surrounded by trees, the best kitchen we've ever come across (colander, knife sharpener, pans galore, fridges…everything).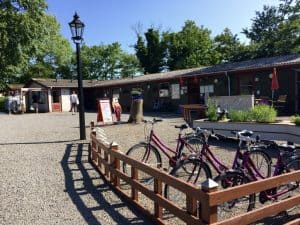 The toilets and showers are spacious and mostly clean (although the three-minute 50 krone shower is a challenge). There's a family bathroom, a sitting-out terrace, a small children's area (without children when we were there), a little shop, lots of information and helpful owners, Steen and Lizette, who gave us tips, answered questions and made us feel at home.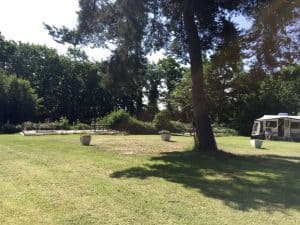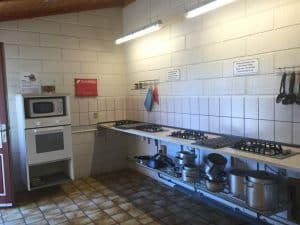 From the site, you can cycle to a beautiful sandy beach and harbour with a café and, strangely, a sprawling clothes shop in a series of old cottages. You can cycle or walk into the small town, which has a market, cafés and shops, including a really good Danish Spar.
Cycle routes from the campsite
You can also cycle into the forest, with lots of trails for walkers and cyclists (including mountain bikers), or stroll to the spot where Scandinavia meets Europe in the form of a cleft granite mound – the 'Scandinavian Behind', and on to the fossilised seabed.
We were, by the way, the first English people to appear at this campsite, although the owners speak perfect English (which they use with their less rare Dutch guests).
Ronne – Bornholm's capital
We took a bus from Aarkirkeby on our only rainy day and had lunch at Madogo in the small capital Ronne.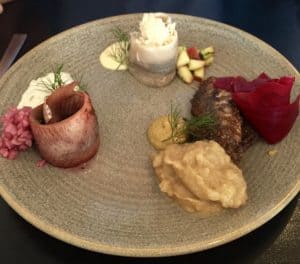 A delicious introduction to local food with a plate of three types of herring, each with different sauces and pickles, and a lunchplate of four small dishes, including a langoustine bisque and the tenderest pork imaginable, brown shrimps with asparagus and lightly pickled beetroot. Delicious and not at all expensive.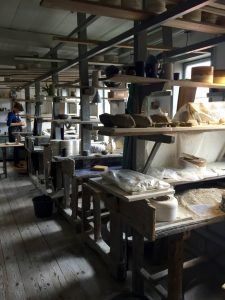 The Bornholm Museum in Ronne is both comprehensive and surprising, taking you through the island's history and character in a really enjoyable visit. Also worth seeing is the Hjorth Fabrik ceramic workshop (one museum ticket gives you entry to four museums, including Hjorth).
This is both a historic and a working 'factory', with great (English) interpretative touchpads and the unusual experience of seeing people actually getting on with their craft among the exhibits.
Svaneke, Gudjhem and the north-east
There's a low-key Mediterranean feel to this part of the coast, with its harbour towns.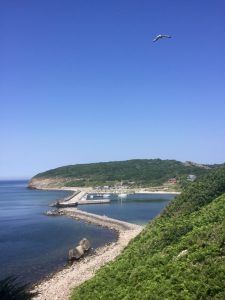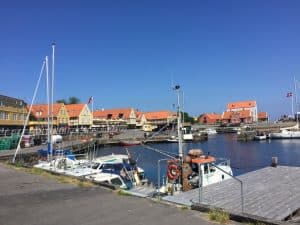 When we were there, pure blue skies and +25C temperatures. Svaneke won the prize for Denmark's prettiest town a couple of years ago, and Gudjhem hosts a big cookery competition that takes over the harbour area in June.
It's so easy to see a lot in a few hours, stopping for smorrebrod and local beers for lunch, picking up jams and pastries, calling in at a craft shop or museum, that we decided to base ourselves in just two places and explore the rest by bike and bus (helpful drivers and easy ticketing).
Camping wildish in Almindigen Forest
Another 6km cycle ride from Aakirkeby took us through fields and farmhouses (often with fruit, vegetables, honey or handicrafts for sale in as booth outside), and into the Almindigen forest
This is a beautiful area with real hills, a rift valley with a popular echo spot, lakes, monuments, a Viking fortress and an excellent restaurant () and a great café (Ekkodalshuset). There are miles and miles of cycle tracks and walking routes to explore the area. You might even glimpse the herd of European bison. Another gorgeous day of cycling, sunshine and stunning scenery.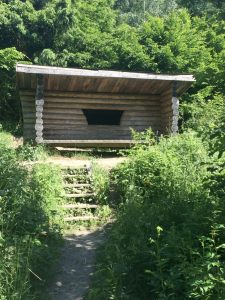 At the summer solstice, we returned to the forest for a night of wild camping. There are wooden shelters and firepits, so it's wild with a helping hand. We set up bivvy hammocks in the trees and watched white rabbits sunbathing and swallows feeding their chicks.
Although the map shows a few 'permitted camping areas', 'primitive' overnight stops and shelterplaces (as opposed to campsites), we failed to find the four we'd earmarked. Wild camping isn't really allowed, so the shelters, if you can find them, are a fantastic way to get out into the countryside properly.
You can find out more about bivvy camping here
The 'far' north of Bornholm
We looked in at all the campsites on the east coast and, while they looked well equipped, we weren't won over by their slightly regimented, packed-togetherness or by their size.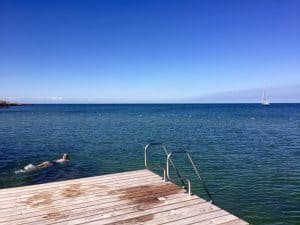 Aakirkeby's campsite is the smallest on the island; the rest tend to be holiday parks and better suited to families, maybe.
We chose Sandvig camping almost at the northern tip. It's still a big site with chalets and pods to rent but, when not too busy, there's space and a fantastic sea view. It's a two-minute walk to a picturesque bay where you can swim from a purpose-built jetty.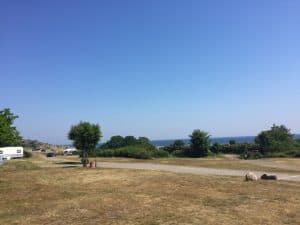 The village has a couple of good restaurants (we went to both Hector's and Ella's, as well as cooking some delicious one-pot dishes using the local smoked sausage, fresh asparagus and new potatoes). There's a small Spar, a little garage-sale of local produce and a lot of strangely incongruous hotels (all seemingly empty when we were there at the end of June).
Swimming in the Baltic
The campsite is rather quirky and some of the facilities are well past their best, but there's most of what you need and it felt laid-back. There's free wifi, an eccentrically furnished reception café/sitting area, lots of playspace for children, an annoying card system for the showers, but a fantastic location, nice owners and we really felt relaxed here – swimming in the Baltic, walking around the village and getting the bus to the art museum further down the coast.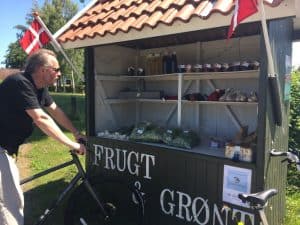 The only thing we didn't like was the new Gaarden centre, much-touted as Bornholm's food culture hub, but a very underwhelming place with nothing to see, local produce that is better bought at the farm gate and an uninspiring café where we were served almost empty bowls of soup and half slices of bread because the kitchen had run out (with no apologies or reductions….a bit of a try-on). We sent them back and went to a great little Thai takeaway-café in Gudjhem instead.
Hammershus fortress
A 7km circular trail takes you from Sandvig bay around the tip of the island, past a lighthouse, ancient chapel and rock formations and to the Hammershus fortress – northern Europe's largest mediaeval fort.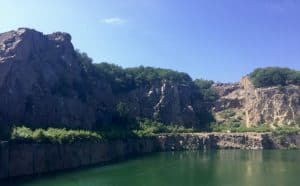 There are also two lakes, although one has been commandeered for a (paid-for) zipwire that dunks riders in the blue water at the end of the line.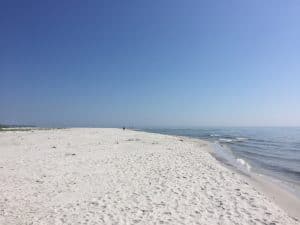 This is a stunning walk – cliffs, bays and a stop for great fresh sandwiches at Hammerhavn, which used to be important for fishing and granite and has been saved from disrepair with a café and activity centre (kayaks and bikes). The fortress is impressive, but the variety of landscapes in a relatively short distance walk is more impressive.
We loved Bornholm and didn't want to leave. On our last day, we kept popping back to the beach for one last swim in the blue, blue sea, trying to imprint a memory of the colours, the taste of the barely-salty water and the views of cliffs and white sand.
We'll definitely go back, but next time at the end of an adventure travelling through Scandinavia.