The fourth funkiest place on earth and an award-winning High Street, Hebden Bridge in West Yorkshire certainly has more than its fair share of organic food, art, crafts, alternative events and creative people.
Todmorden, just down the valley, is a hotbed of craziness and kindness too.
So, make a trip of it and go camping in colourful Calderdale.
Latest update: April 2021
A town for everyone
We've been testing out places to eat and things to do in the area. We'd definitely say it's worth a trip for a long weekend or a week, particularly if you're into walking, tantric harp-playing or decent food.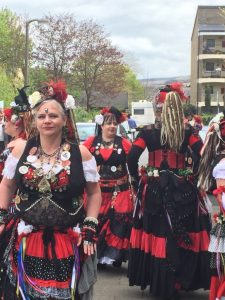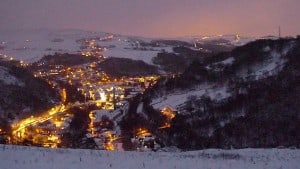 There's always something going on – from live music at the Trades Club to the amazing Handmade Parade. There's also a Burlesque Festival, Todmorden Folk Festival, Hebden Folk Roots Festival, Pride, a film festival, a vintage rally…..and much, much more!
Todmorden, Hebden's neighbour down the valley, is quietly quirky, though there's a slightly grittier edge (not that HB is gritless, of course. This is West Yorkshire).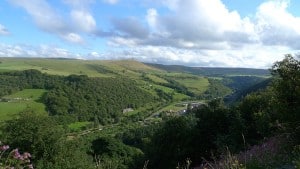 What to see and do in Hebden Bridge
Walk – there are lots of trails and walks, including part of the Pennine Way and Calderdale Way, and make sure you visit Hardcastle Crags, the gorgeous National Trust woodland and river

Drink hot chocolate at the Picturehouse independent cinema, watch a great film or live screening event

Check out the noticeboard in the Co-op for a cornucopia of goings-on

See a live band at the Trades Club or the 'ceci n'est pas un pub' Golden Lion in Tod
Do a course at Northlight Art Studios or learn to make prints at the Egg Factory

Buy goodies at the farmers' market or shop at the secondhand and general markets

Browse four streets of independent shops, with crafts, homeware, clothes and more
Base yourself at one of these campsites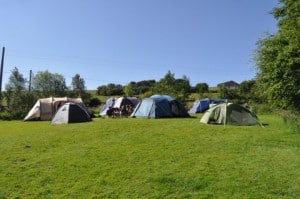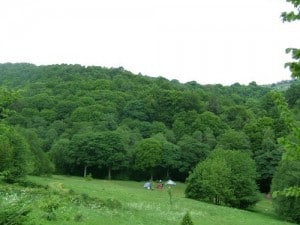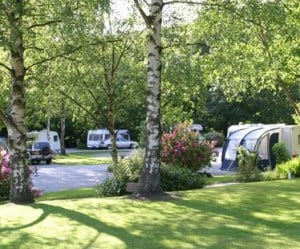 Now…onto the food and drink
Yakumama, Todmorden
Our absolute favourite – and not just in this area. It's amazing. Creative, delicious food with a South American slant. From Andean potatoes with olive sauce to smoked halloumi, fried dumplings and chipotle beans; from sweetcorn with charcoal aioli and parmesan to the tastiest olives ever. Everything can be veganised too. Lovely atmosphere and people. Its only downside is that it's only open at weekends.
Origano, Hebden Bridge
The best pizza, the best welcome, the best cannoli. A fantastic pizzeria for eating in or takeaway. A really great addition to the town's restaurants.
Baked, Todmorden
Another gem that's not open all the time and often sells out in a couple of hours. Handbaked, lovingly baked sourdough loaves, unbelievably delicious stuffed bagels, Danish pastries, cheesecakes, pasties and more. In an old roll-shuttered dairy behind the White Lion. Currently open Wednesday, Saturday and Sunday, but promising to grow. Brilliant.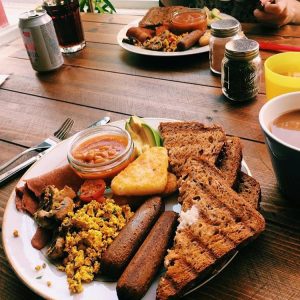 The Humblest of Pleasures, Hebden
Did the town need yet another place to eat? Well, in this case, it could have been a good addition, but the food is just not all that great. It seems many vegans are so poorly catered for that they're too easy to please. We love cooking and we love good food – the fact that it's vegan shouldn't mean you have to lower your expectations.
The problem here – and in many places we've been – is that the ingredients are too visibly bought off the shelf and then nothing is added to make them special. Readymade (always bad) supermarket fake cheese, Tofurky, facon, Paxo stuffing mix, shopbought cranberry sauce and so on.
When you pay £6 for a sandwich, it really needs to have something about it that doesn't make you think how much better you could do yourself or how much the ingredients cost in the Co-op next door.
Vocation Bar and Kitchen
Busy and buzzing craft beer bar with great Mexican-ish tapas and boards. Food is delicious, beers are many and the wines are good too. One of our favourites, though standing room only at weekends.
The Staff of Life, Todmorden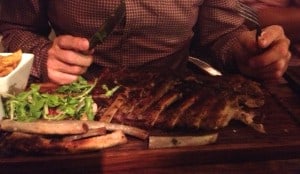 Decidedly unvegan, the menu here is tempting and sometimes a little bizarre. The atmosphere is warm and friendly. We decided to suspend judgement until we'd given it a second go because some of the ingredient combinations on the menu were odd and made us want to try more. As an example…steak, macaroni cheese with lobster and crayfish. Well, the steak and the pasta were delicious, but we weren't sure they should have been on the same table let alone the same plate. So, a second visit convinced us that the chef likes to experiment, but tends to get it right. Portions are big, tastes are big, food is local and organic where possible and most encouraging of all (as it's so rare in even top-end restaurants), the vegetables are fresh, perfectly cooked and don't rely only on cheap carrots.
The prices are reasonable and it's a relaxing place to spend an evening. Sadly, on our third visit, we weren't so impressed with the small, overcooked scallops on hunks of black pudding; a pretty standard fish and chips and mushy peas and a pistachio-crumbed salmon that didn't taste of much at all and came with a bumpy round of mash and not a vegetable in sight. When we asked for vegetables, we got a small bowl of shrivelled, oily, overcooked ones. The staff adjusted our bill a little when we expressed our disappointment, but we're hoping what was a great find won't prove to be unreliable. Ribs were faultless again, so perhaps we should always order meat!
Kava, Todmorden
An interesting vegetarian place for lunch (occasional evening times too) and courses and community events. A lovely canal-view terrace and great cakes. Coffee is good, food is nice and it's laidback and friendly.
Old Gate
Old Gate developed into a really good place to eat, but then went downhill. Maybe it'll go up that hill again! It was just what Hebden Bridge needed (and a million miles from the Wetherspoon ambience we criticised it for in its opening week). The staff are first-class and the food is (usually) good, with the right level of interesting choice, vegetarian options and decent prices. The beers are excellent. On one visit, the chef was a bit overwhelmed and dinner took a while. We didn't mind because it's a comfortable place to drink and chat (downstairs can be a bit noisy, though). We were offered heartfelt apologies and free drinks and desserts by three lovely members of staff – and all without our complaining or expecting anything. That's excellent service for you. Sadly, food can now be inconsistent and disappointing. A good but expensive place for a leisurely Sunday breakfast.
Chapter 17
We'll give it a miss. Another of those places serving tapas style food because you can put a few things on a board and charge a lot. Not a cheap option.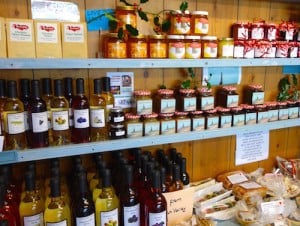 Great Rock Co-op, Blackshawhead
Lovely, lovely localness. A food and crafts co-op run by volunteers at Staups Lea Farm near Hebden Bridge. Cheese, meats, jams, cakes, unusual breads, locally-brewed beer…and more. It's open on Saturdays from 10am to 2pm and you can imagine the feverish activity going on in all those Blackshawhead kitchens as people make and bake in readiness. There's a nice atmosphere and samples to try. Of course, it's not cheap – these are artisan products made on a small-scale and with good ingredients.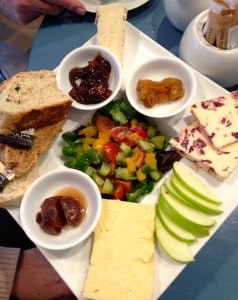 Love Grows
One to avoid. Lots of reports of unpredictable 'welcome' from one of the owners.
The Olive Branch
We like the Olive Branch in Hebden Bridge for Turkish food. Nice people, tasty dishes but not much variety (the same sauce pops up in lots of dishes). It's consistent and great value, especially midweek.
Stubbing Wharf (on the canal just out of town)
Reasonably priced food – though definitely not elegant or consistent – good beers and cider, lovely staff.
White Lion
A really nice place for a drink and the food's pretty good. Better than average pub food with something for everyone. Delicious beef and stilton sandwich!
The Packhorse Inn, Widdop Road
High up on the windy moors and a real institution. It's all big portions, meat and traditional hearty tastes. Just don't ask for chips unless you want to make a donation to Moorland Rescue.
Café Solo
Solo has good coffee and is a relaxing place to have a natter – but food has gone a bit lack-lustre.
Aux Délices, Mytholmroyd
It had its ups and downs over the years with different owners, but is now a great evening restaurant and bar with a good selection of creative-but-not-too-creative dishes and attentive owner/manager/chef, Phil. Reasonably priced wines, good beers on tap, early bird and set menu options. Book ahead. We like it a lot!
Valley Organics and Pennine Provisions, Hebden Bridge
For stocking up on local, organic and exotic food, fresh veg and storecupboard things. Valley Organics is a worker-run co-op with a very good range and some of the nicest staff you could hope to meet. Pennine Provisions is a more standard deli, but often has just what you're looking for. Don't forget the markets in both Tod and Hebden – great places with surprising choice!
You can also buy zero waste at Valley Organics' Unwrapped shop and at Weightsed on Bridge Gate.
Syhiba, Sowerby Bridge
Consistently one of the best curry places for miles, which is why we've included it, despite it being a fair drive away. It's always crowded and a takeaway can be more relaxing. Try the saffron lamb, chicken tikka makhani or the interesting lamb/chicken albahara dish with plums. Don't be tempted by the Java Village restaurant just up the road. It's a shabby-round-the-edges '90s place, bristling with birthday and hen parties, The noise of the guests aside, we found the service rather indiscreet with orders shouted over our heads as we sat at the bar waiting for a table. Not able to get into Syhiba one evening recently, we reluctantly tried Kiplings, just down the road…and liked it. However, a subsequent takeaway was bad – packed with food colouring and awash with fatty sauce. It's a shame because it's more pleasant for eating in there, but Syhiba is consistently top-notch.
Cardamom/Cinnamon, Hebden Bridge
At last, a decent curry place in town. Faux glamour interior not to everyone's taste, but it's comfortable and friendly. Big menu and anything with chicken can be made with Quorn or vegetables instead. Rather delicious.
JK's Chinese
Chinese takeaways are a bit same-y and there's often too much greasiness. JK's is different. There's a HUGE vegan menu and meals are made with nice fresh vegetables. The flavours are better than almost all we've tried before. Bad plastic takeaway boxes, so take your own to be filled, or reuse your boxes from last time.
The White Rabbit, Todmorden
We really wanted to love The White Rabbit. The atmosphere is quirky and interesting, the owners want to please and they use good ingredients. Sadly, though, if you're going to aim for fine dining dishes and highish prices, you have to get the detail right. We might have overlooked a few things, but there were just too many inedible mistakes.
The real turning point, though, was the dish of vegetables. It's hard to understand how any chef could dare to let vegetables this bad leave the kitchen. Overcooked, almost beige, mange-touts and chewy, fibrous boiled kale, along with uncooked 'boiled' potatoes, some of which had bad bits left in them. They replaced my meal with the pork, but, while the meat was tender, it was lacking in any interest. A couple of tiny morsels of fondant carrot and a couple of blobs of carrot jelly, along with a thin jus. Nothing special at all. The replacement dish of vegetables included better-cooked but stringy mange-touts, good tenderstem broccoli and,,,uncooked boiled potatoes.
Boardgame Cafe
A newish one for Todmorden and we haven't tried it yet. Nice idea and looks smart.
Favourite bars
Hebden Bridge – Calan's micropub, Drink, Nightjar, Fox and Goose.
Todmorden – White Lion, Honest John, The Pub.
There are at least another 30 places to eat and drink around Hebden Bridge and the surrounding areas