The YHA isn't just for youth and it's certainly not just hostels. What's more, they do have some of the most gorgeous locations – lakeside, countryside and more.
We've been looking at some of the YHA's great camping and cabin options for affordable, dog-friendly camping.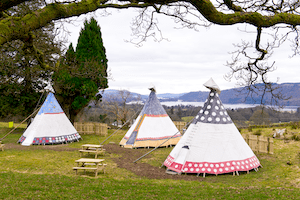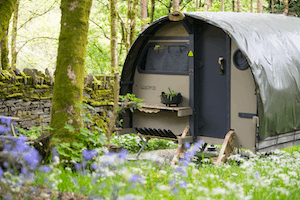 Beautiful countryside and a room for £30?
There are a lot of misconceptions about YHA accommodation. For a start, it's not all bunkbeds in dorm rooms.
You can book private rooms that sleep two to eight people and en-suite doubles for as little as £30 a night. If any of the party are under 26, there's a 5% discount.
Rooms aren't swanky, but the upside is that you get to stay in a beautiful location very affordably. Many of the 150 hostels also have self-catering kitchens, lounge areas, bars, boot rooms and laundry facilities. Some offer meals too.
Myth number two…you don't need to be a YHA member, but you'll get 10% off accommodation and food if you are, plus you'll be helping support the organisation.
YHA campsites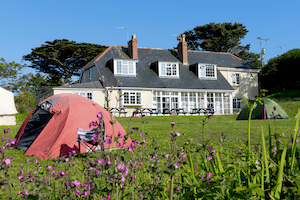 Beachside, lakeside…the YHA has 45 campsites with good facilities. There's often a shared kitchen and lounge area, plus you can use all the hostel facilities.
Prices are low too. Tents only, however, and some campsites have quite restricted opening times.
Dogs are usually welcome, by the way – and in hostels as well as camping.
Tents only, I'm afraid.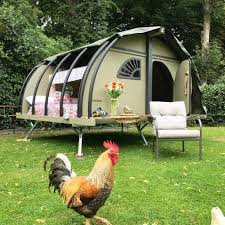 For more info, go to the YHA's website. Plus lots more glamping, and camping ideas here.
YHA cabins, pods, tents and tipis
Fancy a heated bell tents at YHA Hartington Hall? Or a camping pod in the heart of Borrowdale? There are some great choices for comfortable readymade camping.
You certainly wouldn't call it all 'glamping', but there are some more deluxe options, including cabins, safari tents and more, as well as basic pods.
Prices are very low and locations are usually stunning. Some of the camping pods and Landpods are open throughout the winter too.
Helping the YHA help others
YHA is a charity that transforms young lives through travel and adventure. The association funds stays for families and young people facing adversity so that everyone has the chance to gain new confidence, new skills and a new perspective on the world.