Sadly, there's not really a (legal) chance to camp wild in England, so too often the option is a campsite with tarmac and not a lot of privacy.
Nearly Wild Camping is a network of places across the UK offering…you guessed it…nearly wild pitches. Dark skies, maybe a composting loo, definitely peace and quiet. And read on for other similar schemes.
Latest update: March 2021
More than 125 nearly wild camping locations across the UK
So far, there are Nearly Wild locations in England, Scotland and Wales (plus a couple in France and Italy) – most with no outdoor lights at night and guaranteed distance between pitches to ensure peace and privacy.
A Wildness Rating works the other way round to what you might expect – 1* have facilities and are close to civilisation and 5* are remote land with no facilities (not for everyone). The majority are 3* with basic facilities and a wilder feel.
From farms to woods – peaceful camping
Each location is different – from family farms to nature reserves and hilltop smallholdings to riverside woods. Each listing has a personal note describing what to expect, any facilities and any restrictions (not suitable for young children, for example). It costs £20 to join.
Some owners are more detailed than others in their descriptions and there aren't many photos at the moment, but it's easy to see whether the facilities you need are available or not. There are few possibilities for campervans or caravans, though it might be worth checking with owners in case they can come up with an option.
"We've got 4,000 subscription memberships, a growing social media following and numerous business supporters," says Lee, who gave up his day job to work full-time on Nearly Wild. "A lot of that is thanks to the original article in Campfire Magazine!"
A new website is promised, as the existing one is a bit frustrating! Bear with them.
Wild locations are more than a place to sleep
Some 'sites' offer the chance to explore – through guided walks, star-gazing, badger-watching, having a go at some regular tasks (from feeding the chickens to carving a spoon), cooking up homegrown veg on your campfire and more.
Neglected or wild? Read the reviews
We've just camped at a Nearly Wild site in Shopshire. Just us, acres of fields and an outside tap.
But…while we had a lovely view out the front, dilapidated farm buildings and a couple of dead caravans spoiled it out the back.
We've noticed that some locations are more neglected than wild, in the sense of pristine nature. Read the reviews and read between the lines before you go.
Or, like us, accept the idiosyncracies as part of the experience. At least you're not looking at a row of caravans across a carpark-like site!
If you like the idea of a wild-but-comfortable alternative to bigger campsites, here are some more options for you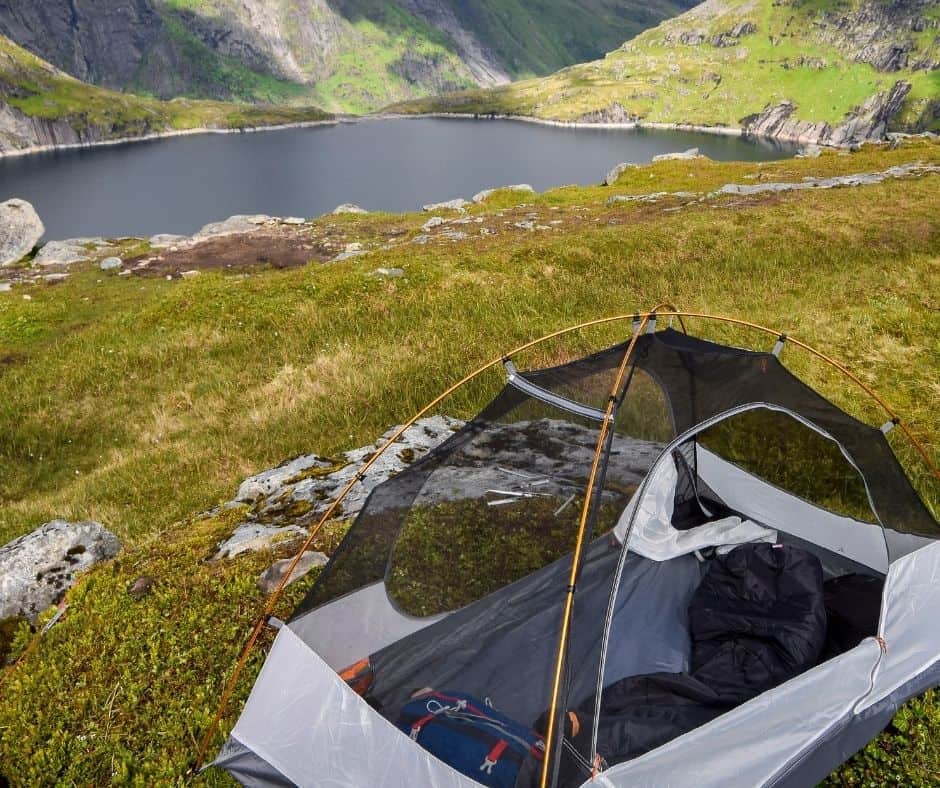 More than a thousand places to pitch a tent on every continent (except Antarctica), in gardens, paddocks and unusual places.
A lovely woodland pitch for my AquaQuest star-gazing bivvy tent. Oh, and is that a glass of wine in my hand!?
A good way to test out a campervan before taking the plunge…or simply another way to have a holiday!
Yep! The cheapest. simplest and most freeing way to travel? Have a look at how to do it comfortably.
Nearly Wild is the perfect way to try out one of our favourite camping experiences – hammock camping, Read all about that in our special feature on bivvy hammocks.