Unless you have a big frying pan or plenty of hobs, cooking a full breakfast when camping usually means something will be cold by the time the rest is ready.
Here's a way to get all the satisfaction of a fry-up without the hassle.

All the ingredients for the best camping breakfast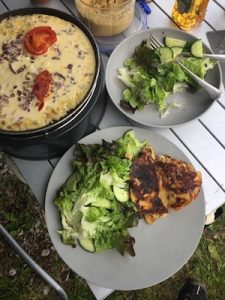 1. Fry your bacon, sausage, veggie sausage, black pudding or smoked tofu (or any combination). Bite-size pieces work best. Cook till crisp.
2. Add some sliced mushrooms. You can add some halved cherry tomatoes too, if you like. Make sure everything is spaced out nicely in the pan.
3. Now, beat your eggs with a little salt and pepper, and add some cheese if you have some going spare, and a few chives or a snip or two of whatever herbs are handy.
4. Pour the egg into the pan, filling in the spaces. Cook till set.
5. Make a vegan version by mixing a pancake batter with gram, rice or normal flour and water or mylk. Use instead of the egg and cheese.
6. Delicious with fruity brown sauce, chutney or ketchup.
7. Serve with toast…you can see which camping toasters work best here.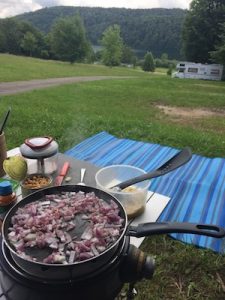 What we used
The high-pressure Safari Chef 2 is our gas-powered camping stove choice
We thought the Cadac Safari Chef 2 was the best size for portability and cooking options.
It's foldable, comes with all the accessories we need and has the option of extras such as a baking stone, wok and more.
The price is reasonable and a stove powered from a refillable gas bottle is more economical than a throwaway canister and lastly. The stove is also quick to set up and pack away.
We've now been using ours for four years and it never lets us down!