Noodles are a great addition to the camping pantry because they're so fast to cook.
Our tasters have a preference for brown rice noodles, but there are oodles of noodle varieties out there, from good old-fashioned egg noodles to gluten-free options.
Campsite pad Thai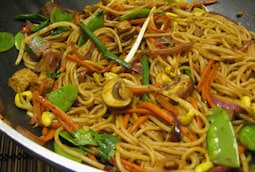 We've taken a classic pad Thai recipe and made it campsite-cookable. Don't forget, all our recipes are designed to be adaptable and give options for using other ingredients if you don't happen to have the exact thing.
Enough noodles for two

Two cloves of garlic

Oil – whatever you have (but don't siphon it out of the campervan engine)

Sugar – palm sugar is best, but anything sweet will be fine – honey would be lovely and keeps well

Soy sauce – a staple in our camping kit

Fish sauce (or vegan fish sauce) – not a great thing to travel with, especially in a hot country, so buy a small bottle

Lime juice

Vegetables – beansprouts, thin sticks of carrot, chopped pak choi, kale, spring onions or peas….well, pretty much anything

Roasted peanuts – we like unsalted best

Coriander – basil or parsley would work too
Cook your noodles. Either boil briefly or pour boiling water over them in a bowl and cover. It depends on what type you're using. Drain.

Heat the oil in your biggest pan and add the garlic. If any of your vegetables are likely to need cooking for longer, then add them now. Stir-fry for 3 or 4 minutes.

Add a tablespoon each of sugar, fish sauce (or not), soy sauce and lime juice. Throw in the noodles and the rest of the vegetables. Stir till everything is heated through. The vegetables should still be crunchy, but not raw.

Taste and add more sugar, sauces or lime to get that perfect balance of sweet, salty and sour. Add some chopped fresh coriander (parsley or basil

Serve with bashed up peanuts and some coriander sprinkled over the top.

You can add tofu, prawns and diced chicken or pork at step 2 (but make sure this is properly cooked before adding the veg). If you'd like a bit of heat, add chilli at this stage too.
This is super easy to cook on a traditional camping stove, on something a bit more special and versatile like the Cadac or on one of the top-end barbecues that have pot/pan options, like the Lotus Grill.
Make yourself a neat camping box of herbs and spices and you'll never have to rummage in your kitchen bag again.
We all have our own essentials and favourites, so pick and mix to suit, but here's what we always have:
Curry powder

Mixed herbs

Chilli powder

Cumin

Coriander

Chinese five spice

Garam masala

Whole spices – cardamom, star anise, cloves

Smoked paprika

Dried lime leaves

Sesame seeds
A masala dhaba is a great idea, providing it has airtight lids or a double outer lid.
This lovely German set of spice and herb tins has good lids and all the labels you need to keep things organised.
If you've got a weigh-and-save or zero-waste shop near you, you can refill containers like these more cheaply and with less wasted packaging too.