Just because it's a work day not a holiday doesn't mean outside is out of bounds.
While we still have light evenings and warm(ish) weather, give yourself the treat of fresh air….even if it's just for an hour. Gather the goodies for an autumn pudding.
Hedgerow harvests – step-by-step to a warm treat
If you're lucky enough to live in or near a patch of countryside, nip out and gather a bowlful of blackberries. If not, make do with whatever fruit you have in the garden or fridge – apples, blueberries, raspberries.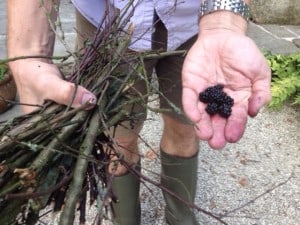 Prepare your fire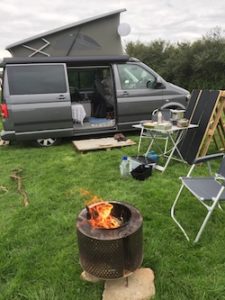 Gather some kindling and dry wood and build a small fire. It could be a homemade rocket stove or a woodburning stove on the patio…whatever and wherever.
Prepare your fruit
Mix your fruit with a good couple of spoons of sugar (we like light muscovado, but you can use anything sweet, including maple syrup, Sweet Freedom, agave nectar or honey).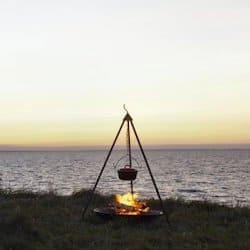 Set it bubbling for five or 10 minutes over your fire. It wants to still have a bit of shape, but be tender and sweet.
Now for the crumble topping
Mix a handful of oats or breadcrumbs with some chopped nuts or desiccated coconut. Stir in a good spoonful of muscovado (it really does make a difference to the taste of the topping).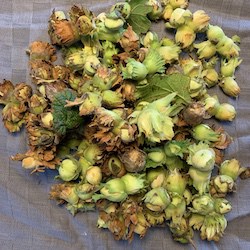 Melt a generous knob of butter or low fat something or other (coconut oil and even olive oil works too) in a frying pan and fry the topping mix till its gently browned and fragrant.
Maybe add some crushed cobnuts. We got a bumper bowlful this week with just a stroll down a country track. Plenty left for the squirrels and other gatherers too.
Time to eat
Put your fruit into bowls and sprinkle over the deconstructed crumble topping. Serve with something creamy.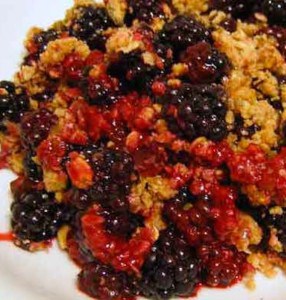 You can rush inside now if you really must, but you might just find you want to stay out, even if it means wrapping up in blankets. If enough of us brave the British autumn, perhaps winter will stay away!
Here are some more ideas for how to keep warm and cosy when camping. And how to heat your cpervan.