Because it's raining constantly here, I'm thinking about the sunniest camping meal.
It has to be panzanella – a salad made mainly with stale bread and juicy tomatoes, but open to additions of anything delicious you have hanging around.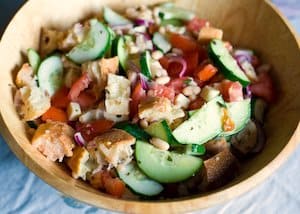 Fresh, warm tomatoes and fresh basil would be perfect for this quick and easy camping meal, but don't wait for summer days to get some sunshine into your life.
How to make camping panzanella salad
We eat this on its own for a fresh-tasting lunch, but it makes a great side-dish too.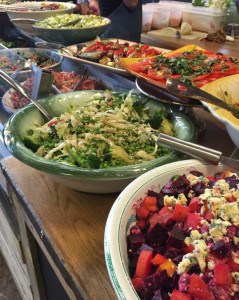 Four ripe tomatoes (over-ripe is perfect – you'll get more juice) 
A clove of garlic
A tablespoon of vinegar (red wine vinegar would be good)
Two or three thick slices of yesterday's bread (ciabatta is nice in this. If you can toast it, all the better. Have a look at our camping toaster feature)
Two tablespoons of good quality olive oil
Salt and pepper
Pinch or two of sugar
Basil or parsley
You could also add capers, olives, red pepper (especially those roasted ones in a jar), chilli, diced cucumber…it's up to you
Cut the tomatoes into bite-sized pieces and make sure you catch all the juice. Mash about a third of them up with a spoon or fork to get a nice juicy mess. If you add a bit of sugar to the tomatoes, you'll get more juice and balance any sharpness.
Cube the bread. If it's too fresh, you'll end up with something a bit soggy, so that's where old bread or toasting comes in!
Squash, chop, grate or press your garlic.
Mix together the mushed tomatoes and juice, garlic, pepper and vinegar, then whisk in the oil with a fork. Taste and add salt.
Combine your bread, chopped tomatoes, basil and any other vegetable ingredients you've chosen. Mix well with the dressing.
Leave to marinate for an hour, if you can wait that long. Add a drizzle more olive oil if the bread looks dry.
Make yourself a neat camping box of herbs and spices and you'll never have to rummage in your kitchen bag again.
If you've got a weigh-and-save or zero-waste shop near you, you can refill containers like these more cheaply and with less wasted packaging too. We all have our own essentials and favourites, so pick and mix to suit, but here's what we always have:
Curry powder, Mixed herbs, Chilli powder, Cumin, Coriander, Chinese five spice, Garam masala, Whole spices (cardamom, star anise, cloves), Smoked paprika, Dried lime leaves, Sesame seeds
A masala dhaba is a great idea, providing it has airtight lids or a double outer lid.

Go for a neat set of magnetic tins.

Or simple stackable boxes with transparent lids so you don;'t have to open every box to check what's inside.

This lovely German set of spice and herb tins has good lids and all the labels you need to keep things organised.