It's been great for people who love to travel, and especially those who need to work on the road…we're talking about free data roaming in Europe.
Since 2017, we've paid the same to use our mobiles in Europe as we do at home. No more roaming charges for calls, texts and, most importantly, for data. But, there are two small problems…
The first is that, when we leave the European Union properly in 2021, we could lose that benefit along with everything else. The second is that some phone companies might make use of a little loophole to still charge more for data.
LATEST UPDATE – FEBRUARY 2020
We've just signed a new 12-month contract with EE, which includes European roaming as part of standard UK allowances.
This is interesting because the contract extends beyond the EU transition date.
In theory, this implies that EE at least will retain free roaming. However, be aware that companies always build in a get-out clause into their terms and conditions, which allows them to make variations. So, as always, have a frank conversation with your phone company and keep a record of the call.
Data limits and caps
The EU's great new system meant "the end of roaming charges", so we can all use our phones in Europe just as we do in the UK.
Those on cheaper deals might find, though, that they can only use part of their data allowance while roaming, and then be charged around to use the remainder. This is because of something called a 'fair use' limit, which could – and it's only a could – cap your free data use.

So, the advice is to check with your provider and, if you can, get them to send you an email or text message that tells you your data limit in Europe and any charges.
Other restrictions
Three have been giving free roaming for a while, but we've heard complaints that they cut the speed when you use your phone in Europe, making it difficult to use some online services.
Take, for example, Giffgaff's Always On tariff, which offers a £25/month service with 'unlimited' data. However, they reduce data speed significantly after you've used 40GB. Mind you, you can do a lot with that amount of data.
Also, check with your provider about whether you can use your phone as a personal hotspot. Three says not, for example.
Long trips = extra charges
If you travel for long periods, there's another thing to watch. If, in a four-month period, you use roaming services in another EU territory more than you do in the UK, your network might start charging you for calls, texts and data.
What about on ferries?
And beware using your phone on the ferry crossing. Ferry companies often use their own telecom networks from outside Europe and readers have reported VERY heavy charges for calls and data. Check with your company and turn off roaming on your phone to avoid fees.
Who's in the EU
The rules cover 31 countries – Austria, Belgium, Bulgaria, Croatia, Republic of Cyprus, Czech Republic, Denmark, Estonia, Finland, France, Germany, Greece, Hungary, Ireland, Italy, Latvia, Lithuania, Luxembourg, Malta, Netherlands, Poland, Portugal, Romania, Slovakia, Slovenia, Spain, Sweden and the UK (for the time being).
However, some networks allow you to use your monthly allowances for no extra charge in non-EU European locations too, as well as some locations further afield. Check with your network.
By the way, have a look at our guide to apps that help you find campsites, wild camping spots or stopovers for campervans and motorhomes.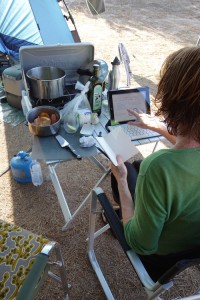 Using wifi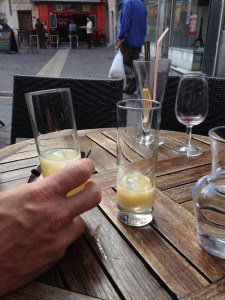 You can get a wifi connection via a campsite network, a café's network, BT Fon or Cloud hotspot, or via a service hotspot (Skype, for example). Some you'll pay for, some are free, some require you to be a 'member' of the network.
Good wifi can be faster and more reliable, but there are limitations. We've huddled in café doorways, bought drinks we didn't really want so that we could get access, changed our route to get half-an-hour online somewhere, and spent a lot of time outside the reception building at campsites where wifi was restricted to just that area.
The end of data roaming charges has made this a thing of the past (and we're on a SIM-only deal with EE, by the way).
Mobile wifi – mifi
Mifi devices are basically mobile routers that take 3G or 4G SIM cards. You can connect a number of devices to them – a laptop and tablet, for example – just like you do with your broadband router at home.
You can either get a free or low-price router from one of the phone networks for a monthly subscription. Or you can buy an unlocked router so that you can shop around for the cheapest data-only SIM. You can also use the SIM card out of your phone, but then you'll have nothing to make calls with.
Choosing a mifi device is a bit of a minefield. We chose the TP-Link, which is available in a range of speeds and a choice of 4G or 4G+.
We opted for the mid-range 7450 model 300Mbps 4G+, which also gives around 13 hours of battery life. The screen shows current status and there's also a card slot for storage. Up to 32 devices can share the connection.
We also use TP-Link for our Kasa home security bulbs and plugs, by the way.
FON
FON is the largest network of public WiFi hotspots, with more than 23m hotspots worldwide.
There's no charge to access them and no limits once connected, provided you are a member of the FON network. You become a member by either getting your home broadband from a partner company (BT in the UK) or by buying a FON router and using it for your home wifi. You create a secure hotspot at your home (or business) that other FON members can use and, in return, you get to access the hotspots elsewhere.
The hotspots are usually located in residential locations. You can check coverage on the maps on their website.
If you think you'll be somewhere with more sparse hotspot coverage, then you might want to consider a wifi aerial or booster to increase your range.
Tethering and personal hotspots
If you need to use a wifi-only tablet or computer, some networks allow you to use your phone and its 3G/4G connection to create a personal hotspot.

In essence, your computer shares the link. But see other restrictions, above.

Providing your network allows it, sharing your phone's 3G/4G data is very helpful. You need a decent allowance, however, because you'll certainly eat up more data browsing on a big screen.

On an iPhone, the Personal Hotspot option is in the settings menu. Turn this on and, as long as you have bluetooth paired between your devices or a cable attaching them, the tethering should appear as an option in your network connections on the laptop.
Wifi boosting
Wifi boosting is a possibility for caravanners, campervanners and motorohomers who travel for longer periods.
You buy an aerial or booster device that gives you a connection if you're too far from the wifi hotspot.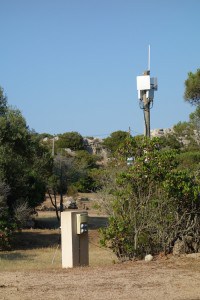 The booster will either bring you within range or improve your connection. It's useful on sites where wifi coverage is patchy or where it's available only in certain places, for example.
It can't guarantee connection, of course. That all depends on there being a wifi network in the vicinity.
The best we've found is the Patriot by Solwise. Though we haven't used them ourselves, we have asked motorhoming friends and friends of friends and this model comes up highly rated and good value.
Included is an antenna to pick up the wifi signal, the usb connector for inside your van and also a repeater for devices that don't have a USB slot (phones and tablets). Decide whether you want the kit including mountings or the base kit, by the way.
Wifi finding apps
If you're with BT or a network that offers a wifi service when you're out and about, you should be able to download their apps to show you wifi locations.
There are a few more general wifi-finding apps for iOS and Android too. Many are pretty poor – out-of-date or showing passworded networks that are of no use to you – so check your Android or iOS store and read the reviews.
Wifi Map is pretty well thought of on the iTunes store. Like all finder apps it lists wifi hotspots close to your location. The difference is that people can upload passwords for networks they've got onto, so that you can borrow these passwords and have access to more networks. It's free, but there's also a paid-for version with more features.