Camping kit that has a number of uses is a fine thing. That's why we're keen on the idea of a utility tent, screenhouse or shelter to add to our packing list. 
Here's our round-up of  easy-to-put-up, airy things that can be gazebos, dining tents, sunshades, rain shelters or driveaway awnings for campervans….
Latest update: January 2021
A smart, surprisingly sturdy and affordable option.
The Lumaland gazebo comes with one side wall and you can buy the others separately as needed.
Comes in a minimal black, a vibrant lime and a rather nice blue. It takes less than 30 seconds to set it up or take it down. It's waterproof and includes a bag and pegs.
Floor size: 250 x 250cm
Height: 190cm
Pack size: 120 x 14cm
Weight: 5.9kg

The unusual Cayman Pursuit is designed to work between two vans, but we think it has more to offer than that. 
It works as a freestanding gazebo, has lots of window light (plus LED lights for night!) and is quick to inflate.
14kg and a pack size of 78 x 41 x 34cm. Click here to find price.
Easy to pitch, thanks to its inflatable columns. This Kampa shelter comes with four removable side panels.
Floor size: 300x300cm
Height: 225cm
Weight: 6.5kg
Pack size: 64 x 30 x 30cm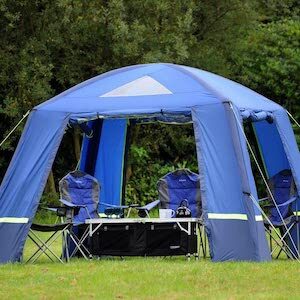 Airy like a gazebo but with zip-down sides for shelter. 
It's versatile and not too tricky to inflate (though it's better with two people). We like the skylight panels.
Size: 300 x 300x 220cm
Pack size: 75 x 35 x 34cm
Weight: 11.1kg
Coleman
Coleman make shelters that provide protection from the sun, the wind and the rain, thanks to their WindStrong™system. The range has shelters of all sizes with vented canopies, shock-corded poles, patent-pending hubs and guylines.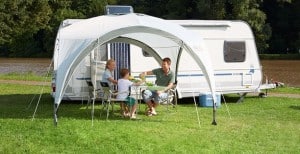 A choice of large or XL with sunwalls and groundsheet options. There's a fast-pitch model in two sizes as well.
Floor size: 360 x 360cm and 450 x 450cm
Max height: Around 230cm
Weight: 15 to 22kg
Pack size: 30 x 23 x 83cm to 100 x 22 x 35cm
Price: Price for the standard (fast pitch)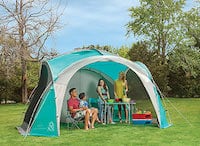 The Coleman Event Dome is a lighter version of the original shelter, and there are two sizes available. The 'power walls' at the corners add stability. Weatherproof and foldable mesh walls give more shelter from rain and wind.
Floor size: 350×350 and 450x450cm
Max height: Around 218/228cm
Weight: 11 to 15kg
Pack size:  64 x 22.5 x 22.5cm and 65 x 26 x 26cm
Price: Check out on Amazon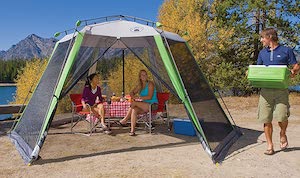 Up in seconds thanks to the spring out poles, the Pavilion is for sunshade and mosquito avoidance as it doesn't have rain sides.
Looks lovely for a garden as well as any warm weather camping. Well-made and up in seconds.
Floor size: 455 x 400cm
Max height: 215cm
Weight: 5kg
Pack size: 130 x 20cm
Price: Click here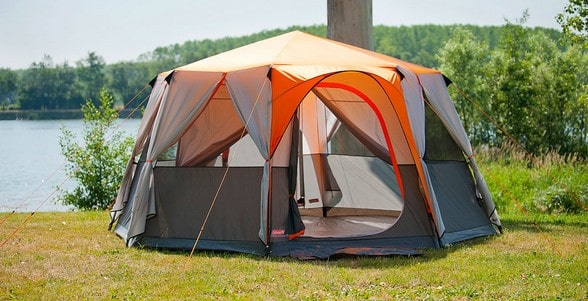 Not exactly a shelter, but a tent with versatility – and one of our favourite tents, in fact.
The Coleman Cortes Octagon has six large windows and hinged doors that open like real doors. The flysheet can be removed to transform the tent into a bug-proof screenroom.
Floor size: 396 x 396 cm
Max height: 215cm
Weight: 20.7kg
Pack size: 85 x 30 x 30cm
Price: Find out here

Now here's an idea. The Sheltapod is an awning, tent and sunshelter all in one. It will fit on any vehicle up to 2.8m.
It's based on a roll-up system so that you can be totally enclosed, as in a tent, or open to the air and sunshine. It has aluminium poles and comes with privacy panels, window blinds, a door panel, a groundsheet and an inner tent included.
All those panels and bits and pieces do make it a bit faffy, but putting it up is fairly quick. You need a large area to be able to handle the long poles.
Size: 230 x 200 x 180cm
Pack size: 97 x 30 x 30cm
Weight: 12kg
Price: Sold out for 2020, but taking preorders for 2021. They're offering an early bird price of £350 (full price £399) and 10% off for Campfire Mag readers with code CAMPFIRE10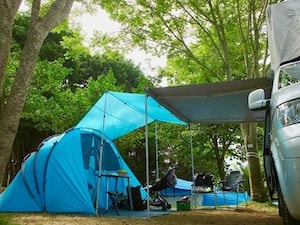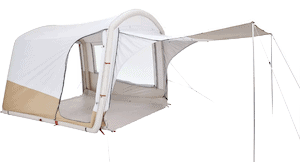 Everyone loved the old Decathlon Base. Now there's a replacement. The Base Connect Fresh works as a living room extension for a tent, but is even better as an awning. Light and spacious, inflatable and around UV resistant.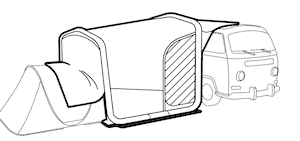 Size: W250 x L250 x (max) H225cm
Pack size: 77 x 29 x 29cm
Weight: 13kg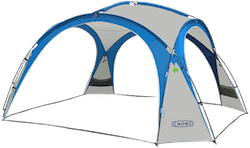 No sides on this one, but it's big and affordable. We've had our Cadac stove for four years, so a reliable brand.
Floor size: 425 x 425 cm
Height: 235cm
Weight: 8.4kg
Pack size: 72 x 20 x 20cm
Price: Click here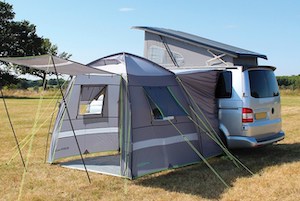 This has the advantage of working perfectly alongside a van, or as a standalone utility tent. Plus, it's affordable.
Floor size: 200 x 200 cm
Height: 180-240cm (van height)
Weight: 5.6kg
Pack size: 67 x 46 x 44cm
Airy pop-ups from Quest. The basics are fine but have mesh walls. The Pros come with zip-in sidewalls. They say the spring-up frame system allows one person to get these set up in under a minute.
 It did take us a tad longer, but practise, practise! Getting it back down…that's always the tricky part. 
Floor size: 244 x 244cm (Pro 4 – there's also a 6 in both styles and a Westfield 5)
Max height: 220cm
Pack size: 173 x 15 x 15 cm
Weight: 8.5kg
Price: Click here but becoming hard to find. An alternative is the Elite 5, which is the same system.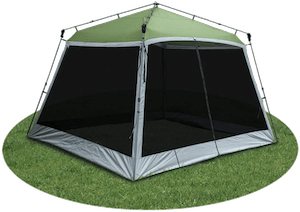 A lighter and simpler version of the Quest Screen House, this is the Quest Screen Shelter 4. It's a fast pop-up again, with two mesh doors and two removable waterproof curtains.
We love this one for its speed and simplicity. 
Floor size: 300 x 300cm
Max height: 230cm
Pack size: 173 x 20 x 25 cm
Weight: 10.8kg
Price: Upto date prices here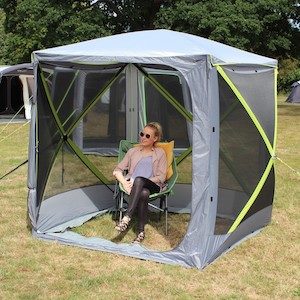 A simple shelter that pops up and has optional privacy panels. Also available in larger sizes.
Floor size: 180 x 180 cm (size 4)
Height: 195cm
Weight: 10kg
Pack size: 178 x 22 x 18cm
Price: Click here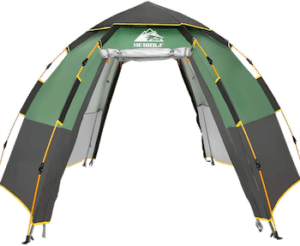 An incredibly cheap 'umbrella' style pop-up tent that sleeps three (four snugly!). The Hewolf tent (silly name, eh?) has a feature that we really like, which is that you can use it as a shelter without the inner.
Packs up very small, weighs around 5kg and gives head height inside of around 5′. Best bit? Find out how much here.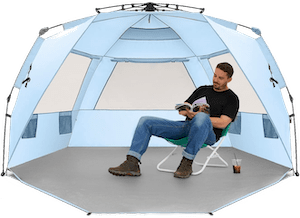 Most beach shelters are just for sitting in, but this Easthills shelter has a bit more headroom. 
It's simple to erect and costs less than £90. Options of pale blue or beige. Very lightweight. It comes with a porch extension, bag, stakes and guylines.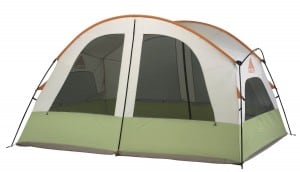 Very handsome and well-respected. 
Floor size: 274 x 335cm
Max height: 188cm (M), 193cm (L)
Weight: 6kg (M)
Pack size: Around 25 x 60cm (details vary)
Price: Click here
They're always discreetly khaki and very good in the rain (check out our Waterproofing your gazebo article), so have a look at what fishing bivvies have to offer.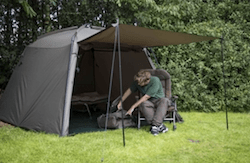 The downside is that they're usually only for one person – and that person is usually sitting down a lot.
No longer recommended
Sad to say, we can't recommend the Zempire shelter or the similar dome shelters by Trespass. They looked promising, but haven't stood up to use. The Airgo shelter is also, in our opinion, a no-go, at least in anything above a light breeze!
The clever Cinch Hub has an optional built-in solar panel, LED lights, great materials and can be set up in less than a minute…and now meet the new generation of Hub.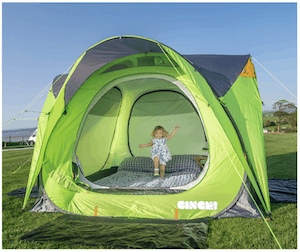 It takes around 60 seconds to get The Hub opped up and ready to peg. The best thing is that it's the tallest pop-up tent around. You can actually stand inside (unless you're over 190cm tall, that is).
It's also roomy at 230cm x 230cm and weighs around 8kg.
We liked its simple shape and the versatility of four zipped sides. The new generation has larger canopies for better rain protection, silent(ish) zips, better fabric and an optional (£70) inner tent for sleeping.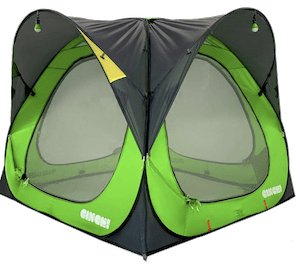 The pack is a round bag, so a bit cumbersome at 86cm, but it's virtually flat. Thank goodness that getting it back into its bag has been made easier with a colour coding system! Price can be found here.

A simple tarpaulin, a couple of poles and some rope could be all you need to create shelter from the rain, a sunshade, a bit of extra space….we use this Unigear tarp.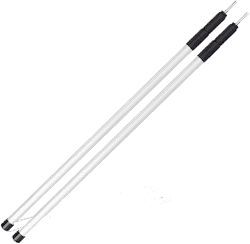 Providing you have the tarp clips, guyline and trees, it's pretty easy to make yourself a shelter. But for extra versatility, add a few tarp poles like the Noorsk above to your kit.
Go for as light as possible and don't forget to check how many eyelets your tarp has to accommodate the pole ends.
This Justcamp tent and tarp pole is fantastic for height (it's telescopic up to 95 to 230cm), so it would work as the central pole in a lightweight bell tent or tipi.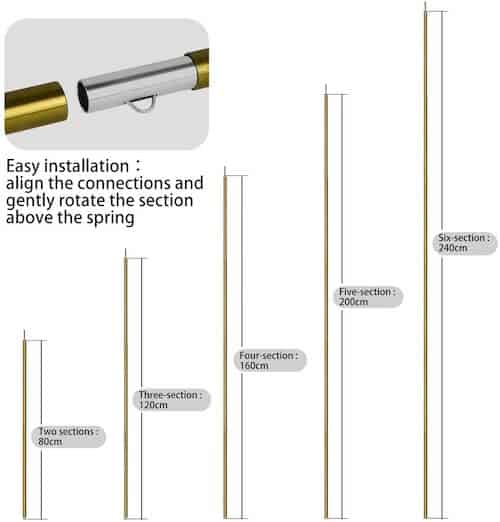 The Unigear tarp poles are the best we've found if you need something more packable than the ones mentioned above. They'll give you between 40 and 240cm of height and are made with lightweight (800g in total) but strong aircraft aluminium. They also have some good bits of design to add strength and make it easier to set up. They come in a set of two.
Thanks to ex-para and now car-camper Tommy Graham for his tip on using stretch rope or bungee cords when tying down tarps and other shelters. Go for reflective or bright-coloured
Clever fasteners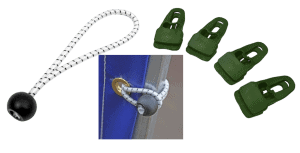 Buy yourself extra tarp clips
 and ball bungees
 to make your tarp even more versatile.
Choose from screw-down tarp clips or our favourite slide-shut 'clingon' type tarp clips are our favourite.
Also have a look at our 66 ways to use a tarp, for inspiration.
Fishing umbrellas for shelter?
One of our readers told us they used a fishing brolly instead of a tarp. It's a great tip.